United Kingdom Bizet, Verdi, Puccini: Soloists, Opera Rara Chorus, London Philharmonic Orchestra / Sir Mark Elder (conductor). Royal Festival Hall, London, 21.11.2018. (JPr)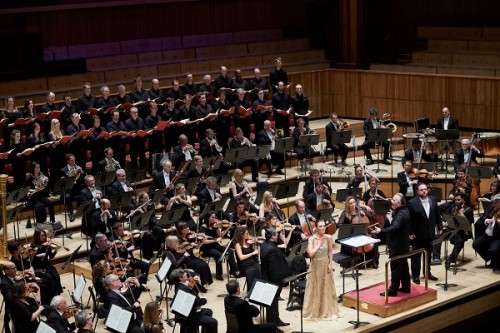 Bizet – L'Arlésienne, Suite No.1
Verdi – Macbeth (Act III ballet music)
Puccini – Le Willis
Anna – Ermonela Jaho
Roberto – Arsen Soghomonyan
Guglielmo – Brian Mulligan
A poem in Ferdinando Fontana's libretto which illustrates what happens during Puccini's orchestral interlude for his 1883 Le Willis includes the lines: 'In the Black Forest there is a legend which is called the Legend of the Willis, and it terrifies all faithless lovers. If a maiden dies of love, in the wood each night the witches gather and dance, waiting for the betrayer; then, if they find him, they dance with him and laugh and he dies in the frenzy of dancing.' Obviously, few involved in writing the programme for Opera Rara's performance were ballet aficionados because – unless I missed something – there was no mention of Giselle which also features betrayal, death and the Willis (there is considerable confusion over their spelling) taking their revenge by making their victims dance until they drop dead. However there is an element of forgiveness that is not there in Puccini's opera about Roberto and Anna's engagement prior to him leaving for Mainz to collect an inheritance. There he 'does the dirty' on her with a witch in disguise, Anna dies of a broken heart and becomes a Willi (Vila, Villi or Wili take your choice). Roberto returns and begs for forgiveness from Anna, but his fate is sealed.
Martin Deasy – who edited music publisher Ricordi's new single-act version that Opera Rara presented – wrote in his contribution to the programme: 'Puccini seems in Le Willis to have sprung forth fully formed, with astonishing assuredness.' My own opinion – for what it is worth – is that Le Willis in its original form shows every sign of being the rushed job musical history tells us it was. It was submitted unsuccessfully at the last minute for music publisher Edoardo Sonzogno's competition in 1883 to find the best new one-act opera. Italian journalist and dramatist Ferdinando Fontana based his libretto on the short story Les Willis by French novelist Jean-Baptiste Alphonse Karr. Puccini could only work with what he was given as time was short. Despite its lack of success in the competition through Fontana's encouragement and fundraising Le Willis was soon staged at Milan's Teatro del Verme and it was a huge success. Puccini was taken on by Ricordi, Italy's leading publisher at the time, and the rest is operatic history. The first thing Puccini was asked to do was extend the opera to two acts and that is how Le Villi has entered the repertory: though performances to this day remain sporadic and not 'relatively common' as the programme suggested.
Le Willis marks Opera Rara's first Puccini venture and only its second verismo project and with the restoration of the original orchestration they presented the opera as it might have been heard in 1883. Opera Rara's Artistic Director Sir Mark Elder was conducting the ever-reliable London Philharmonic Orchestra both in this concert and a preceding studio recording of Le Willis. This was the LPO's sixteenth collaboration with Opera Rara and returning for her second collaboration was Ermonela Jaho singing the role of Anna, Armenian tenor Arsen Soghomonyan was making his UK debut as Roberto and Brian Mulligan sang the role of her father Guglielmo who implores the Willis to avenge his daughter's death. It all lasted little more than 45 minutes and there is very little singing in this single-act version for soloists or chorus and the clue is in the title that you can find for Le Willis of opera-ballet or dance-opera. The concert was interesting from a musicological point of view as something not heard before but as an 'opera' it makes a good cantata. There was some pleasant music with hints of Puccini compositions yet to come and a particularly impassioned Prayer for everyone at the end of the first of only two scenes which seems to have inspired Mascagni when he wrote Cavalleria rusticana. However it needed something to bring it to life; if not actual dance then perhaps some projected images, and possibly a narrator as, I understand, is sometimes used in performances of Le Villi.
Jaho's voice was a little too small for the Royal Festival Hall and she did a lot of emoting and Mulligan also did not sound entirely at ease. Soghomonyan – whose tenor voice betrays his baritone origins – was the most interesting of the trio and having only made his debut as a tenor in March 2017 next year sings Don José at Covent Garden. His is a burly voice of burnished bronze and honeyed sweetness where necessary and it comes as no surprise he will sing Otello soon. He does not sound the finished article yet and it will be interesting to see how his career progresses.
Also on the recording will be the arias for Anna and Roberto that Puccini later added to his revised Le Villi. These were heard as an encore after the entire original opera and they bought out the best in both Jaho and Soghomonyan. She brought a plaintive, limpid quality to 'Se come voi piccina' as Anna puts a bouquet of flowers in Roberto's luggage and hopes he will think of her when he sees them: and Soghomonyan's ardent 'Torna ai felici' ached with remorse about his weakness and her death. This confirmed yet again how a composer's first thoughts aren't always his best!
Before Le Willis we heard Bizet's well-known L'Arlésienne, Suite No.1 and Verdi's ballet music (lasting barely 10 minutes) from Macbeth Act III. The encouraging gestures of Sir Mark Elder brought out the colours in Bizet's evocation of rustic Provence, as well as the charm and drama where necessary in music that predates Carmen. The ballet music introduced Lee Tsarmaklis's cimbasso that was a baleful presence throughout all the rampant – almost orgiastic – brass-led Verdi and during Le Willis. Though Verdi uses the cimbasso frequently in his operas, this is the only time Puccini included it in one of his scores.
Jim Pritchard
For more about Opera Rara click here.