Spain Janáček, Kátya Kabanová: Liceu Orchestra / Josep Pons (conductor), Gran Teatre del Liceu, Barcelona, 15.11.2018. (JMI)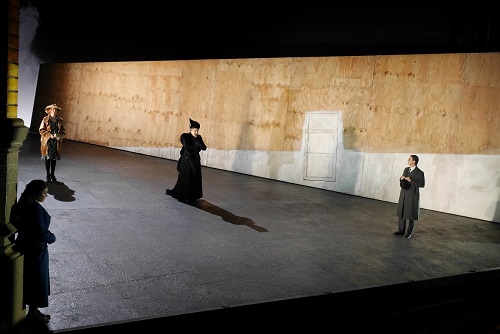 Cast:
Kátya Kabanová – Patricia Racette
Boris – Nikolai Schukoff
Kabanicha – Rosie Aldridge
Tichon – Francisco Vas
Varvara – Michaela Selinger
Vanya – Antonio Lozano
Dikój – Aleksander Teliga
Kuligin – Josep-Ramon Olivé
Glaša – Mireia Pintó
Production:
Direction – David Alden
Sets – Charles Edwards
Costumes – Jon Morrell
Lighting – Adam Silverman
This Leos Janáček opera had last been staged at the Liceu in 2002. Overall, this was a most satisfying night at the opera with an attractive production, solid musical direction and a cast where the protagonist was a winner. I've often mentioned the great relevance today of operas by Benjamin Britten and Leos Janáček, which have become authentic classics in the operatic repertoire. The performances of their works are almost always followed by an enthusiastic reaction on the part of the audience.
Kátya Kabanová is one of the most frequently performed Janáček operas and is undoubtedly one of his best works although, from my point of view, it doesn't match Jenůfa either musically or dramatically. David Alden's production, which premiered at the English National Opera in March 2010, features a minimalist stage that leaves ample space for the development of the action, especially in the second act. Alden narrates the plot adequately and defines and directs the characters very well, perhaps too well in the case of the evil, authoritarian Kabanicha. The costumes take us to the 1920s when the opera was composed and are appropriate; the lighting is outstanding.
Josep Pons' reading was very convincing, one of the best that I can recall from him at the Liceu, and he drew a fine performance from the orchestra.
Soprano Patricia Racette in the role of the protagonist who gives title to the opera showed once again what an excellent singing actress she is, perfectly suited to a character like Kátya Kabanová. Her interpretation was superb from beginning to end, and she lived the part with outstanding intensity. Vocally, she was also very good, although her singing today doesn't quite reach the same level as her acting.
Boris was played by Austrian tenor Nikolai Schukoff who did nicely in the part. The essential character of Kabanicha was sung by mezzo-soprano Rosie Aldridge, who was satisfactory in the role though not exceptional.
Francisco Vas as Tichon demonstrated once again what an excellent professional he is. There was a strong performance by mezzo-soprano Michaela Selinger in the role of Varvara, in terms both of singing and acting, and tenor Antonio Lozano was impressive as Vanya.
The Liceu attendance was less than 60% of capacity, which is highly worrying. But the audience gave a warm reception to the artists, and especially to Patricia Racette, in the final bows.
José M. Irurzun