Germany Janáček, Jenůfa: Bayerische Staatsoper Chorus and Orchestra / Simone Young (conductor), Nationaltheater, Munich, 27.11.2018. (JMI)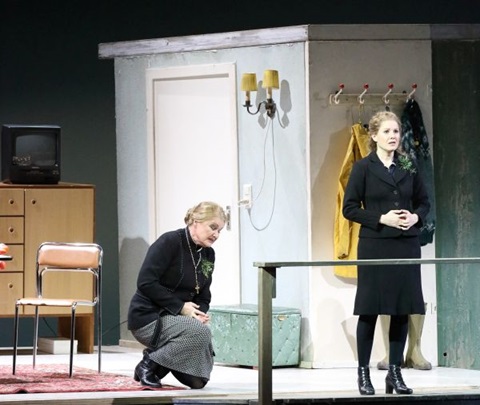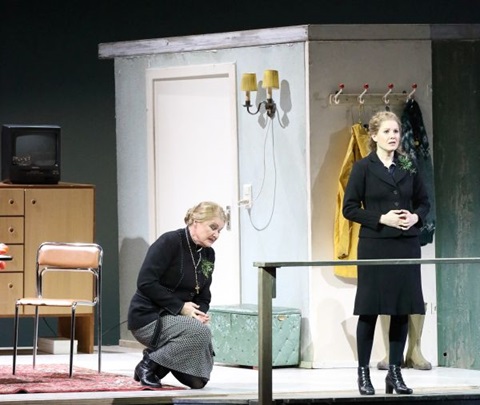 Cast:
Jenůfa – Sally Matthews
Kostelnička – Karita Mattila
Laca – Pavel Černoch
Števa – Joseph Kaiser
Grandmother – Hanna Schwarz
Mill Foreman – Christian Rieger
Mayor – Kristof Klorek
Mayor's wife – Heike Grötzinger
Karolka – Laura Tatulescu
Shepherdess – Natalia Kutateladze
Barena – Anaïs Mejías
Jano – Mirjam Mesak
Production:
Direction – Barbara Frey
Sets – Bettina Meyer
Costumes – Bettina Walter
Lighting – Michael Bauer
As my friends know well, I travel frequently to Munich to attend the opera – the city offers the best opera in the world. This has been particularly evident in recent years with Kirill Petrenko as Music Director and the frequent presence of Jonas Kaufmann and Anja Harteros on stage. I don't know what the future holds with Petrenko leaving to take over the Berlin Philharmonic but, hopefully, the quality will be maintained.
On this occasion, I had the chance to revisit Jenůfa, which I enjoyed a little over a year ago. I will also be attending a new production of Otello, with Kirill Petrenko in the pit and Kaufmann and Harteros in the cast. To this will be added, as a kind of coda, Così fan tutte, which is always a pleasure. And then I will return in January for the new production of Fidelio, again with Petrenko on the podium and Kaufmann on stage.
So, the visit began with this Leoš Janáček masterpiece. I reviewed the production in July 2017, and my opinion has not changed (review click here).
The musical direction was in the hands of Simone Young who, as she has demonstrated on numerous occasions, is always a reliable conductor. Her reading seemed somewhat rigid in the first act, but it clearly improved as the opera went on. As always, the Bayerische Staatsorchester and Staatsoper chorus were excellent.
When I saw this Jenůfa in 2017, three exceptional artists were on stage: Eva Maria Westbroek, Karita Mattila and Stuart Skelton. There have been various cast changes this time around, and the final result was not quite as bright as earlier although, overall, the singing was remarkable.
The new Jenůfa was soprano Sally Matthews, who gave a delicate, heartfelt interpretation of the character. She was outstanding in the last two acts, especially in Act III. She was more subdued in Act I, but she was still a remarkable Jenůfa.
Karita Mattila returned to embody the part of Kostelnička, and she once again demonstrated what a great artist she is. It was a performance to remember, as it was two years ago. Her voice has lost some freshness, but the artist is unbeatable.
Laca was sung by tenor Pavel Černoch, who had played Števa earlier. His voice is not comparable to that of Stuart Skelton, to whom I referred above, but he was a compelling interpreter of the character though less heroic than one may be accustomed to.
The new Števa, tenor Joseph Kaiser, was rather disappointing; his voice does not flow well, and he had some problems. The grandmother was sung by the veteran Hanna Schwarz (76), who still has a powerful voice.
The rest of the supporting characters were well covered. Christian Rieger was correct as the Miller, and Kristof Klorek and Heike Grötzinger were convincing as the Mayor and his wife. Once again, there was a solid performance from Laura Tatulescu as Karolka. Finally, Natalia Kutateladze did well as the Shepherdess, as did Anaïs Mejías (Barena) and Mirjam Mesak (Jano).
The audience gave an enthusiastic reception to the artists at the final bows, and to Karita Mattila in particular.
José M. Irurzun