United Kingdom Handel, Semele: Soloists, Chorus, Royal Academy Sinfonia / Laurence Cummings (conductor). Susie Sainsbury Theatre, Royal Academy of Music, London, 14.11.2018. (MB)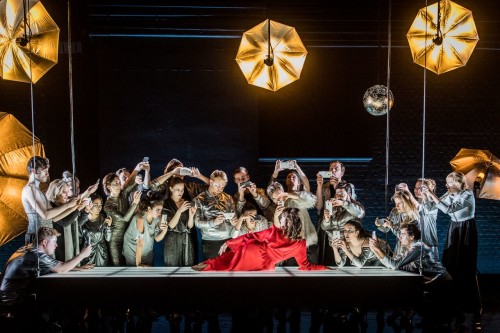 Cast:
Semele – Lina Dambrauskaite
Ino – Olivia Warburton
Cadmus, Somnus – Thomas Bennett
Athamas – Alexander Simpson
Jupiter – Ryan Williams
Juno – Frances Gregory
Iris – Emilie Cavallo
Cupid – Aimée Fisk
Apollo – Joseph Buckmaster
Pasithea – Maya Colwell
Production:
Director – Olivia Fuchs
Designs – Takis
Lighting – Jake Wiltshire
Handel's Semele was born of and into a celebrity-obsessed society of conspicuous consumption. Here, in Olivia Fuchs's new staging for Royal Academy Opera, it unfolds in one still more so obsessed, still more conspicuously consuming: our own. We can sentimentalise the former, view it through a sepia lens, consider it more 'beautiful', but we should be foolish to do so. Fashion ruled there as here. An endless supply of minor portraits – 'endless pleasure[s]' – of minor aristocrats might appeal to the 'heritage' crowd. Is it, though, anything more than snobbery, snobbery directed from the Brexit generation toward the young, to consider Instagram and its visual network of 'celebrity' so very differently?
Consequent constructions of the individual and the social come across strongly here. The chorus's individual and corporate wielding of mobile telephones in the first scene, awaiting the (never-to-happen) wedding of Semele to Athamas, 'society' anxious not to miss the opportunity to record every single image of the forthcoming nuptials, might seem a now tedious cliché of contemporary operatic staging. If I am honest, it did so to me too. I came to realise, though, that that was surely the point. It is on the back of such behaviour, such vapid, glitzy, priorities that Semele achieves her moment in the celebrity – divine – firmament. She goes too far, of course, urged on by Juno. Such people tend to: here today, gone tomorrow. In a nice touch, moreover, Jupiter, come to her as 'himself', as thunderbolt, not only destroys her, but does so in the flash of a photo shoot.
Within that framework of suitably slick designs (Takis) and telling lighting (Jake Wiltshire) the story unfolds with clarity and confidence. The Royal Academy's young singers perform their roles admirably. A few minor opening night slips notwithstanding, no one could reasonably have failed to be impressed, not least since the cast could act too – and did: testament to talent, application, and of course, the RAM's schooling. For me, pick of the bunch, perhaps unsurprisingly, was Lina Dambrauskaite in the title role. She had presence, vocal and stage, and used it to great musical and dramatic effect. Her coloratura was outstanding, as it needs to be, but so was her quicksilver adoption of different guises (celebrities need that) within the same convincingly crafted personality. (They need that too.)
Ryan Williams's versatile tenor took a well-judged Jovian journey from unheeding divine masculinity to genuine tender care, albeit too late. Frances Gregory offered a Juno not to be trifled with, who yet certainly maintained and projected feelings of her own. Olivia Warburton and Alexander Simpson impressed as Ino and Athamas, the latter especially in his final aria, 'Despair no more shall wound me'. Both judged well the tricky tightrope between earlier seria tendencies and a new world of sentimentalism (in an eighteenth-century sense). Thomas Bennett's Cadmus and Somnus revealed a more than promisingly sonorous bass. All soloists and the chorus impressed, their musical and dramatic contributions unquestionably greater than the sum of their parts. The Purcellian 'Oh, terror and astonishment!' sounded wondrously grave; frippery and not a little splendour fared equally well.
My sole disappointment came with certain aspects of Laurence Cummings's direction of the orchestra. Playing on period instruments, the musicians often sounded as if they would have been happier not. (I certainly should have.) Cummings's determination not only to eradicate vibrato but, seemingly, phrasing too, led to some deeply unsatisfactory closes to sections and numbers, as well as a good deal of choppiness in between. At times, moreover, he was unable to coordinate pit and stage. A little more modernity, to match what we saw and heard on stage, would not have gone amiss; nor would a tad more charm.
Mark Berry
For more about the RAM click here.