United Kingdom Tchaikovsky and Ethel Smyth: Pavel Kolesnikov (piano), Lucy Crowe (soprano), Catriona Morison (mezzo), Ben Johnson (tenor), Duncan Rock (baritone), BBC Symphony Chorus & Orchestra / Martyn Brabbins (conductor), Barbican Hall, London, 15.11.2018. (CC)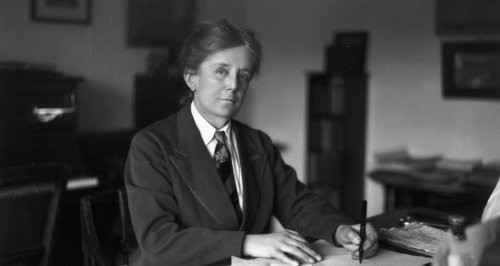 Tchaikovsky – Piano Concerto No.1 in B flat minor, Op. 23 (first revised version, 1879)
Ethel Smyth – Mass in D (1891, revised 1924)
Contrary to how it might first appear, there is a link between Tchaikovsky and Dame Smyth Smith. The great Tchaikovsky spoke glowingly about Smyth after they met in Leipzig in 1888, describing her as having 'the potential to become a very serious and gifted composer'. So there is a logic behind the rather strange combo here; but the two pieces made for strange bedfellows. Perhaps Sakari Oramo, who was originally due to conduct, might have made a stronger case for the Smyth – more on that later.
But first, Tchaikovsky's First Piano Concerto, but in the less familiar first revised version of 1879. There are some glaring differences: the rather more modest, rolled chords of the piano's contribution to the opening and a passage in the finale that is extended by 17 eminently deletable bars. But the piano part was already mostly in its heavily rethought form, so it turned out we did know the vast majority of the piece after all.
Or did we? Pavel Kolesnikov is a fine pianist of the very first rank, as his recent appearance at the London Piano Festival at Kings Place revealed (a fascinating mix of Louis Couperin – Suite in G minor – and the Schumann Fantasie). Martyn Brabbins was a superb accompanist, too, drawing silky sound from the strings in the big opening statement of the theme theme-that-never-returns. Kolesnikov offered subtle rolled chords as an antidote to the usual barn-storming block chords, setting in motion a reading marked by sensitivity and stunning technique. Taking the more ruminative passages in the first movement to daringly slow extremes, this was a performance that sounded as if it was being improvised. The rather simpler end of the first movement (as opposed to what we're all used to) sill made its mark. The Andantino semplice honoured the marking in its swiftness. Sadly, the flute solo came across as rather bluff and superficial; it was left to Kolesnikov to reinject the magic, with a perfect staccato and a stunningly light touch. Finally, a finale notable not only for its bravura on all sides but on the intelligence of the balancing of its textures, both within the orchestra and between orchestra and piano.
There was a deserved near-standing ovation for Kolesnikov, which led to an encore: a haunting Chopin's Waltz No.18 in E flat, Op. posth. Perhaps its surroundings gave it a hint of Russian-flavoured nostalgia sprinkled on top.
So to Ethel Smyth's Mass in D. Smyth is a composer who, as a horn player in my earlier years, I had been aware of for many a decade because of her Concerto for Violin and Horn (a gorgeous piece, well recorded on Chandos by Sophie Langdon and Richard Watkins with the BBC Philharmonic under Odaline de la Martinez, incidentally). Her fame also rests on her work as a suffragette. The programming of the Mass in D, one assumes as a response to the 2018 Year of the Woman, actually made the evening irresistible. How often does one hear this piece? It had been heard in this year's Three Choirs Festival, it is true, and one assumes with similar reasoning behind it. Post-2018, will we hear it again in our lifetimes in concert?
One hopes so. It is a big-boned, dramatic work of just over an hour's duration (the curious may with to explore the Audite recording featuring the Württemberg Philharmonic Reutlingen and a Stuttgart Choir under Helmut Wolf, a recording in fine sound and with a fervent demeanour). Premiered in 1893 at the Royal Albert Hall, Smyth's Mass in D was to resurface in February 1924 with two performances under Sir Adrian Boult. It failed to create a foothold in the repertory, sadly.
With a well-chosen line-up of soloists and the BBC Symphony Chorus in fine fettle, the stage was set for a persuasive case. It has to be said the work sounds a far finer piece in the Audite recording, though. There is a lot of block choral writing that came across as a tad workaday under Brabbins (it was at the highest dynamic levels that the BBC Symphony Chorus came into their own, offering a vibrantly exciting sound). Smyth has a habit of using a decidedly Bachian cadential figure as a structural indicator.
It was a good idea to have tenor and soprano soloists on one side of the conductor and mezzo and bass on the other, as Smyth uses these pairs during the course of the piece. And she certainly seems more distinctive when she writes for solo voice. The radiant-voiced Lucy Crowe positively shone in the Credo; her tenor counterpart, Ben Johnson, was nicely understated here. Three of the soloists get their own movements. The Sanctus was graced by the fabulous mezzo Catriona Morison, whose lower register is wonderfully grainy, the Benedictus the mesmerising Crowe (who converted Smyth's here somewhat routine melodic lines into something truly treasurable) and the Agnus Dei by the eminently musical tenor Ben Johnson. A pity bass-baritone Duncan Rock did not get his own movement, as from his contributions elsewhere in the piece he is clearly a fine singer.
Smyth moves the Gloria from its traditional second position to finale. If the orchestra's gestures of opening are somewhat low on inspiration, the choir on this occasion sounded absolutely jubilant. The soloists all get a chance to shine in this Gloria; how wonderful there was a sense of shared vision both between the soloists and also between voices (including choir) and orchestra.
Few evenings deserve the epithet of 'stimulating' as much as this one. If I had hoped for more of a sense of (non-Biblical) revelation in the Smyth, the Tchaikovsky was as fine as one can reasonably hope to hear it.
Colin Clarke