United Kingdom A Spanish Hour – Ravel's L'heure espagnole: Mid Wales Opera. Instrumental ensemble and soloists / Jonathan Lyness (music director). Richard Burton Theatre, Royal Welsh College of Music and Drama. 15.11.2018. (GPu)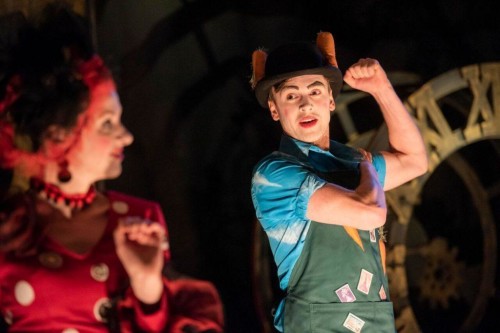 Cast:
Concepcíon – Catherine Backhouse
Torquemada – Peter van Hulle
Gonsalve  – Anthony Flaum
Don Inigo Gomez – Matthew Buswell
Ramiro – Nicholas Morton
Musicians – Naomi Rump (violin), Jonathan Lyness (keyboard), Elfair Grug (harp), Alexandra Callanan (bassoon)
Production:
Director & Designer – Richard Studer
Music director & Arranger – Jonathan Lyness
Over the last few years I have got a good deal of pleasure from a number of productions mounted by Mid Wales Opera; I admire this small company's philosophy and their determination to spread, in a thoroughly unpompous fashion, the good news about opera. I am sorry, therefore to have to say that I was somewhat disappointed by their latest production. It is one of a series of productions under the banner 'SmallStages', designed to be toured to 'venues across Wales and the Borders, including village halls, churches and smaller theatres'. Like a number of previous productions, the twin constraints of budget and venues make it necessary for the work to be performed with a reduced orchestration. MWO's musical director, Jonathan Lyness has plenty of experience in the creation of operatic reductions; he has produced something like 20 reduced orchestrations of operas, some of which have been published and performed widely across Europe, Asia and the USA. But even for an experienced professional such as Lyness, Ravel's L'heure espagnole presents major difficulties. Ravel's orchestral writing in this opera is a rather special case. Arbie Orenstein has written of 'the opera's scintillating orchestration'; Pierre Lalo (son of Edouard and a widely-read Parisian music critic) was not generally an admirer of Ravel's music but wrote that 'the orchestral writing of L'heure espagnole is charming, striking, individualistic, varied, full of subtle timbres and rare combinations of sound'. Ravel's score makes use of two flutes, one piccolo, two oboes, one cor anglais, two clarinets, one bass-clarinet, two bassoons, one sarrusophone, four horns, two trumpets, three trombones, one tuba, two harps, one celeste, timpani, a range of percussion (and three metronomes!). Any attempt to capture Ravel's very individual sonorities in an arrangement for just harp, bassoon, violin, tubular bells and keyboard was doomed to inevitable failure. But the loss is not just that we don't get to hear Ravel's 'subtle timbres and rare combinations of sound'. The reduced instrumental sound actually 'unbalances' the opera in a particular way, since Ravel's brilliant orchestral writing often exists in a kind of ironic counterpoint to the text and action of the work – and that important dimension of Ravel's opera was very largely lost.
Despite these unfortunate limitations, there were things to enjoy. The five singers all acquitted themselves respectably. Catherine Backhouse was a pertly attractive Concepcíon, whose bright and well-focused mezzo voice coped very well with a role originally intended for a soprano. Anthony Flaum rightly made much of the absurdity of the poet-lover Gonzalve, in truth more in love with poetry than with Concepcíon, finding everything the occasion for a new poem or at least a new metaphor – looking at Flaum's musical CV one sees that has previously sung such roles as Rodolfo (La bohème) and Nemorino (L'elisir d'amore), and this experience must have fed into his sense of Gonzalve's over-the-top 'romanticism', with Flaum deploying his obvious abilities as a lyric tenor for parodic purposes. Matthew Buswell's Don Inigo Gomez, the banker, was an overlarge clown altogether lacking in any understanding either of his own nature or, like Gonzalve, what Concepcíon actually wanted from him. Peter van Hulle is a natural actor and in both body and voice he was a convincingly complaisant Torquemada (contentedly?) blind to what his wife was up to. Van Hulle resisted the temptation to caricature Torquemada, even if he was clearly more interested in and more passionate towards his clocks than his wife. Nicholas Morton's Ramiro was initially a model of bewildered innocence, eventually ready to learn something of what Concepcíon was keen to teach him. All of the soloists made a pretty good fist of the predominantly parlando manner that the work demands of them.  Perhaps none of the soloists seemed likely to become operatic superstars, but all of them showed enough vocal and dramatic abilities to suggest that they will go on to steadily successful careers in the profession.
Richard Studer's nicely stylised set was dominated by two huge clock 'wheels' either side of a short incline. The stylisation of this design was both functional – in the libretto's narrative Ramiro is required (by Concepcíon)  to carry two large clocks (containing either Gonsalve or Don Inigo) up and down the stairs to Concepcíon's bedroom); here he simply had to push each one up or down the incline – and a way of articulating the libretto's governing metaphor, with its suggestion that these five characters are as much 'automata' as the clock mechanisms are. Costumes were largely colourful (especially for Concepcíon) and had more than a hint of the commedia dell'arte about them.
Yet, for all the energy of the cast and the wit and apt double-entendres of Jonathan Lyness's translation of the libretto (adapted from Franc-Nohain's comedy) – at one point Concepcíon exclaims 'cocks in a clock barely make my boat rock' and Ramiro observes of Concepcíon 'A little moving in, a little moving out, That's what I'd call an obliging woman', my mind kept returning to the sounds I was not hearing. I suppose, given that MWO's plan is to take this production to areas/communities which don't normally see/hear opera, I'd guess that most members of their prospective audiences won't be familiar with the original orchestration of L'heure espagnole and the part it plays in the opera and will be able to enjoy this visually and verbally 'colourful'  interpretation on its own terms, untroubled by the 'aural' colour that has been lost. There is, as I say, still plenty to enjoy.
After an interval the cast and musicians presented a selection of Spanish music, or of music representing some sort of version of Spanish life. One might be tempted to describe this as a kind of musical tapas, save that tapas, in my experience, are normally eaten on their won or as appetizers, not eaten after the main course. This second half included de Falla's 'Nana' from Siete canciones populares españolas, nicely sung by Ms. Backhouse; Sorozábal's 'No puede ser', sung with fair success by Anthony Flaum; two pieces from Bizet's Carmen – the 'Seguidilla', by Catherine Backhouse once more, and the 'Toreador' song with Nicholas Morton as soloist and the rest of the company on stage, reacting with exaggerated emotion. The affectionate mockery of this piece (though not in Morton's singing) acknowledged what an operatic cliché it has become and also served as a recognition of how often non-Spanish composers have appropriated Spanish rhythms and, in stock responses, have created false pictures of an imagined Spain. This post-interval sequence has begun with what was perhaps the most successful piece – with violinist Naomi Rump joining Peter van Hulle (as narrator) in a performance of Alan Ridout's Ferdinand the Bull (1971), its text adapted (presumably by Ridout) from The Story of Ferdinand (1936) by Munro Leaf. Rump's playing was impeccable and expressive and van Hulle gave a fine comic performance, not least in his exaggeration of a strongly accented Spanish speaker of English. The timing and comic interaction between Rump and van Hulle was perfect. On the whole, in this second half it was the comic that worked best. The authentically Spanish fared less well (save for 'Nana'. So, for example, Lorca's 'El café de Chinitas' fell rather flat. Lara's 'Granada' got a rousing, if not especially subtle, reading by Flaum and van Hulle. The evening ended, rather unexpectedly, with a performance, by way of encore, of that 'hit' of the 1970s, 'Y Viva España' written by Leo Caerts (music) and Leo Rozenstraten (music), both of them Belgian, with English words provided by Edward Seago (in my own defence, I have to say that I didn't know that – I had to look it up). An evening that had begun with Ravel's sophisticated take on an imaginary Spain (his mother Marie was born in the Basque country but brought up in Madrid) closed with the Benidorm version of Spain. The appropriation of 'Spanishness' – real or imagined – had surely reached its nadir.
Glyn Pursglove
For more about Mid Wales Opera click here.