Canada Vancouver New Music's Quartetti Festival: Black Dog String Quartet (Canada), Quatuor Bozzini (Canada), JACK Quartet (USA), Quartetto Maurice (Italy), Penderecki String Quartet (Canada), Quartetto Noûs (Italy), Mivos Quartet (USA), The Annex, Vancouver, 18-20.10.2018. (RK)
Chamber music and new music aficionados in Vancouver were recently treated to an extraordinary musical feast by seven string quartet ensembles: three from Canada, two from the USA and two from Italy. The festival took the form of nine eloquent concert programs with 24 compositions: three 'classics' dated from 1984-1993 and the remainder were composed from 2011-2018, making this a window into recent trends in quartet writing and revealing a host of juxtapositions and associations. Canadian, American, Italian and Russian compositions were represented, including works by Navajo composer Raven Chacon and participants in his Native American Composer Apprentice Project. One could debate at length what the string quartet medium means for us today, but one answer drawn from this festival is that it offers an incomparable medium for exploring liberty – of imagination, expression and action – as an outcome of the immense individual and collective discipline needed for compelling artistic discovery and communication. Kudos to all the composers and performers, and to Artistic Director Giorgio Magnanensi and Vancouver New Music for this unique enterprise.
Each of the nine programs demanded an enormous investment of creative energy by performers and composers. This review comments as much on the pieces as the performers and offers a separate tableau for each ensemble. The groups have all maintained an unflagging commitment to new repertoire for a number of years: the oldest ensemble was formed in 1986, the latest in 2011. And each one showcased a different combination of female and male players, with nearly perfect parity overall. All brought forth the full spectrum of instrumental physicality and imaginative expression, and each piece was an occasion for exploring human experience with mind and body.
Black Dog String Quartet (Canada)
Elyse Jacobson • Molly MacKinnon • John Kastelic • Doug Gorkoff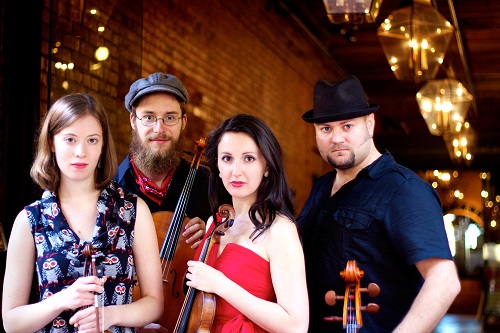 Morlock – Vermillion (2014)
Kastelic – Rush Hour Technique (2013)
Stevens – My Sleepy Children (2018)
Begay – Hai (2018)
Chacon – The Journey of the Horizontal People (2016)
Ridley Wallace – Live Alive (2018)
Russell Wallace – Weave in Three Sections (2018)
Levitt – Wooden Tables; Fake Men (2018)
Chacon – Double Weaving (2014)
Vancouver's Black Dog String Quartet, formed in 2007, performed on all three nights, presenting works by Vancouver composers Jocelyn Morlock and John Kastelic (violist in the quartet); and by Navajo composer Raven Chacon and five participants in his Native American Composer Apprentice Project.
Morlock's Vermillion sounds in five sections, with the last one extended and subdivided. Each section offers a different texture or compositional material, but movement across time occurs more through accrual and juxtaposition than a longer governing process or a developmental trajectory. The charm of the piece rests in its contrasting stages, each one patterned differently in texture and movement. In contrast, Kastelic's Rush Hour Technique projects a clear developmental and variational energy, beginning with minimalist textures of short rhythmic figures, at first exposing a minor-major-seventh chord and then moving through what Kastelic calls 'a demanding rhythmic and harmonic filter'. The piece maintains a strong if varied sense of motion, changing pace and direction at various intersections. This rush hour is busy but there is no traffic jam because, as Kastelic writes, it's 'a ride through Thursday morning traffic on a bicycle with wings. There are no red lights but you need to dodge the cars'.
The ensemble played these works with both conviction and imaginative sensitivity, as they did the two works by Raven Chacon and five shorter works by Dennelia Stevens, Michael Begay, Ridley Wallace, Russell Wallace and V.E. Levitt on subsequent nights. The ensemble contributed an important dimension to every evening of the festival. The apprentice works each gave voice to an authentic individual creativity and approached composition in different and original ways. Chacon is clearly a wonderful mentor, supporting each composer's imagination on its own terms.
Chacon's own works project his unique compositional voice and sensibility. The composer describes The Journey of the Horizontal People – commissioned and premiered by the Kronos Quartet – as 'a future creation story' in which wanderers moving 'contrary to the movement of the sun, but involuntarily and unconsciously allegiant to the trappings of time' are seeking with their bows others who 'shared their linear cosmologies', and 'in their own passage of time, this group became the very people they were seeking'. The composer's music creates its own floating time scale, which seems suspended but mobile, and it evokes subtle shifting clouds of energy and liminal sensations from other dimensions. The performers' actions have a ceremonial quality and are executed and imitated with care to preserve the precious solidarity of the group. Over the journey of the piece a transformative process unfolds, and a new state is attained. This beautiful work closed the second evening with an affirmative tranquility. Ending the third evening (and the festival), Chacon's Double Weaving conjured the acts of artistic creation and of honouring traditions and ancestors. Especially evocative was the chorale section, interwoven with a melody that seemed to emerge from both the half-remembered past and the half-imagined future.
Quatour Bozzini (Canada)
Clemens Merkel • Alissa Cheung • Stéphanie Bozzini • Isabelle Bozzini
Miller – About Bach (2015)
Tenney – Koan (1984)
The Montreal-based Quatour Bozzini, formed in 1999, are expert proponents of new music and programmed two contrasting process-based works by Canadian Cassandra Miller and American James Tenney (1934-2006). The former teaches composition in London at the Guildhall School while the latter spent much of his teaching career at York University in Toronto. Both quartets have roots in earlier solo string pieces but display different approaches to string playing and to temporal process as a determinant of musical form.
About Bach is Miller's second composition to win the Jules-Léger Prize for new chamber music. Written for the Quatour Bozzini, it expands on a previous work for solo viola based on a close analysis of the micro-timing and timbral spectrum of Bach's Chaconne as played by violist Pemi Paull. Miller describes the work as following 'a somewhat inaudible process that is simply let to run until it runs itself out. It's a constant meandering, a non-developmental piece in an extreme sense'. The piece is 'about Bach of course, and in the end, about the Quatuor Bozzini'; the players indeed brought sensitive imagination to this performance, allowing the piece to resonate on its own terms. The texture throughout consists of a slow ascending modal scale played in continuous rotation in ethereal harmonics by one of the violins (switching roles in slow cycles), while the remaining three instruments quietly play jagged but still graceful homophony reminiscent of English viol music, but crenulated with extreme leaps. The two violinists exchanged the scalar component seamlessly, like passing a precious chalice in a slow ritual, against the almost dangerously serrated fragility of the trio texture, which was performed with a relaxed precision that allowed tiny nuances to emerge with each extreme-but-delicate gesture. As Miller suggests, the long slow compositional process, which gradually rotates and truncates the material, isn't the main point. What is most attractive about the piece – and was vivid in the Bozzini's performance – is the sense of veneration it creates and sustains in an extended processional state of high-wire poise and evocative sounds.
Tenney's Koan for String Quartet was the oldest piece in the festival and is, in fact, based on a solo violin piece he wrote in 1971. Tenney was interested in extended tuning systems such a 53-tone equal temperament, which brings out novel and beautiful micro-intervals, and also perfectly-tuned harmonic triads. Koan's process was simple but captivating to hear: the first violin plays tremolos grouped in slow fives, while the other instruments play repeated tones, intervals or chords in homophony; each part gradually ascends or descends by tiny intervals, 53 per octave. Although the parts move in unfamiliar tiny intervallic gradations, they meet periodically in perfect consonant triads, creating a wonderful fabric stretching into and away from these moments of resonance. For most of the piece, these triads occurred with every 5th or 7th cycle, but they came more frequently and with greater variety as the piece neared its end. Tenney's composition involves a simple rigorous process, but one that he planned with impeccable taste for the beauty and mystery of its inexorable unfolding geometric expansion, like a slowly blossoming crystal. It was a rare pleasure to hear the vividly incremental tonal inflections and pure triads that emerge from this extraordinary tuning system, and the Quatour Bozzini played with superb discipline and sensibility for the music's sensations and textures. With over 200 commissions and 300 premieres, their commitment to new works was in full evidence in their ability to make these two pieces resonate richly on their own terms.
JACK Quartet (USA)
Christopher Otto • Austin Wulliman • John Pickford Richards • Jay Campbell
Zorn – The Alchemist (2014)
Schroeder – UNDERROOM (2018)
The acclaimed JACK Quartet, based in New York City, has promoted new music for string quartets on more than 35 recordings since their formation in 2005. In this performance they directed their attention to two works, one by the prolific American composer and multi-instrumentalist John Zorn and the other by Vancouver-born composer Sabrina Schroeder. Schroeder studied at the University of Victoria, Wesleyan and Harvard, and now teaches composition at the School for the Contemporary Arts at Simon Fraser University.
Like some other works by John Zorn, The Alchemist reveals a fascination with historical figures who push past the boundaries of awareness or conventional behaviour. The title refers to the sixteenth-century English alchemist Dr. John Dee, and the piece comprises 11 connected sections or scenes from 'a séance invoking angelic orders'. The musical textures are complex and fascinating, and they conjure energy fields and sparky disturbances. They sound like Schoenberg's String Trio on steroids: a polyphony of crazy jagged melodies, harmonics and pizzicatos, occasionally punctuated by resonant chords, strikingly consonant or gorgeously dissonant. Apparitions of Beethoven's Grosse Fuge occur several times, and there is also a short episode of gorgeous fragmentary sixteenth-century string sonorities from the viola and cello (making a nice echo with Cassandra Miller's About Bach, earlier the same evening).
It's a remarkable piece that demonstrates Zorn's skill for writing 'idiomatically' for quartet and integrating his own signature frenetic style with earlier string idioms. Zorn characterizes the piece as 'virtuosic lyricism, numerology, prayers, canons, contrapuntal complexity, alchemical procedures (distillation, calcination, crystallization, sublimation, purification, rotation) and the ghost of a fugue'. All these aspects were vividly displayed by the JACK Quartet in a performance that was both electrified and electrifying, with fabulous commitment to imaginative and dramatic playing in high relief. The vigour, accuracy and coordination of their ensemble and individual playing was exceptional, including the incredible effect of sudden brief outbursts of perfectly tuned chords emerging momentarily from the scurrying dissonant polyphony. Full of shivers and paroxysms, Zorn's piece is nonetheless varied and engaging, holding the listener's attention with changes from scene to scene, including moments of searing lyricism – like mysterious calligraphy etched into the ether by an angel's wing.
Schroeder's UNDERROOM for string quartet and live electronics is a 2018 commission from the Earle Brown Music Foundation, and was premiered by the JACK Quartet in New York in August. Regular string instrument sonorities are never heard in this piece. By loosening and damping the strings and bowing at unusual angles and positions on the strings and instrument, the quartet produces a wide variety of breathing, brushing and scraping sounds, subject to some electronic processing and added electronic sounds. It's music of performative gestures described by Schroeder as 'each moment thrumming in shifting resolutions, intensities and frictions of underlying fibrillation'. The JACK Quartet performed the gestural interactions with the focus and intensity of method actors, achieving Schroeder's goal of 'an enveloping space that sound and sound-feel can make with bodies'.
Quartetto Maurice (Italy)
Georgia Privitera • Laura Bertolino • Francesco Vernero • Aline Privitera
Aralla – String Quartet No.4 (2018)
Romitelli – Natura Morta con Fiamme (1991)
Lanza – The 1987 Max Headroom Broadcast Incident (2017)
Formed in 2002, the Quartetto Maurice is a dynamic Italian ensemble that has won multiple prizes in the last three years. They performed three Italian compositions: recent works by Paolo Aralla and Mauro Lanza framed an 'older' quartet by Fausto Romitelli. Linked by shared characteristics, these works created an integrated impression, almost like three movements of a single work. In the Quartetto Maurice, like the Quatuor Bozzini, two sisters are joined by a third female colleague and a male player. They all play with precision, vigour, insight and commitment: eloquent advocates for the works they perform.
In his program note, Paolo Aralla writes that 'musical instruments preserve memory of the intelligence and hands that conceived and realized them…To compose is like remembering through musical instruments, it is therefore discovering that every sound has a root, a past, a memory'. In String Quartet No.4 we hear the quartet rediscovering its past: out of inchoate string noises, some static and others unstable, fragmentary simulacra of Beethoven's String Quartet in C minor Op.131, Bach's Art of the Fugue and other works emerge very occasionally, creating a quasi-dialectical discourse against a background of blurred memories and uncertain awareness. The sound textures are structurally and sensuously beautiful and affecting. There is nostalgia, perhaps, but more in the form of appreciative rediscovery and resonance than a sense of loss. Like the Miller and Zorn quartets of the previous evening, this work seeks to engage music of the past in ways that resonate authentically with the postmodern moment. Instead of a gloomy cliché of shattered meanings, Aralla's music proposes that the past isn't broken and lost, but instead floats in the ether of memory and awareness, always available for rediscovery in the present and future, at least in meaningful fragments – with archeological wonder and without nostalgia for an ungraspable whole.
This impression was a fitting prelude for Fausto Romitelli's Natura Morta con Fiamme ('Still Life with Flames') for string quartet and electronics. As its title suggests, we hear the entire quartet in flames, so to speak, in scintillating and shivering timbres created by tremolos, glissandi and chords produced with novel bow positions and pressures. Despite being a bit frenetic, the experience was neither enervating nor boring, and instead was as captivating and hypnotic as watching the infinitely-varied flickering movements and colours of a flame. This sensation, not easily evoked, is a testament to the thoughtful and imaginative approach of all four members of Quartetto Maurice. The electronic part begins like a massive string bass as a fundamental, then later adds bell sounds (which arguably would not yet have been a cliché in 1991). About midway the electronic sounds die out, as though they have been burned up by the quartet, which persists as pure energy. Contrary to the program note by Vincenzo Santarcangelo (and perhaps Romitelli's concept), I heard the string sounds (not the electronic ones) as burning energy, the essence of animate spirit. Their wood is not consumed by these flames, which are in another dimension. But, as his note suggests, perhaps a kind of voice emerges wordlessly from those flames.
Mauro Lanza's The 1987 Max Headroom Broadcast Incident for string quartet and electronics takes its inspiration from a Chicago PBS broadcast of Doctor Who that was hijacked for 90 seconds by a pirate signal featuring a man in Max Headroom disguise. With that point of departure, it has no apparent common aesthetic ground with Romitelli's piece, and Lanza describes it as an 'homage to obsolete or soon-to-be deprecated technologies and to the media-dominated, dark future that the "cyberpunk" sci-fi of the 80s foretold'. But the piece is dedicated to the memory of Romitelli, and indeed the sound-worlds of the two adjacent pieces were similar. If Romitelli's Natura Morta con Fiamme evokes flames in the light spectrum, Lanza's piece evokes flickering in the radio frequencies. In fact, Lanza's piece begins like a slowed version of Natura Morta but gradually accelerates, arousing a comic cartoonish dance and also a strange distorted vocalization, so that the aural experience gradually connects to the work's title. Unlike Natura Morta, in Lanza's piece the electronic parts grow in importance and interest, and in fact the electronic sounds have the last word, again evoking the broadcast scenario of the work's title.
This thoughtfully-conceived triptych created a coherent and satisfying modulation across the three different pieces. The Quartetto Maurice were impressive: all four players offered a confident, skilled and transparent performance, with carefully balanced ensemble. Imaginative and intelligent, they illuminated the poetics of each work in its own proper light.
Penderecki String Quartet (Canada)
Jeremy Bell • Jerzy Kapłanek • Christine Vlajk • Katie Schlaikjer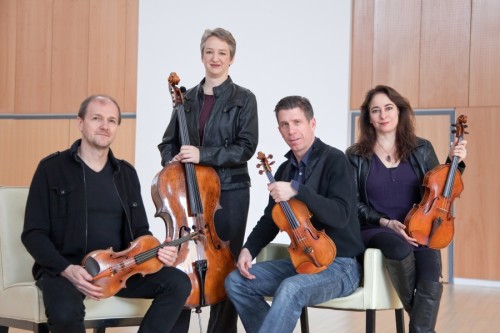 Hatzis — String Quartet No.4 'The Suffering' (2018)
Hatch — Once Upon a Time (2017)
Two new Canadian works by Christos Hatzis and Peter Hatch were performed by the Penderecki String Quartet (formed in 1986), the wonderful long-time Quartet-in-Residence at Wilfrid Laurier University. Hatzis and Hatch are faculty members at the University of Toronto and Wilfrid Laurier University respectively, making this an all-Ontario session. The contrast of the two Canadian works with the preceding three Italian pieces was total: both Canadian pieces eschewed all the characteristics of Eurozone erudite new music of the past several decades, opting for traditional diatonic expressivity and minimalism respectively.
Christos Hatzis's String Quartet No.4 is a deeply-felt response to the Passion of Christ set in two movements, 'Gethsemane' and 'Ecce Homo'. Hatzis writes in an elegiac tonal idiom, mostly diatonic but with some chromaticism, reminiscent of Central European composers before and after 1900 (e.g. Dvořák and Janáček) who sought to infuse late tonality with fresh authenticity through occasional unfamiliar harmonic moves within the geometries of consonant chord formations. The narrativity of 'The Suffering' is similar to Schoenberg's 1899 Verklärte Nacht, with genuinely affective story-telling, proceeding in sections – in this case something like stations of the Cross. Hatzis inflects the music with clear narrative and symbolic devices. For instance, the first movement ends with a striking group sigh followed by a long tremolo of multiple octaves; the last minutes of the second movement feature a simple and hypnotic hymn, functioning symbolically like an aura or halo, which is first declaimed by the violin then repeated with the audience asked to hum along wordlessly in congregational communion. Hatzis rejects musical modernism and postmodernism, seeking in echoes of the nineteenth century an idiom for direct expression of sincerity and faith.
By contrast, Peter Hatch's Once Upon a Time for string quartet and sampled sound provided a dose of postmodern irony and very different upbeat forms of musical recollection. His program note mentions 'nostalgia for times of greater optimism' and indicates that the piece involves 'quotations, misquotations and allusions to various musics'. The sampled sounds inserted periodically throughout the piece are excerpts from the early 1960s historical broadcast coverage of NASA's Gemini space mission, evoking the first American success in the space race, chasing after Russia's Sputnik surprise. The music begins in New York minimalist style, grouping arpeggio gestures in a jaunty mix of two, three and four eighth notes. Rather than the Gemini 1960s, these instrumental sounds signify the 1970s and '80s and the first broad and optimistic wave of American musical postmodernism. They later give way to a semi-funky disco/Motown blended idiom, signifying very different music trends from roughly the same period. Intentionally or not, the oddly hybridized pop idiom doesn't translate perfectly to string quartet voicing, and its droll brio evokes nostalgia for the gawky enthusiasm of white high school jazz and garage bands more than it captures the authentic vitality and originality of black music emerging from Detroit and Los Angeles. As a collage of memories and simulacra, looking South across the Canada-US border, Once Upon a Time ironically evokes multiple places and decades and very different sectors of the American cultural and political landscape during what was in fact a tumultuous period.
The Penderecki String Quartet played with excellent tone, balance and ensemble dialogue, lending their ample skills and interpretive range in genuine service to these two contrasting works.
Quartetto Noûs (Italy)
Tiziano Baviera • Alberto Franchin • Sara Dambruoso • Tommaso Tesini
Ambrosini — Ma misi me per l'alto mare aperto (2015)
Quagliarini — Bal buio (2016)
Colasanti — Di tumulti e d'ombre (2011)
Active since 2011, Quartetto Noûs, a well-matched ensemble of excellent young Italian players, performed three recent Italian works. Resonating with the three Italian pieces performed the previous evening, these three pieces are all contemplations of mortality, with their aesthetic roots in the music of Luigi Nono (1924-1990) and his peers, and the more solemn and philosophical brand of European artistic postmodernism of the past several decades.
Claudio Ambrosini's Ma misi me per l'alto mare aperto takes its title from a line in Dante's Inferno: 'On the high open sea I set forth'. Commissioned for a festival in Venice, its fascinating varied textures are audibly inspired by the movements and sounds of water – but nostalgia too. Dedicated to the erudite Italian musicologist Gioacchini Lanza Tomasi (b. 1934), Ambrosini's piece is music of 2015, but it resonates with the past at various distances, through the ideational presences of Dante, Tomasi, Nono and other composers, and the floating spirit of eternal Venice.
The Italian title of Marco Quagliarini's Dal buio means 'from the darkness', and Quagliarini's program note consists of this thought: 'Music is a reflection of an already seen wave. Not a beginning, not an end, simply a return to the darkness of the conscience. There can be no expression without facing the darkness'. The piece begins with wiry stirrings; passionate lyrical melodies begin to emerge, occasionally at first, but reach intense dramatic declarations. A clear multipart architecture is projected, with changes in pacing articulated by homophonic chords, open octaves or other sonic framing devices. Each section is contemplative in a different way, and the piece is rhetorically compelling and eloquent. Quartetto Noûs gave it a delicate pacing, deeply felt by the players and very moving overall.
Silvia Colasanti describes Di tumulti e d'ombre ('Of tumults and shadow') as a 'preparatory drawing for a musical theater work on texts taken from Pessoa's Faust…an anguished meditation on emptiness and on the abyss'. The piece offers 'an imaginary theatrical scene…an actor who continuously wears different masks and eventually appearing in a pure ghostly form'. The music opens with exciting textures and rhythms (tumulti), but develops into an eloquent lyrical declaration toward the end, with a tender and profound denouement, a kind of farewell.
This second triptych of recent Italian pieces offered the audience another rich and integrated aesthetic and emotional experience, sensitively presented and expressively paced. Quartetto Noûs demonstrated a high level of ensemble energy and coordination similar to the JACK Quartet, but with a leaner, more crystalline sound concept – equally complex and stimulating, but with the crisp minerality of a white wine compared to the structured cabernet flavours of the JACK. The classical Greek word noûs signifies mind and intelligence, combining both reason and creative inspiration. Aptly named, Quartetto Noûs plays with great precision, rhythmic and tonal accuracy, excellent balance, clear understanding, vivid imagination and resonant commitment to intelligent and emotionally profound interpretations.
Mivos Quartet (USA)
Olivia De Prato • Lauren Cauley Kalal • Victor Lowrie Tafoya • Tyler Borden
Lewis — String Quartet 2.5 'Playing with Seeds' (2017)
Ricketts — In Partial View (2015)
Gubaidulina — String Quartet No. 4 (1993)
Formed in 2008, the Mivos Quartet has been called 'daring and ferocious' (Chicago Tribune), and they gave Vancouver a brilliant display of prodigious energy and skill, exceptional ensemble playing and smart interpretations committed to reflecting the specific perspective of each piece. They presented three very different compositions, by Americans George Lewis and Matthew Ricketts and Tatar-Russian composer Sofia Gubaidulina. The Mivos Quartet modulated the pacing and energies perfectly to shape these contrasting works into a coherent and meaningful larger trajectory.
String Quartet 2.5 'Playing with Seeds' by the prodigious New York composer, improviser and Columbia University jazz scholar George Lewis is inspired by traditional seed and crop cultivation techniques of the women of Sierra Leone (as documented by the anthropologist Paul Richards). As Lewis describes it, 'The music is "grown" from "seeds" that are developed into new "varietals" through trajectories of register, temporal flux (stretching/compressing), sudden reversals of apparent fortune and the nomadism that is central to shifting cultivation'. The listener experiences a stunning display of sonic fecundity, with incredible musical energies flowing in every direction, but in organic patterns, never chaotically. Tempestuous glissando passages feel like downpours; dense bowed chords unlike any heard before miraculously produce breathy earth tones of indefinite pitch that evoke powerful shudders of wind or earth. The music doesn't depict these phenomena, but the sounds harness these kinds of enormous elemental energies. Lewis suggests that a listening 'engagement with this work constitutes a form of nomadic improvisation – not by the performers, who are dealing with fully notated music -but on the part of audiences'. The word nomadic evokes a gradual meandering process, but this music often moves very quickly, like a herd of antelopes or a flock of swallows, and the listener experiences rapidly shifting orientations in a torrent of musical motion and energy. It was written for the Mivos Quartet, and they performed it with gripping brilliance.
In Partial View by Matthew Ricketts responds to the epistemological problem of texts as pathways to truth, and the conflicting and even incommensurable vectors of power that they invoke or contest. A lengthy citation from Judith Butler on this topic is included in his program note, and a passage from Psalm 50 provides a response. In Partial View selectively quotes from Josquin's 5-voice motet setting of Psalm 50, Miserere mei, but Ricketts has taken a moment of unique repose in the motet and 'splayed the material into a painfully ecstatic, hocketing mess. The rest of the work, however, is more muted in character'. The pacing of Ricketts's quartet is mostly akin to the slow flow of Josquin's polyphony, and after the intense sonic weather of Lewis's quartet, the mostly diatonic sonorities and swaying motions offered a calming sense of levitated contemplation: careful, disciplined meditation on the troubling matters signified by the Psalm.
Sofia Gubaidulina's String Quartet No.4 uses an imitative polyphonic texture to set up a dialectic between sounds recorded by the quartet and sounds performed live. The discourse begins with recorded sounds: a repeating modal motive, almost passacaglia-like, is heard on a string instrument, not bowed but instead set in ricochet/tremolo rhythms produced by a plastic ball bouncing on the string; only later do we learn the source of this strange evocative effect, which is reminiscent of both cimbalom and oud, but neither. Against these disembodied and discontinuous sounds, the live players introduce continuous bowed melodic fragments, which gradually unfold their own discourse, in unpredictable waves of imitation. As the piece develops, the live quartet gains in eloquence, and the recorded sounds fade out. For a while, the live players use the plastic balls instead of their bows, at first on the backs of their instruments, and eventually on the strings; only then do we learn the source of the strange recorded sounds of the opening and now see them embodied. The players gradually take up their bows once more and the piece closes with a return of the opening motive, played arco and lightly harmonized. As Gubaidulina puts it, the basic idea of the piece is 'the birth of the "real genuine" from "unreal artificial" (and on no account the reverse)'. The piece facilitates a moving experience of that process, and the performance by the Mivos Quartet used eloquent pacing to express the poetry of both disembodiment and embodiment.
After the intense energy of the Lewis and the floating contemplations of the Ricketts, the slow processional character of the Gubaidulina occasioned awareness of time beyond the moment and a sense of wisdom acquired across the three very different works. The Mivos Quartet, from the ferocious to the gentle, understood this larger flow and brought it to life miraculously.
All told, the festival showcased a wonderful variety of contemporary string quartet writing brought abundantly to life by seven absolutely committed and enthusiastic ensembles, all brimming with technical élan, sensitivity and a true sense of discovery. It was a spectacular display of the continuing vitality and enormous scope of the string quartet today.
Richard Kurth
Professor of Music Theory, School of Music, University of British Columbia, and Director of School (2007- 2018)
Previously published in a slightly different form on http://www.vanclassicalmusic.com.