Switzerland Bernstein: Bartłomiej Nizioł (violin), Lev Sivkov (cello), Philharmonia Zürich / Wayne Marshall (conductor), Opernhaus Zürich, Zurich, 11.11.2018. (CCr)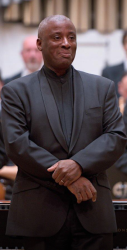 Bernstein – Symphonic Dances from West Side Story, Serenade after Plato's Symposium, Three Meditations from Mass, Overture and Suite of Orchestra from Candide
The music-going public of Zurich was greeted on Sunday night by quite a sight – an opera stage not of sets and costumes, but instead one filled by an orchestra roughly the size of a college marching band. I counted seven keyboard percussion instruments (marimbas, Glockenspiels, xylophones) in addition to piano and organ, to say nothing of the fuller-than-full additional percussion and generously apportioned standard orchestra. The players were those of the Opernhaus Zürich, atop their own stage for their splendid concert series. The occasion was Leonard Bernstein's centennial, in a concert honouring his music alone.
It's high time. The American who worked so doggedly to bridge European classical music and American traditions is more than deserving of having his own music enjoyed in Europe. The programme was reasonably well chosen. I liked that we weren't offered a dozen little pieces, the way a museum brings in charcoal sketches for an artist's retrospective. The four works performed argued well for Bernstein-the-composer, and they pleased the audience. Criteria fulfilled?
The evening began with the elephant in the living room of Bernstein's compositional life, West Side Story, or at least the dances therefrom. That the success of this music was a double-edged sword for Bernstein continues to make obvious sense in our day, given that it's simply ecstatically good, visceral and canny at once. A few small aspects of the arrangement caused the ensemble headaches, like the way some of the songs about each other so closely that at times little development is possible, only medley. Some of the horns couldn't keep up, and the music to 'Cool' began too fuzzily to properly set up its crescendo.
Other than that, there was nothing but high-octane joy emanating from the stage and players. Conductor Wayne Marshall has the finest feeling for this music. The percussion he tickled out of the Philharmonia Zürich was uniformly poppy and precise, the woodwinds always bright in tone, and the liveliest, snazziest orchestral thrusts you could imagine did not puncture the sweetness of the whole. I will never know what it's like for a Russian devotee of Mussorgsky to hear 'Pictures at an Exhibition' played by Western Europeans – could they ever satisfy his ear? – but now I know that the 'American' sound of Bernstein is fully possible abroad, in Switzerland of all places. In the right hands, of course.
With West Side Story out of the way, Marshall and the Philharmonia Zürich tried their hand at other, more sober music of Bernstein's: his 'Serenade after Plato's Symposium', from the 50's, before Bernstein had really finished working his way through serialism and finished cherry-picked those elements that served his style before discarding the rest. Bernstein's on Aaron Copland's turf here, and almost pulls off the duel. For an orchestra this big, I would have been interested to hear their treatment of his First Symphony instead, 'Jeremiah', which is a neglected work and which would have better made the case for Bernstein as a 'pure' composer, i.e. not just as one for the stage. They could even have gone for one of his full-on jazz compositions, like the 'Prelude, Fugue and Riffs'.
Instead, they chose the 'Serenade', which, despite its successful lyricism and thick Mahlerian strings, succumbs at times to aimlessness. The playing of Bartłomiej Nizioł as violin soloist (he's otherwise the Zurich opera orchestra's concertmaster) was very expressive in tone and had lovely dynamics over the piece's most lyrical moments. Questions of intonation and mechanical brittleness kept his playing from integrating into an already scattershot piece.
Yet even here you admire the ambition of Bernstein, and mourn the lack of clear successors. This is an American trying to borrow German musical idioms to entertain his audience with a musical story depicting Greek ideals. If you consider that West Side Story is an Americanisation of Shakespeare, that his Mass is a spiritually hopeful encounter with the Catholic Church, and that his Candide is a musical about Voltaire's feud with German metaphysics, it's not only musically but philosophically clear how invested Bernstein was in trying to unite mass art with ideas.
Go back and listen to his Mass; its arrangement of 'Three Meditations' was given here, and was the acme of the evening. Every now and then some booking agent lucks into marrying the perfect soloist with the perfect piece at the perfect time; whoever engaged Russian cellist Lev Sivkov for this piece deserves a medal of honour. Sivkov's cello playing sounded like he was alone in the dark singing to himself, with a privacy and freeness that are astonishing in a player so young. Twinned with Wayne Marshall's wisdom of knowing when to give very little, the playing absorbed a sort of spontaneous anima, all the little things right in their place, all the big things wafting.
The finale, Candide's short overture and a longer orchestral suite from it, was fresh in spirit and brash in dynamics – a more Rossini-esque version of what had already been given in West Side Story. The tempo was too spirited to enjoy much contour, and the strings lost warmth in the race for nimbleness. The delicious faux-Slavic syrup of 'I am so easily assimilated' didn't really congeal, and cumulatively, the sound of the 'Suite' was a bit Hollywooden. Was it enjoyable all the same? And how!
So much so that the audience refused to let Marshall leave without an encore; having not prepared one, he simply gave the Candide overture again, minus the 'Suite', and emphasised once again what a terrific sense he has of American music and how successful the Philharmonia was under his command.
Casey Creel