United States A Celebration of the Life and Music of Robert De Cormier: David Ralph (piano) / John Daly Goodwin (conductor), Little Red School House & Elisabeth Irwin High School, New York, 30.11.2018. (RP)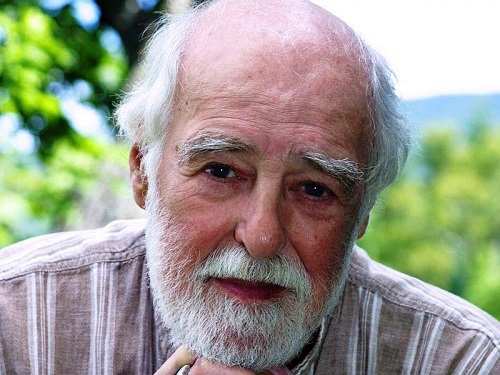 Belafonte & Freedman – 'Turn the World Around' (arr. De Cormier)
Crawford – 'Amen' (arr. De Cormier)
De Cormier – 'Harlequinade' from Legacy, Give Us Peace
Kittredge – 'Tenting Tonight' (arr. De Cormier)
Lowry – 'Beautiful River' (arr. De Cormier)
Seeger – 'Precious Friend You Will Be There', 'To My Old Brown Earth' (arr. De Cormier)
Folk songs, carols and spirituals – 'Hear the Lambs A-Cryin', 'Walk Together Children', 'Chanuke, Oi Chanuke', 'Rozhinkes mit Mandlen', 'Ride On, King Jesus', 'I Been in the Storm So Long', 'Stars Shinin' By 'N By', 'Patapan', 'The Virgin Mary Had a Baby Boy', 'Plenty Good Room/Sit Down Servant', 'Let Me Fly' (arr. De Cormier)
John Daly Goodwin quipped to the audience that he didn't know what to call this event. Concert didn't seem quite right, nor did memorial or tribute. Peter Yarrow, of the folk trio Peter, Paul and Mary, suggested hootenanny, but they both missed the obvious: it was a love-in. The singers on stage were, for the most part, of an era, their idealism tempered but undimmed, with the years slipping away as they sang to celebrate the life and music of their conductor and friend Robert De Cormier, who died just over a year ago at the age of 95.
De Cormier returned home after serving in World War II certain of one thing, that due to his injuries he would never play the trumpet again. He wavered between a career as a union organizer or a musician. The latter won out, and so he attended Juilliard, but his progressive ideals remained intact. He met his wife, Louise, at a concert where he was Paul Robeson's accompanist. Pete Seeger was his friend and fellow champion of peace and social justice.
De Cormier's career as arranger, composer, conductor and teacher spanned five decades. He was also the musical director and arranger for Harry Belafonte and Peter, Paul and Mary. This performance, however, celebrated the choruses that he founded and/or conducted: The Jewish Young Folk Singers, The Belafonte Folk Singers, The Robert De Cormier Singers, The New York Choral Society, The Vermont Symphony Orchestra Chorus and Counterpoint. There were singers from every group on stage save one, the Belafonte troupe; one of the altos, Judy Rubin, had sung with the Jewish folk group.
The concert began with 'Turn the World Around' in De Cormier's arrangement of Belafonte's hit song from the 1970s. It was bright and bouncy, the infectious melodies and rhythms setting the tone for the evening. There were also two of his arrangements of Yiddish folk songs, 'Chanuke, Oi Chanuke' and 'Rozhinkes mit Mandlen'.
Two Seeger songs were included, as well as De Cormier's hauntingly beautiful arrangement of 'Beautiful River' (known too as 'At the River'), but the negro spirituals resonated the most both musically and emotionally. In 'Walk Together Children,' perhaps the best known of his arrangements, De Cormier channeled the song's buoyant, infectious optimism in melody and rhythm. 'Stars Shinin' By 'N By' and 'Let Me Fly' were especially memorable.
The concert was held at Little Red School House & Elisabeth Irwin High School, a progressive school in Greenwich Village where De Cormier taught early in his career. Mary Travers was one of his students. She died in 2009, but Peter Yarrow and Noel Paul Stokey were on hand with their guitars, leading the audience in 'If I Had a Hammer'. Was it my imagination, or did everyone know the words by heart?
Goodwin, who succeeded De Cormier as the music director of NYChoral (as it is now known), conducted and provided the narrative. Affection and respect were evident in every word he spoke, and through the dedication and passion that he displayed while conducting music he knows intimately. With little rehearsal time, perfection was not the goal but at times it was achieved.
There were moments of rich, focused choral sound that were so wonderfully American. The attention to detail was impressive, especially in the singers' excellent diction. No one knew better than De Cormier that to drive the message of a song home, you had to understand the text. His style – big and spacious, with clearly delineated choral lines that weave in and out of the musical textures – demands that the words be understood. The singers did him proud.
Goodwin called on Louise De Cormier for a few words. She remarked that she had said all she had to say about her late husband and instead read a poem that a friend had written. It told of the simple pleasures of their life in Vermont, full of love, commitment and music. The recurring image was 'Bob's old boots' which would never be worn again.
The concert ended with De Cormier's final composition, Give Us Peace, which he wrote in 2017. Its message was a plea that the killing in Iran, Afghanistan, Chicago – everywhere – cease.
On the walk home, Dr. Martin Luther King, Jr.'s 'The Drum Major Instinct' sermon was running through my mind: 'Yes, if you want to say that I was a drum major, say that I was a drum major for justice. Say that I was a drum major for peace. I was a drum major for righteousness.' Without a doubt, Robert De Cormier would have arranged the music for that band, and there would surely have been a choral contingent marching right alongside it.
Rick Perdian