Germany Rameau, Hippolyte et Aricie: Staatsopernchor, Freiburger Barockorchester / Sir Simon Rattle (conductor), Staatsoper Unter den Linden, Berlin, 6.12.2018. (JMI)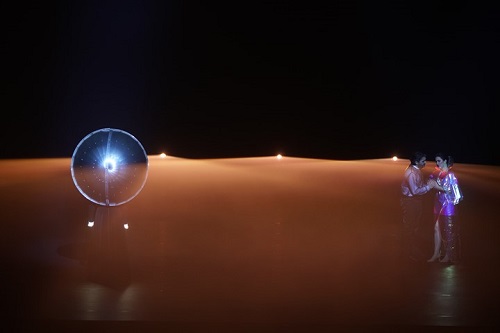 Cast:
Hippolyte – Reinoud Van Mechelen
Aricie – Anna Prohaska
Phèdre – Magdalena Kožená
Thésée – Gyula Orendt
Diane – Elsa Dreisig
Pluton – Peter Rose
Mercure – Michael Smallwood
Tisiphone – David Oštrek
Oenone – Adriane Queiroz
Première Parque – Linard Vrielink
Deuxième Parque – Arttu Kataja
Troisième Parque – Jan Martiník
Matelote – Sarah Aristidou
Chasseresse – Slávka Zámečníková
Bergère – Serena Sáenz Molinero
Production: Staatsoper Berlin
Director and Choreography – Aletta Collins
Sets and Costumes – Ólafur Elíasson
Lighting – Olaf Freese
One rarely has the opportunity to see this Jean-Philippe Rameau opera staged, and even less so outside of France. In fact, I have only seen it once before, in March 2009 in Toulouse, where the conductor was Emmanuelle Haïm, a specialist in Baroque music, and it was sung exclusively by French vocalists.
Rameau is Lully's great successor in French music although Hippolyte et Aricie, his first opera, was not premiered until almost fifty years after Lully's death. This opera, a major work, is very representative of the French Baroque, which differs so from the Italian. If in the latter great arias and virtuosity prevail, French Baroque opera is known for declaimed singing, frequent ballets and an absence, in general, of pages of personal virtuoso performance. In the popularity 'battle' between these so-different styles, the victory has undoubtedly gone to the Italians, which included Handel – not by nationality, but by following this style to become the great Baroque opera figure. But that is no reason to overlook or ignore such an important genre as French Baroque opera.
In Berlin, the best part of the performance, without a doubt, came from the pit where Sir Simon Rattle was conducting. One doesn't often see this great conductor in a Baroque opera, much less a French one, and perhaps his decision to conduct the work had to do with the presence of Magdalena Kožená as Phèdre. Today there are great maestros who specialize in Baroque music, some with their own orchestras, but this isn't the case with Rattle. While he is not a Baroque specialist, there is no question that he's an exceptional musician in whatever music he leads. This was a magnificent reading, with fine performances by the Freiburger Barockorchester and the excellent Staatsoper chorus.
The Berlin Staatsoper mounted a new production by Aletta Collins, whose designs posed some serious problems for the audience. There are almost no sets at all in order to leave ample space for the dancers who are so important in French Baroque; sets and props were replaced by lights, many of them moving and pointed at the audience, making it difficult to see clearly. This was particularly true in the first two acts and in the last one. Acts III and IV feature a large mirror at the back of the stage which reflected the artists and the theater itself, including the pit. In the fourth act a screen was added in the middle of the stage, where images related to the sea were projected.
The chief merit of the production is that it did leave lots of room for dancing – even the chorus is positioned in the pit. However, its members wore metal hats which reflected all those aforementioned lights and were bothersome. There were also some overactive smoke machines, not only on stage but throughout the opera house.
The role of Aricie was sung by soprano Anna Prohaska, who is frequently seen at the Berlin Staatsoper. She has a very attractive voice and gave a superb performance. Reinoud Van Mechelen as Hippolyte is a light tenor who sang with good taste and expressiveness, and is a good actor as well.
Mezzo-soprano Magdalena Kožená as Phèdre was also outstanding, particularly in her great scene of Act III. The part of Diane was brilliantly covered by soprano Elsa Dreisig and her well-handled voice, while baritone Gyula Orendt was convincing in the role of Thésée, especially in the second and third acts.
The rest of the characters are less important, but all of them were covered in a remarkable way: Adriane Queiroz as Oenone, bass Peter Rose as Pluton, tenor Michael Smallwood as Mercure and David Oštrek as Tisiphone. The Parques trio was nicely sung by Linard Vrielink, Arttu Kataja and Jan Martiník.
The Staatsoper was fully sold out. There were plenty of ovations and bravos at the final bows for the protagonists and, of course, for Sir Simon Rattle.
José M. Irurzun