United States Various Composers: Michelle Bradley (soprano), Will Liverman (baritone), Ken Noda (piano), Gilder Lehrman Hall at The Morgan Library & Museum, New York, 2.12.2018. (RP)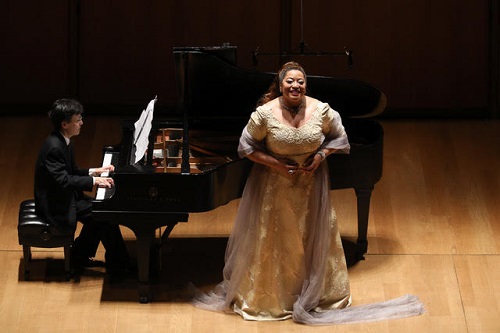 Vaughan Williams – 'Let Beauty Awake', 'The Roadside Fire', 'Whither Must I Wander', 'Bright Is the Ring of Words' (Songs of Travel)
Strauss – 'Es gibt ein Reich' (Ariadne auf Naxos), 'Ständchen' Op.17, No.2, 'Cäcilie' Op.27, No.2
Lortzing – 'Heiterkeit und Fröhlichkeit' (Der Wildschütz)
Poulenc – Quatre Poèmes de Guillaume Apollinaire
Barber – Hermit Songs Op.29
Verdi – 'Pace, pace, mio Dio!' (La Forza del Destino)
Rimsky-Korsakov – Grigory's Aria (The Tsar's Bride) 
It is hard to imagine two singers more different from one another than soprano Michelle Bradley and baritone Will Liverman. Past winners of the George London Foundation competition, both are making their mark in concert halls and opera houses here and abroad, but that is about where the similarities end. She is venturing into the big Verdi roles, while he is a lyric baritone with a remarkable string of credits ranging from Mozart to Muhly. The contrasts, however, made for a fascinating recital.
Bradley stunned from the start with 'Es gibt ein Reich' from Ariadne auf Naxos. 'Pace, pace, mio Dio!' from La Forza del Destino (she'll perform Leonora with Oper Frankfurt in early 2019) and the passionate and soaring Strauss songs, 'Ständchen' and 'Cäcilie', are similarly tailor-made for her vocal gifts. She's got what it takes in terms of dramatic flair and rock-solid vocal technique for this repertoire; her phrasing and breath-taking, split-second dynamic shifts are impressive.
Grandeur gave way to intimacy and wit in Barber's Hermit Songs. The Morgan Library's hall has extremely live acoustics, so it was particularly welcome that she trimmed her vocal sails to reveal the texts of these deceptively simple sounding but complex songs. As a result, 'Promiscuity', just one sentence long, drew wry smiles, and Barber's transparent melodies in 'The Monk and his Cat' worked their soothing charms.
Liverman's offerings were more eclectic. He opened the concert with four selections from Vaughan Williams' Songs of Travel. His wanderer was steady and resolute with a voice that rang just as true, even when called upon to be playful in 'The Roadside Fire' and soft and consoling at the close of 'Bright is the Ring of Words'. In Poulenc's Quatre Poèmes de Guillaume Apollinaire, Liverman let his hair down a bit, capturing the sophistication and comedy in these dreamy, nostalgic miniatures with just a nod of his head, a shrug of his shoulders or the twinkle in his eyes, all of which were mirrored in his voice.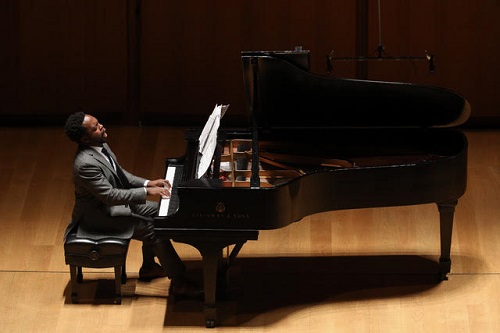 Humor abounded in the Count's light-hearted, boisterous aria from the first act of Lortzing's Der Wildschütz. Dynamic contrasts and buoyancy were missing but, again, the acoustics may have come into play; he wouldn't be singing Rossini's Figaro if he didn't have them in spades. In stark contrast was the aria from Rimsky-Korsakov's The Tsar's Bride, his compact column of sound deployed in venting Grigory's frustration and lust to blistering effect.
There is a genuineness to these two singers that was evident throughout but glowed especially bright in their encores. Eschewing the obvious, they opted to accompany themselves in songs appropriate to the Christmas season. For Liverman, it was 'O Come All Ye Faithful', which he said was 'his song' from the Nat King Cole album that signaled Christmas was here in his home. He jazzed up the accompaniment a bit, but his take on the traditional carol was so honest and sincere that it actually brought a tear to my eye.
Bradley said that she was from a Kentucky church-going family, and played the piano in the evenings for her parents. Her voice blazed in her soul-infused take on Malotte's 'The Lord's Prayer'. It was all power and glory by the time that she got to the final Amen. Standing side by side, they closed the recital singing 'Silent Night': so simple, so beautiful, so real.
At every London Foundation event thanks is bestowed on Nora London, the driving spirit behind the organization. Singers who once graced the world's stages are also generally in attendance. The ones I recognized on this occasion were Rosalind Elias and Elinor Ross; no doubt there were others. Ken Noda, who has accompanied many of the great singers of our time, is in the same league. Their devotion to young singers is inspirational, and we're all in their debt.
Rick Perdian