Robert Beattie interviews Simon Mechliński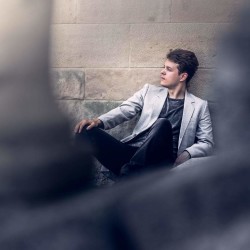 The Wexford Opera Festival is famous for introducing rare, neglected and new works to the public. It also provides a forum for young performers to make their mark on the world. One such performer at this year's Festival was 25-year-old Polish baritone, Simon Mechliński, who performed in Mercandante's Il bravo (click here) and Donizetti's Don Pasquale (click here). Simon's performance as Dr Malatesta in Don Pasquale was superb and he showed enormous flair and impeccable comic timing. He also gave a first-rate song recital (click here) at St Iberius Church with Wexford's Head of Music, Andrea Grant. Simon has performed at the Glyndebourne, Poznań and Dortmund Opera Festivals. His forthcoming engagements for Wroclaw, Lyons and Toulon Operas include the roles of Dardini in La Cenerentola and the title role in Eugene Onegin. He has won a number of prestigious awards, including the Gerard Arnhold Prize for the Most Promising Talent at this year's Wexford Opera Festival. I spoke to Simon about his background, the previous roles he has taken on and forthcoming projects.
Robert Beattie: Can you tell us a little about your background and why you decided to become an opera singer?
Simon Mechliński: I come from a very musical family and both my parents are opera singers. When I was a kid, I spent a lot of time listening to opera but I didn't like it and preferred playing on my games console. In spite of this my parents ensured I had a good all-round musical education and I studied guitar and piano as well as singing. I also sang in a choir and the conductor, Henryk Górski, was impressed with my singing and encouraged me to sing professionally. I applied to study music at the Poznań Conservatory, but it was a toss-up between that and the University of Technical Studies where I had a place to study Chemistry. During my time at High School and at Poznań Conservatory I started to listen to classical music and opera much more. My father was a teacher at the Poznań Conservatory and was very supportive of my career. He helped me with technical problems although his voice is lower than mine and he has a different physique. I also studied privately with my mother, the soprano Gabriela Kściuczyk-Klima. I had lessons with Professor Iwona Kowalkowaka at the Poznań Conservatory and more recently have attended masterclasses with Giorgio Zancanaro. I am exclusively under the guidance of Maestro Zancanaro now.
RB: What are the most important roles you have performed to date and can you tell us about the difficulties associated with these roles and how you have addressed them?
SM: I have taken on the roles of Eugene Onegin in Dortmund and Toulon, the Count in Mozart's Marriage of Figaro in Poznań and Marcello in Puccini's La bohème for Baltic State Opera. In Mozart's operas there is often no distinction between the bass and baritone and, when singing the Count, it is important to ensure the low notes do not disappear and the singing is even across the vocal register. Mozart's writing is very exposed, and it is important to produce a focused sound and to have a secure technique. Marcello is a role which I very much enjoy and the tessitura fits my voice perfectly. Occasionally, one has to sing against big orchestral forces particularly in the second act, so it is important to prepare for this. Onegin has a wide vocal range, so one needs to ensure the voice carries when singing in low tessitura, for example during the quartet in Act I, and that the high notes do not sound forced when they come.
RB: Which repertoire are you most drawn to and why?
SM: I particularly enjoyed singing the role of Fritz Kothner in Wagner's Die Meistersinger in Poznań. I would like to perform more substantial Wagner roles such as Beckmesser although it is important to prepare properly for them as one can be singing on stage for 5 or 6 hours which requires enormous vocal stamina. I enjoy singing in Puccini operas as the vocal lines fits the baritone voice so well and I performed the role of Yamadori in Madame Butterfly at Glyndebourne. I also prepared for one of the roles in Handel's Julius Caesar at Glyndebourne. I enjoyed the experience but was not entirely comfortable with the bass-like tessitura. The need to sing in Baroque pitch also makes some of these roles more difficult.
RB:  I was fascinated by the Polish songs and arias which you performed at the recital in St Iberius Church. I particularly enjoyed your performance of the Swordsman's aria from Moniuszko's The Haunted Manor. I was not familiar with Moniuszko's music and did an internet search to find out more about it afterwards. Do you always include Polish music in your recitals?
SM: I try to promote Polish songs and Polish opera where I can. It is important to respect the culture of your own country. Moniuszko wrote many operas which contain some great music and he is unique among opera composers. One of the reasons why I like the Wexford Opera Festival is that it helps to unearth many neglected composers and to promote their music to the general public. Many opera singers learn Czech and Russian, so I do not see it as a problem for them to learn Polish as well.                  
RB:  How many languages do you sing in?
SM:  I have sung in Italian, German, Polish, Russian, French and English. I initially had some difficulty with the closed vowels in French but have worked to master the language. With regards to English, I have sung in a production of Britten's War Requiem and am particularly drawn to the operas of Purcell.
RB: Your Lieder recital at St Iberius Church was terrific. Do you enjoy performing Lieder and which repertoire are you drawn to?
SM: Yes, I very much enjoy performing Lieder recitals. I particularly like the music of Brahms and Strauss, some of Ravel's songs and the Russian Lieder repertoire particularly Rachmaninov. I love performing Rachmaninov's song, Spring Torrents.
RB: What future projects do you have in the pipeline?
SM: I will be performing the role of Dardini in Rossini's La Cenerentola and Janusz in Moniuszko's Halka for Wroclaw Opera. I will also be appearing in a New Year's Eve Opera Gala in Warsaw. Next year I will be performing the role of Foka in Tchaikovsky's The Enchantress and the title role in Eugene Onegin for Toulon Opera.
RB: Thank you very much for speaking to me. Congratulations again on your success in Wexford and can I take this opportunity to wish you all the best in your future engagements.