United Kingdom Handel, Messiah: Sophie Bevan (soprano), Iestyn Davies (countertenor), Allan Clayton (tenor), Roderick Williams (baritone) , Britten Sinfonia Voices (director: Eamonn Dougan) Britten Sinfonia Orchestra (violin/director: Jacqueline Shave), Barbican Hall, London 19.12.2018. (CSa)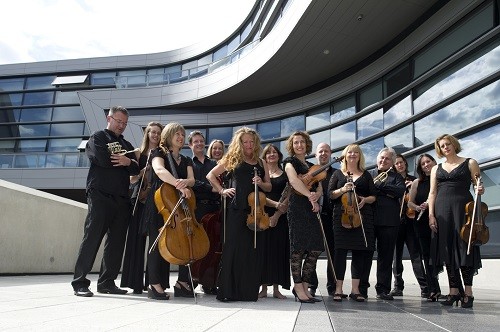 In April 1742, a few days after the first public performance of Messiah, Handel paid a visit to the statesman Lord Kinnoull who complimented him on a 'noble entertainment'. Handel is said to have replied, 'I should be sorry if I only entertained them. I wished to make them better.' The performance at London's Barbican provided the perfect balance between dramatic narrative and deep spirituality, thus fulfilling Handel's wish to the letter.
Those expecting the traditional Christmas musical fare – a bloated Messiah, with full-scale symphony orchestra and massed chorus under the controlling baton of a white tied conductor – would have been pleasantly surprised by the smaller, leaner and wonderfully energised version offered by the Britten Sinfonia and Britten Sinfonia Voices under the direction of the orchestra's leader, Jacqueline Shave. Playing a Nicola Amati violin (circa 1672) with vigour, and turning intermittently to beat time with her bow, she synchronised the Sinfonia's twenty-two instrumentalists and twenty-two strong chorus only when necessary, leaving them free to pay close attention to the musicians and connect with each other. A vitally fresh and spontaneous quality in their music making was thus unleashed. Shave's creative and liberating approach extended to the four magnificent soloists – Sophie Bevan (soprano), Iestyn Davies (countertenor), Allan Clayton (tenor) and Roderick Williams (baritone).  Moving smoothly from where they were seated – two to the left and two to the right of the orchestra – the performers delivered their recitatives and airs centre stage. This simple choreographic device left them free to establish a direct connection with the audience and focus on the urgency of the story Handel and his librettist Charles Jennens wanted told.
With his tousled hair and imposing beard, Allan Clayton looked every inch the prophet. His clarion 'Comfort ye, my people', and beautifully phrased 'Every valley shall be exalted', suggested John the Baptist in the wilderness, foretelling Christ's arrival on earth. Such comfort provided by this joyous melody was quickly dispelled when the richly hued voice of Roderick Williams, in an agitated and brilliantly executed series of long runs, sang 'I will shake the heavens and the earth', later followed by a creamily legato rendition of 'The people that walked in darkness'. The sun soon emerged with a lustrous chorus: 'Glory to God in the highest'. The singers were accompanied by a pair of heavenly trumpets – only revealed when an alcove opened, like an Advent calendar, in the wooden screen at the back of the platform.
Sophie Bevan gave us an exuberantly bright 'Rejoice greatly, O daughter of Sion', and a tender 'Come unto Him all ye that labour', although her voice was showing signs of strain in the upper register.
Part Two of Messiah depicts Christ's passion. It contains the intensely spiritual heart of the work, and some of its most heartrending arias. These include the haunting lament 'He was despised and rejected of men.' Here, Iestyn Davies, brilliantly evoking the tragedy of Christ's abandonment and humiliation, sang with simplicity, elegance and purity of tone. The unfolding drama was further intensified by the chorus's whiplash retort 'Surely he hath borne our griefs' and mocking 'He trusted in God', followed by Allan Clayton's soul-searching anguish in the tenor recitative 'Thy rebuke hath broken his heart'.
Sophie Bevan's 'I know that my Redeemer liveth' and 'If God be for us' sparkled with clarity and assurance, while Roderick Williams's masterful 'The trumpet shall sound' was recounted softly and delivered to a spell-bound audience with a storyteller's knowing smile.
The chorus's authoritative 'Worthy is the lamb' and final joyous 'Amen' were greeted with tumultuous applause by the audience. Not simply entertained, they had, in the space of an inspiring 135 minutes, also been made to feel better.
Chris Sallon
For more about the Britten Sinfonia click here.