United Kingdom Bernstein, Candide (semi-staged performance): Soloists, Guildhall School Young Artists; London Symphony Chorus & Orchestra / Marin Alsop. 8.12.2018. (CC)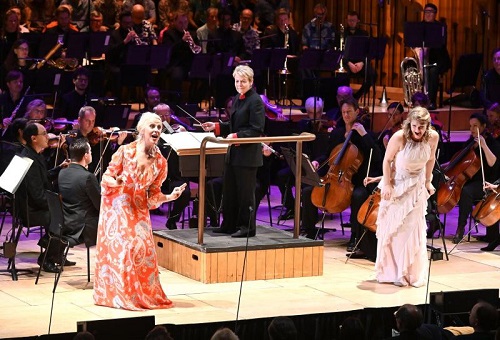 Cast:
Candide – Leonardo Capalbo
Dr Pangloss, Narrator – Sir Thomas Allen
Maximillian/Captain/Second Judge – Marcus Farnsworth
Paquette – Carmen Artaza
First Judge/Señor/Governor/Vanderdendur/Venice Prefect – Thomas Atkins
Heresy Agent/Archbishop of Paris/Slave Driver – Liam Bonthrone
Third Judge/Crook – Jonathan Eyers
Baron/Grand Inquisitor/Don Isaac/Señor/Manuel/Cacambo/Ragotski – Frederick Jones
Baroness/Second Sheep – Lucy McAuley
First Sheep – Katherine McIndoe
Production:
Director – Garnett Bruce
Stage Manager – Caroline Moores
This was the first of two performances on consecutive days of Bernstein's operetta Candide at the Barbican, a venue at which it has a long and distinguished history, given that Bernstein himself conducted the work there with the LSO in 1989; Michael Tilson Thomas and Kristjan Järvi followed on; and now it is the turn of the human dynamo Marin Alsop, whose energy never seems to flag. The result was one of the most memorable performances of 2018.
The convoluted genesis of Candide, based on Voltaire's 1759 satire, led to a minimum of six librettists contributing to the final version. Even the orchestration is not simple: mainly Bernstein and Hershy Kay but with contributions by John Mauceri. The result, though, is all of a piece, albeit a madcap one. Some of the rhymes are hilarious (Cunegonde's 'I am so pure that before you may bed me/ You must assure me that first you will wed me' furnishes but one example). For this performance, there was a minimum of props: we were greeted on entrance by an easy chair and small table (the Narrator's, it turned out) and a table and four chairs at the other end of the stage. There were two large HD screens on either side also, initially showing a black-and-white photo of Bernstein himself. These would later mainly show an olde-style map of the world onto which Candide's various destinations were traced (he gets about); every now and again, in response to the text, the word "OPTIMISM" was projected. Garnett Bruce's staging made the most of the available space, costumes beautifully panto-like at times (the sheep were particularly cute).
The orchestra was in fine fettle throughout, right from the opening of the Overture, Alsop finding the core of the score's huge energy reserves. She held the choral contributions together with a tight rein, while bringing out the very best of the LSO; it's worth noting, perhaps, that both Alsop and Bruce have personal connections with Bernstein – Bruce held an internship with the great man – so there was a flavour of authenticity around all of this.
Sir Thomas Allen made for a perfectly English Narrator, doubling as Doctor Pangloss. Hilarious and perfectly English in delivery, he ensured that the parallels between the political scene for the setting of the play and current political trends did not go unnoted; an exaggerated gesture of looking at his watch as he described strife in Europe was repeated at one salient point, hinting he was creating a visual 'anchor' for the audience, although this idea did not appear to be followed through throughout. He also exuded a confidence that ran like a thread through the performance, his voice ripe and resonant, particularly in his 'Dear Boy', where his masterly timing called on his years of experience.
Our Candide was tenor Leonardo Capalbo, who gets the first word in his verse of 'Life is happiness indeed'. Capalbo's voice is full and rounded, aspects that paid full dividends in his Lament ('Cunegonde, Cunegonde, Cunegonde,/Is this all then?'); the beauty of Bernstein's music was fully relished by singer and orchestra.
The show was almost stolen from him, though. As Cunegonde, Jane Archibald brought the house down with her coloratura song 'Glitter and be Gay' in Act I; right from her first entry, her gorgeous top register was in evidence, her voice altogether golden throughout its range. Together, Capalbo and Archibald seemed the perfect vocal pairing: whether or not the text of 'Oh happy we' is a deliberate reference to Handel or not (Acis), there was no doubting the sentiment in Capalbo and Archibald's rendition. These two have the final word in 'Make Our Garden Grow'; appropriately, this was heard as high beauty, Alsop shaping the performance to allow this full dramatic resonance.
Anne Sofie von Otter gets the simply wonderful number 'I am easily assimilated', and hammed it up beautifully, her voice incredibly strong (her accent incredibly Jewish); delivery varied from the powerful to the suave.
As the Maximillian and the Captain (principally), Marcus Farnsworth was in fine voice, while Frederick Jones' clean and clear Ragotski (one of Jones's many characters) vied for the funniest accent of the performance. There was no weak link in the cast; the sheep, Katherine McIndoe and Lucy McAuley, delightful in their duet (or, as Bernstein calls it, 'Sheep's Song', with its hints of Delibes's 'Flower Duet').
The LSO Chorus was on top form, relishing the lines they are gifted (can anyone top 'What a day, what a day/For an auto-da-fé'?) while appropriately hymnic at 'Universal Good'.
LSO Live recently brought out Bernstein's Wonderful Town conducted by Rattle (review). This has been a wonderful year for Bernstein's music; Antonio Pappano has reminded us of the import of his symphonies in his Warner recording and Proms performance (review), for example, while also at the Proms Alsop led an 'Age of Anxiety' with her Baltimore forces and Thibaudet (see Claire Seymour's review here) and John Wilson conducted On the Town (review by Jim Pritchard here); perhaps greatest of all was the John Wilson-led West Side Story at the Proms (see my review here). That's a smattering of the celebrations, out of which we all emerge remarkably enriched and enlightened as to the sheer range of Bernstein's visionary genius. This Candide was, surely, a fitting climax.
Colin Clarke