Michael Cookson interviews Ádám Fischer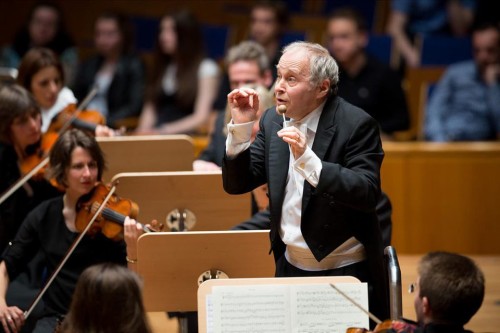 Sitting in the conductor room at the famous Semperoper, Dresden last May I interviewed conductor Ádám Fischer. In an hour's time he would be conducting a compelling performance of Beethoven's Fidelio directed Keith Warner (click here). I couldn't help but contemplate on the many famous conductors who had been in the room over the years since the Semperoper's reconstruction in 1985.
Born at Budapest in 1949 Fischer has become particularly associated with opera conducting at the world's most prestigious opera companies notably Bayerische Staatsoper, Wiener Staatsoper, Metropolitan Opera New York, Teatro alla Scala, Milan and Bayreuther Festspiele. Although Fischer has conducted at Royal Opera House, London he does not appear to conduct too often in the U.K. Like many music lovers I first became aware of Fischer owing to his renowned cycle of recordings of the complete Haydn symphonies with Austro-Hungarian Haydn Orchestra. Completed in 2002, Fischer took fourteen years to record the set at Esterházy Palace, Eisenstadt, for the Nimbus label and subsequently reissued on Brilliant Classics (click here).
Of great interest to me and I am sure many others is Fischer's ongoing cycle of the complete Mahler symphonies recorded in live concert with Düsseldorfer Symphoniker. At the time of writing recordings of No's 1 (click here), 4, 5 (click here),7 and 3 have all been released.
Michael Cookson: You come from a renowned musical family.
Ádám Fischer: Yes, I do. My brother Iván Fischer is a conductor, my cousin György Fischer was also a conductor and music director of the Cologne opera for twenty-five years. And he was married to the great soprano Lucia Popp but that was forty-years ago. My father was Sándor Fischer a conductor in Budapest with Hungarian Radio and even my uncle was a chorus master.
MC: What music did you hear played in the house?
AF: All the operas my father Sándor was conducting I heard when I was a child. My first Fidelio when I was twelve, my first Die Zauberflöte when I was ten. I even sang third boy in Die Zauberflöte and heard my first Tristan at seventeen. It was some education. We were living in an apartment across from the Hungarian State Opera House. When I was between thirteen to fifteen I was there every night when I could, that was my operatic education.
MC: Who would you regard as the most influential person in your career?
AF: Because of my family background in music there were several people. I couldn't identify just a single person. When I was in London for the first time, I heard a concert that was especially memorable. It was Beethoven's Ninth Symphony at Royal Festival Hall, in the early 1970s conducted by Otto Klemperer, who would have been in his mid-eighties at the time. I was a young student then and that was a concert that impressed me so much. Another concert that I tell people about was when my father took me when I was five. It was a performance of Haydn's 'Surprise' Symphony and he told me the whole story that the music would be very soft and then very loud to waken you up. My father had played me this on the piano, so I was expecting something remarkable and I can remember at the concert I was most disappointed because it was not that loud really. After the concert father took me backstage to see the conductor, I can't remember his name, and I asked him why it wasn't played louder than I expected. [Laughs] I seem to remember the conductor saying it was dependent on how loud you hit the timpani with the drum sticks and something else that I couldn't really understand but I just remember being left disappointed. At the end he said to me when you grow up and become a conductor you can ask a timpanist yourself to play it louder. I remember thinking that's a good idea, I will!
MC: You must have been a precocious child? A really early developer?
AF: I don't know. You see I had some problems later with my father in meeting his expectations of me. Later I had my doubts that I would become a conductor if I hadn't been born into this family. Was it because of the expectations of my parents or was it my idea, of course, you know it's not possible to really answer this question. I was of course very interested in music, but I can't say exactly when I decided to be a conductor because it was already predetermined…
The other story was the political background at the time. You see my father and the whole of the family in Hungary were Jewish and my grandparents had been killed at Auschwitz. After the war my family returned to Hungary and so I was born in Budapest in 1949. After the time of the Nazis in Hungary there began this Communist terror in the early 1950s. So, both my parents came to the decision that our family had to leave this country. My father said how important it was to learn a profession so that you are able to leave the country and begin work in another. My father said that you must have a serious profession that is not connected to the Hungarian language for example if you become an actor you can't leave but if you become a singer then you can leave. If you become a lawyer you can't leave but if you become a doctor then you can leave. He thought that music was the best profession to have, to survive anywhere in the world. You don't know what will happen in your life, you don't know where you will live. That is why my father encouraged us to obtain an internationally recognised profession.
MC: What was your instrument at music school? 
AF: Well, I started with the piano. Later I took up the oboe, but I had to stop as I was studying at the music academy in Vienna and they use another oboe. Only Vienna has the Viennese oboe. You really have to study it from the beginning. If you use the universally played French Conservatoire oboe you can't play the Viennese oboe which has a different fingering system. Traditionally the Vienna academy only uses the Viennese oboe. So, I had to give the oboe up but by this time I just knew that I wanted to be a conductor. But it wasn't a bad thing knowing a woodwind instrument.
MC: I have looked through your list of engagements for the last decade or so and the vast majority are opera with lots of Wagner, Mozart and Verdi.
AF: Yes, not so much Puccini, but I'm pleased to say that I'm doing Gianni Schicchi next summer at La Scala. You can see from looking at my past and future engagments that I love conducting opera. I love theatres, you see I was raised in opera and as I told you I sang in opera as a child and also in the chorus, I especially remember being in Carmen and Otello. Even then I knew that I wanted to have a career there. It's like a child's love to be here in opera. Of course, though an orchestral concert is very different, a very different task and in recent years it's become easier to play a good concert compared to an opera where you need more rehearsal time.  An orchestral concert is over in less than one week, whereas an opera production continues over many weeks. To be a good opera conductor you have to have all the qualities of say a member of a string quartet. A violin soloist is not always a good string quartet player and a string quartet player is not always a good soloist. I think these are two different qualities that are needed. You have to use the individual possibilities of your partners in the opera more than in a concert. An opera conductor of course has to deal with more people in different roles than a concert conductor, such as star singers, opera directors and set designers as well as the orchestra in the pit. Yes, we all have to want the same and that's not always the case, whereas in a concert you don't have contact with so many different influences. Of course, in opera communicating with a stage director is necessary and so much more satisfying if you can both work together.
MC: Have you ever found it impossible to work with a director or anyone in an opera production?
AF: The problem is at the beginning of an opera production all the ideas are wonderful but as you get closer and closer to the realisation, it is not always as successful. Of course, this is a big subject of discussion. What's right, what is allowed on stage and suchlike. I have very strong feelings when I conduct opera. A special view of what the music is expressing. Which feeling is it? Is it joy? Is it hate or angst? Maybe it's about hope? All different feelings. If the feeling is there then I can conduct. But if I have another feeling then I go crazy. So, if I want to feel that somebody is in love and is hoping for something and the stage director says this episode has to be anger, then I can't do it. But thankfully that doesn't happen often. You see our emotions have to be the same. It can be set on the Moon or as Star Wars but if two people are in love, they are in love, they must be happy together, they embrace because they love each other. It is my task to reflect that love in the music.           
MC: So, those over-the-top stagings that one comes across do not bother you as much as the emotions?
AF: Emotions are so very important in opera. The costumes and set can be a depiction of any age, so I believe the production is relatively unimportant.  
MC: What about the way some star opera singers behave? We read about those stars turning up late, missing rehearsals and tantrums too.
AF: I say something that my colleagues don't always like. In truth it depends who he or she is.
Because there are some singers that I have had the most wonderful relationship with, without having rehearsed. I will tell you an interesting story about the opera singer Christa Ludwig who sang Das Rheingold with me in Vienna. She sang Erda who doesn't begin singing until two hours after the performance has started. She couldn't come to rehearsals because she was ill. I spoke to her only on the telephone. She came into the opera house when I was already in the pit conducting, two hours after the beginning and as the role of Erda finishes some fifteen minutes before the end of the opera I never actually saw her to speak to. Although I never met her face to face, I had a wonderful artistic relationship with her. [Laughs] Of course, it is a strange, unusual, story but it happened. A similar situation happened with Waltraud Meier who had to take a flight. She is another great singer who I have worked with often. She is very, very good. You see we understand each other. Waltraud sang Waltraute in Götterdämmerung who starts one hour and a half after the beginning of the performance. And she had to leave for the airport before the first intermission which is just an hour later.
MC: These are elite singers you are speaking about here.
AF: These are singers with a single rehearsal or no rehearsal, just a discussion with Waltraud Meier which is still more interesting than someone of a different personality. I want personalities and if the personality is there then I can use the personality. I don't want to change the personality, I must use it. For a conductor and an opera singer need different qualities. You need qualities of the actors of the seventeenth century in Italy – of commedia dell'arte – who were able to improvise the whole story. Of course, you have to have one style, everybody has to know the style, everybody has to know they can rely upon it. But this is also part of theatre and the history of the commedia dell'arte. Some of the singers should learn that opera never actually happens as you rehearse it, because something may happen; someone might cancel, or we must change something. If you are not able to improvise then you are lost.
MC: I have noticed by looking at your résumé that you haven't worked for any extended period in England. So where did you learn to speak such good English?
AF: Oh, my English is very bad. (MC: I don't think so.) I had to learn English, as everyone had to learn English. It was strange because at that time growing up in Budapest my first language had to be Russian. Oh, yes. Because in Communist countries in the 1950s and 1960s Russian was the language we were supposed to speak. But the whole country loved learning English very much and there were not enough Russian teachers. It was a party decision that everyone had to speak Russian, but it was made without realising they didn't have enough teachers. My school teacher couldn't speak Russian that is why we never learned it. But I started learning English when I was twelve, my parents arranged for me to have private lessons. No, I've never lived in England although my children went to school there in 1991. I can tell you that like a lot of people in Hungary, I improved my English with the help of watching BBC TV programmes. Yes Minister the political sitcom and its sequel Yes, Prime Minister from the 1980s. I have all the series recorded and I think Yes, Prime Minister – when Jim Hacker becomes the PM – is the better one. 'Civil service' English is what they speak of course. For us as a family with Hungarian roots, in a way, it is unfortunate that English is becoming our first language. You see in the next generation we have six languages spoken. My son-in-law is half Russian and half German, and a daughter-in-law is half Japanese and half French. They speak English having attended international schools where they learned their English skills. So, learning English is becoming essential and normal these days. [MC: Of course, it gives access to communicating with the United States] Yes, it does… I have some friends in the European Parliament that tell me that they all speak English there with each other. If there is say a Portuguese, Dutch and a German they will all speak to each other in English. Everyone understands them except the British. [Laughs] You see it's a kind of ghetto-English. [MC: From my experience few British people speak a second language.] Well I'm not typical as Hungarians generally speak very few languages other than their own. So, it's not just the British, Hungarians are hopeless with languages. What is misleading is the view that in the UK only the so-called educated people speak second or other languages. It's the people on below average income with fewer educational opportunities that tend to speak more languages such as Polish, Urdu, Bengali.
MC: How is it different working with orchestras from different countries, say an American orchestra compared to a German orchestra?
AF: Well, it is little bit different in some ways but more or less it is similar. You see in the last ten to fifteen years orchestras have become more international, with players coming from many different countries. It's a bit like Manchester City not having any Manchester born players in their football team and it's the same with Real Madrid. Which is why in England various club teams are better than the national teams. So, this has happened with orchestras and in all music life its more or less the same. Compared to when I started, the Vienna Philharmonic now have players of different nationalities and an increasing number of women players. You see they are all international. From my viewpoint as a conductor, all conductors of different nationalities should be able to communicate with players of different nationalities because Italian really should be the international language of music. If I say sforzando, piano, dolce, mancando, molto terms like this must be understood. But in the last five or six years or so I've noticed that orchestral players don't seem to learn Italian at music academies any more. It used to be the language of music like Latin was for medical doctors, botanists etc. It is a real pity it's no longer the common language of music, even in Italy [Laughs].
I am working at La Scala in Milan as I have new productions there in the 2018/19 season Ernani, Prima la muica e pol le parole by Salieri and Idomeneo and Gianni Schicchi again. I am so proud to be conducting Ernani in Italy, as it is such a quintessential Italian opera. Of course it's not as well known internationally as some of Verdi's others, like Rigoletto and La traviata. The situation is a bit like Gilbert and Sullivan in England. For the premier Italian opera house to invite me, as a foreigner, to show them how to play Verdi is quite something [Laughs]. The other opera I am doing at La Scala is Gianni Schicchi another archetypal Italian opera. So, you can imagine this is an interesting challenge for me. The orchestra has been so nice to me in recent times and this is a very special honour for me to conduct Verdi and Puccini at La Scala, just as it is conducting Wagner at Bayreuth and Mozart in Vienna.
MC: You first became known to me, as you did for many others I'm sure, for your recordings of the complete Haydn symphonies on Brilliant Classics.   
AF: Well, that was some twenty-five years ago now.
MC: The cycle is still very popular and is talked about.   
AF: Well you see I would do them differently today. Haydn is much more dramatic and much more individual than is generally thought; he often hides his ideas. Back then I behaved far too nice with them treating the symphonies as if they were young children.
MC: If you were to record the symphonies today would you use a period-informed-approach or even period instruments?
AF: In London I work with one of the best orchestras who use period instruments the Orchestra of the Age of the Enlightenment (OAE). I don't think you can play classical music only on period instruments, but you have to know the possibilities of period instruments if you want to really know the music. There is one thing that you must not do which is to want the modern instruments to sound like period instruments and period instruments to sound like modern instruments. They have to be different. You see there is not just one valid style.  
MC: So, you are thinking of a period-informed approach rather than strictly using either period or modern instruments.
AF: You have to understand the function of the music and if you hear the sound of period instruments you can then understand why the composer wrote that way for that particular instrument. Sometimes the possibilities of a certain instrument inspired a composer. You see I do a lot of Haydn with the OAE. I did The Creation and symphonies, so I would have no problem doing a Haydn cycle on period instruments with them now. On the other hand, I am going to tour with the Vienna Philharmonic next year. We will be in Lyon, Antwerp, London, Amsterdam, and New York and we will do Mahler [Barbican Hall 20 February], but also Haydn and Mozart symphonies. This of course will be a very different experience using modern instruments rather than period instruments but an interesting project, nevertheless.
MC: It mustn't get any better than conducting the Vienna Philharmonic. Arguably the the finest orchestra in the world.
AF: Oh, I love to conduct them. It's special for me as I studied in Vienna. I know them, and we speak the same language. It was a very interesting experience for me conducting Fidelio here in Dresden as I had done it very often in Vienna but not so often in Germany: in Dresden the Staatskapelle Dresden play a different style in Beethoven.
MC: Yes, that unique Staatskapelle style.
AF: Yes, Staatskapelle Dresden are different to the Vienna Philharmonic and my job is to find out how to use their individual qualities, how to help them to be themselves. Such an interesting challenge. But I feel more comfortable conducting it in Vienna because I feel so much at home there but that's not to say the Staatskapelle Dresden will not play as well as the Viennese orchestra.
MC: We are talking about elite orchestras here and incidentally I heard the Concertgebouw play Mahler's First Symphony here in Dresden the other evening, another world class orchestra. This made me think of your ongoing Mahler cycle. 
AF: Yes, my Mahler cycle is with the Düsseldorfer Symphoniker. They are the orchestra of the Deutsche Oper am Rhein. I am their principal conductor for concerts but don't conduct them in opera. I am doing two Mahler CDs a year with the Düsseldorfer Symphoniker and several have been released. We have also completed Das Lied von der Erde and I am doing the Eighth Symphony soon so there is lots to look forward to.
MC: Now a change of tack. What about amusing incidents that you have experienced on the stage.
AF: Well the first thing to spring to mind happened about three years ago with the OAE at London's Royal Festival Hall. It is hard to believe but during the actual concert a crazy person leapt out of their seat and jumped on stage and made a selfie on his smartphone with me and the orchestra in the background. Some of the orchestra were a bit shocked because he startled everyone by jumping on stage so quickly. Then he was taken away. Afterwards they said that I looked angry with him, but it wasn't because he had jumped on stage it was because he was singing something which was out of tune; and that was worse [Laughs].
MC: Before we finish are there any more amusing incidents?
AF: Yes, I have another story. I was conducting the second act of Siegfried at Bayreuth. You see it is an old building and there are often insects in parts of the wood. As I was conducting, an insect – I think it was a wasp or hornet – started to fly around my head and hands. I knew I should try not to take any notice of it and avoid swotting it away with my hands. You see the orchestra would follow them and I was afraid that they might start to play faster and faster like in a comedy film or children's cartoon [Laughs], so I just closed my eyes to avoid seeing it as it kept circling around me.
Michael Cookson
For more about Ádám Fischer click here.