United Kingdom Weber, Tchaikovsky and Bruckner: Alena Baeva (violin), London Philharmonic Orchestra / Vladimir Jurowski (conductor), Royal Festival Hall, Southbank Centre, London, 5.12.2018. (AS)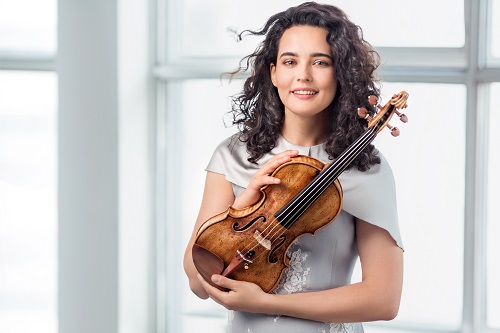 Weber – Overture, Der Freischütz
Tchaikovsky – Violin Concerto in D, Op.35
Bruckner – Symphony No.2 in C minor, WAB 102
Bruckner's Second Symphony is one where editions do matter. There are basically five versions of this work (and one or two more if every nook and cranny of the work's history is considered), and the one chosen for performance on this occasion by Vladimir Jurowski was Leopold Nowak's edition of the revised 1877 score. In this there are minor cuts in the first and second movements and slightly more substantial cuts in the finale; in the second movement a solo clarinet replaces solo horn in the coda, and most controversially, all four repeats in the Scherzo are omitted, thus reducing the movement's length to little more than half that of the original, which arguably makes it disproportionally short compared with the other movements. It is fair to point out that this version has been recorded by such luminaries as Herbert von Karajan, Carlo Maria Giulini and Eugen Jochum.
Jurowski's performance was timed at approximately 52 minutes. Its brevity was due not only to the edition used, but to the fact that throughout the work the conductor opted for fairly brisk tempi. This is not a criticism, since at no point did the music seem hurried along: on the contrary it always seemed to have time to breathe. A lesser conductor than Jurowski might have induced a feeling of haste at such a choice of tempi, and one cannot imagine conductors of old adopting such an approach (is a 'modern' school of Bruckner conducting emerging?), but on this occasion the result was very satisfactory. Of course, it was more than an issue of tempi. Phrasing was clear and expressive: the way Jurowski pointed contrasting episodes within each movement – yet brought out their relationship to each other within a long musical span – was masterly, and last but not least, the LPO's playing was superlative.
Alena Baeva is yet another young female Russian violinist to have come to the fore in recent times. Now in her early thirties, she has an impressive list of performance achievements behind her, and this was her first appearance with the LPO, though she has worked previously with Vladimir Jurowski. She certainly made a good impression in the first movement of the concerto, displaying fine technique, a pleasant tone quality with an attractively quickish vibrato, and her phrasing was imaginatively slightly different from the norm. It was in the Canzonetta, however, that her beautiful muted violin tone and her lovely shaping of Tchaikovsky's songlike melodies marked her out as an outstanding player, and her account of the Finale was not only strikingly virtuosic but had a compelling quality of joyous abandon. Jurowski's conducting showed perfect sympathy with his soloist.
The concert had begun with a most satisfying rendering of Weber's Der Freischütz Overture. Here, Jurowski conducted its quiet, reflective opening with the utmost sensitivity and atmosphere, and if the trombone section cut through the orchestral texture of the main section of the piece rather too strongly, it was as a whole delivered by the LPO with plenty of high spirits: maybe the players particularly enjoyed playing this now rarely heard but brilliantly inventive piece.
Alan Sanders