United Kingdom Bach: Mahan Esfahani (harpsichord), Wigmore Hall, London, 15.12.2018. (MB)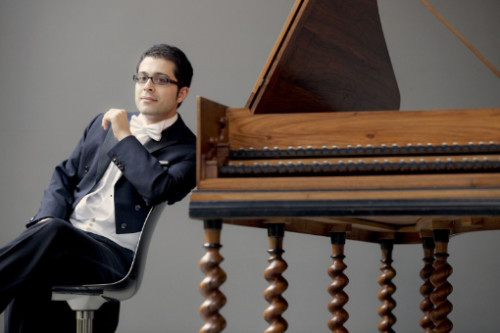 Bach – Four Duets, BWV 802-805; Praeludium et partita dei tuono terzo, BWV 833; Partita no.2 in C minor, BWV 826; Fantasia in C minor, BWV 906; Partita no.3 in A minor, BWV 827
Fresh from a month-long Asian tour, Mahan Esfahani continued his Wigmore Hall Bach odyssey with a typically enlightening mix of the familiar, unfamiliar, and the reassigned. In the final camp fell the Four Duets from the third book of the Clavier-Übung. Although written for an organ collection, there is no reason why they should not be played on another keyboard instrument. I used to play them on the piano as well as the organ; Esfahani cites Ralph Kirkpatrick as a forerunner in his game of 'musical larceny'. Whilst they might seem to offer – to the amateur – an ideal combination of absorbing musical interest and a lack of great technical challenges, such would be misleading. As Esfahani noted in a typically engaging and informative programme note, 'their persistent two-voice structure so exposes the weaknesses of the player' as to make 'me regret this theft; it is something akin to kidnapping a very precious plant which can survive only on distilled water and the most expensive fertilisers.' For what it is worth, performing them convincingly on their 'original' instrument, the organ, is no lazy stroll in the park either.
It was clear from this performance that Esfahani had thought long and hard, experimented long and hard, about how best to play them on his instrument, whether generically or specifically (coming from the workshop of Jukka Ollikka in Prague, 'based on a free adaptation of theories from the Berlin court builder Michael Mietke (1710) with a carbon fibre composite soundboard designed especially by Mr Ollikka himself'). This was certainly no generic 'keyboard' performance, articulation, registration, and much else both considered and convincing. Changes in registration between the duets offered no mere contrast for the sake of it, but intelligent contrast, allied to or rather born out of the demands and possibilities of the material. The darkness of the first, almost as if to demonstrate the seriousness of Bach's late (well, late-ish) counterpoint, married to meaningful flexibility of tempo announced a priority of searching, of questing, which, even in this most 'finished' of music, would be maintained, indeed furthered, throughout the recital. Bach's intense chromaticism, for instance in the second, had no need of grotesque overemphasis: it spoke, in context, for itself. Likewise the relative galanterie of the third piece and the return to gravity of utterance in the fourth. Neither Bach nor his interpreter could justly be accused of failure to approach the task from a multiplicity of standpoints. Such, then, augured well for the rest of the evening.
I confess to never having heard the Praeludium et partita dei tuono terzo, BWV 833, previously – or, at the very least, not being able to recall having done so. It exists, it would seem, only in the hand of Johann Christoph Bach the Elder (the oldest surviving brother of Sebastian), and thus is marked, at least in the score, by that Bach's 'highly individual approach to ornamentation and embellishment which may or may not have anything to do with JS Bach's own practices' (Esfahani). I have not had chance to consult a score, so any comments are based on the one-time evidence of my ears alone: just like hearing a piece of new music, then, which experience always brings its own excitement as well as shortcomings. Much sounded, perhaps unsurprisingly, very much in the French style: the opening Prelude in particular, albeit not without German accent. The following Allemande put me a little in mind of Handel: not that I should necessarily have identified him as the composer, but perhaps more a matter of common influence. Again, ornamentation and indeed performance may be part of the matter here. The bright contrast (registration again, but again not only registration) of the Courante offered a certain, far from inappropriate brashness, not least in Esfahani's strong rhythmic drive: this is, after all, a young man's music, coming as it does from some time before 1708. Woven like a superior (Gobelins?) tapestry, the Sarabande and – I think, not having movement titles and details to hand – double led to a strangely operatic closing Air, whose style looked back to the seventeenth century and in some respects perhaps even earlier still. Bach was not always 'Bach' – which should interest rather than disquiet us.
With the second of the Six Partitas, that in C minor, BWV 826, we returned to more familiar ground. The advent of the opening Sinfonia brought C MINOR in unquestionable upper case to our consciousness: not so much with the baggage that key might entail, but with so many of its expressive opportunities. Its central Andante music, freer yet inevitable, confirmed a well-nigh Schoenbergian (Beethovenian, if you prefer) dialectic between freedom and organisation, only furthered in the movement's headlong closing fugal section. Thoughtful intensity, arising out of the notes, certainly not appliqué, yet arising out of a broader culture too on the part of composer and performer alike (one would hope, audience too), characterised the ensuing Allemande and Courante. Similar in some respects, quite different in others, they fulfilled their roles admirably both in themselves and as part of the suite's grander scheme. Inward, even wayward, yet without excessive introversion, the Sarabande did likewise. The busy quality of the Rondeaux and closing Capriccio was certainly not idle; rather, it offered a point of observation and, to a certain extent, focus of contrast to the preceding dance's harmonic richness. The resolute quality Esfahani brought to that final movement, very much a finale here in character, would surely have been admired by at least a couple of Richters: Karl and Sviatoslav alike.
The C minor Fantasia, BWV 906, seemed to take up, interval notwithstanding, where the Partita had left off, prior – crucially – to going its own way. Again, Esfahani used imaginative, telling registration to delineate structure, but that was only part of his developmental strategy in a performance that seemed very much to partake in nineteenth-century visions of the Bachian daemon. It was not Liszt, of course, but it – whether 'it' be work, performance, audition, or ideally a conversation between all three – spoke a little in his tongue or at least his spirit.
The A minor Partita, BWV 827, was the final work on the programme. Esfahani spoke of understanding this work in particular as a work of questioning rather than answering – a view reflected or, better, expressed in the harmonic restlessness of the opening Fantasia. Likewise, albeit with very different character, in the Allemande, whose connections, however intangible, to the first movement were felt as strongly as those to the ensuing Corrente, whose fantasy seemed necessitated by what had gone before. Once again, that dialectic between freedom and organisation proved properly generative. I found myself quite taken by the nagging yet elegant persistence of the opening bars of the Sarabande, thereafter by its unfolding, both unexpected and, in retrospect, inevitable. Excited relief characterised the Burlesca and Scherzo, the latter possessed of a curious obsessiveness. Taken attacca, the closing Gigue responded, with a still more heightened sense of necessity, in more involved fashion. Relished and dramatised, it dazzled from within. In response to that, Gottfried Heinrich Stölzel's 'Bist du bei mir', long attributed to Bach, proved a charming encore. Bach can sometimes be 'Bach' even when he is not.
Mark Berry