United States The Met: Live in HD – Verdi, La traviata: Soloists, Chorus and Orchestra of the Metropolitan Opera, New York / Yannick Nézet-Séguin (conductor). Broadcast live to Cineworld Basildon, Essex, 15.12.2018. (JPr)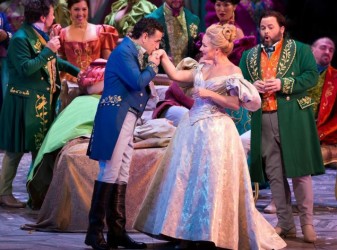 Production:
Production – Michael Mayer
Set designer – Christine Jones
Costume designer – Susan Hilferty
Lighting designer – Kevin Adams
Choreographer – Lorin Latarro
Cast:
Violetta Valéry – Diana Damrau
Alfredo Germont – Juan Diego Flórez
Giorgio Germont – Quinn Kelsey
Flora – Kristin Chávez
Gastone – Scott Scully
Baron Douphol – Dwayne Croft
Marquis D'Obigny – Jeongcheol Cha
Dr Grenvil – Kevin Short
Annina – Maria Zifchak
Live in HD director – Gary Halvorson
Live in HD host – Anita Rachvelishvili
La traviata is the near-perfect opera vehicle for three singing 'stars' and if given them audiences will come time and again to hear it – even in an aging production. Sometimes opera companies get the urge to experiment but often need a La traviata – as much as a La bohème – that can return year after year as a box office banker. Apparently the Met's previous Willy Decker Traviata (review click here) was not it. In straitened circumstances in New York it is a case of 'Back to the Future'. Decker apparently needed the audience to think a bit, Michael Mayer's replacement requires little of that although there are a few talking points.
The best La traviatas – not this one unfortunately for a number of reasons – can seem to be over too quickly. Verdi wrote his finest operas in two periods of his life – the middle years produced Rigoletto, Il trovatore and La traviata, and his last ones brought us Aida, Otello and Falstaff. He was at the height of his powers when he composed La traviata for Teatro La Fenice, Venice, in 1853 and the dramatic structure of the opera is almost perfect with few of the longueurs some of his works can have. Act I of course, recounts the consumptive courtesan Violetta's attraction for the penniless aristocrat Alfredo Germont; Act II shows us the confrontation between Violetta and Alfredo's father who demands she give up the scandalous liaison with his son; followed by Alfredo denouncing Violetta at Flora's party – that is initially held up by some gypsies and bullfighting nonsense – and the last act has their reconciliation before Violetta's rather overwrought death from TB.
The Metropolitan Opera House is on Broadway and Michael Mayer brings Broadway to La traviata and it has the look – with Christine Jones's basic single set – of a Disney musical. Quite where we were supposed to be – and in what time period – I was not entirely certain, although Violetta might have been living in Versailles given her gilded ornate surroundings and the sumptuous costumes of those at her party. A large bed is ever-present centrally during the three acts (Bedknobs and Broomsticks perhaps?) and during the Prelude we see Violetta's soul rising from her deathbed as snow gently falls and we are supposed to understand what we subsequently see is her life 'flashing before her eyes'.
Perhaps this should have all added to an eerie sense of fantasy to what we subsequently see but Mayer basically ignores this idea for the rest of his staging. Apart from the close attention of Dr Grenvil (Kevin Short) in Act I and her 'touch of the vapours', Violetta is a picture of health until the final act. The only 'novelty' Mayer brings to basically a routine stand-sit-roam around and deliver La traviata is when Alfredo's strait-laced father, Germont, bring his young daughter along with him to confront Violetta in Act II. Would he really do this? Germont reveals how her engagement has been tainted by her brother's association with someone who has such a dubious reputation. The role here of the daughter – not found in Verdi's original libretto – is a silent one and she reappears to 'haunt' Violetta's death in Act III. Apart from a few moments during the ensemble at the end of the second act – when Violetta roams around as if she is reliving her past in spirit – Mayer seems to have abandoned his own Konzept.
When interviewed by the accomplished Live in HD host Anita Rachvelishvili the production team suggested we were seeing, as the opera unfolded, the changing seasons of Violetta's life in the stage pictures. Depending on your experience of Disney stage shows or movies – and mine is very limited – because of the Ruritanian-nature of the gaudy costumes and a hyperactive semaphoring chorus my mind turned immediately during the Act I party to Beauty and the Beast or Cinderella. Things were a little better – and deeply traditional – in the more intimate moments of the opera, but I was at a lost about who the gymnastic Act II gypsies and matadors were. This appeared to be a homage to the Latin American Dia de los Muertos (Day of the Dead) though if they had represented people Violetta had encountered during her life it would have worked so much better.
Although Yannick Nézet-Séguin has conducted at the Met several times before this La traviata marked the start of his tenure as their new music director. As usual what was heard came through cinema speakers so I cannot fully comment on how it might have been for the audience in the theatre. However well the orchestra sounded as if they played for Nézet-Séguin, I felt it was a very mannered, self-conscious performance that stop started much too much. He was particularly indulgent of his singers and time will tell whether this prestigious appointment has come too early for the 43-year-old Canadian. Worse still is that it seemed the principal singers had some of their music cut and this should not happen at the Met or anywhere else of similar stature. There were two long intervals for a set that didn't need much attention and overall this was perhaps the most drawn-out La traviata I have sat through.
It is not because Diana Damrau is German but because of her stage persona and darkness of her tone that the time for her to leave Verdi roles such as this behind and move to Wagner must be sooner rather than later. Her voice never reached the heights of great Violetta predecessors I have heard such as Angela Gheorghiu and Renée Fleming. Damrau's 'È strano! … Ah, fors'è lui' and 'Sempre libera' sounded far from the showstoppers they should be. Hers was a Violetta auditioning for Sieglinde!
Juan Diego Flórez was making his role debut as Alfredo and sounded wonderful if you kept your eyes shut but, with them open, he never looked at his ease from the first act 'Brindisi' through to the end of the opera. In 2013 I wrote after a Flórez Barbican gala that 'there was much evidence that, now having turned 40, his voice is leaving the difficult, high-lying, bel canto roles behind for the most lyrical ones in the tenore spinto repertoire, such as The Duke (Rigoletto), Alfredo, Rodolfo, Cavaradossi and possibly even, Don José.' I still think this is possible given the right-sized opera house and I wonder whether he had to push his voice a little too much to fill the Met? There was a certain youthful impetuousness and smouldering jealousy to Flórez's Alfredo, though whether this character demanded acting skills from him that he doesn't possess only time – and more performances – can tell. I was also a little concerned by the lack of apparent chemistry between him and Damrau's Violetta. As his father Germont, the imposing Quinn Kelsey was a great success though Mayer just had him come on stage – with or without 'daughter'! – and simply stand around and sing. Despite that he was the only one of the leading trio of singers to bring their character to genuine life and make the audience connect – notably with a majestic 'Di Provenza il mar' – with what they were singing.
Jim Pritchard
For more about The Met: Live in HD click here.
For a review of Michael Mayer's production of Marnie at the Met click here.