United States Menotti, Amahl and the Night Visitors: Soloists, Formerly Homeless Members of the Community in Partnership with Breaking Ground, On Site Opera Orchestra / Geoffrey McDonald (conductor), The Church of the Holy Apostles, New York, 7.12.2018. (RP)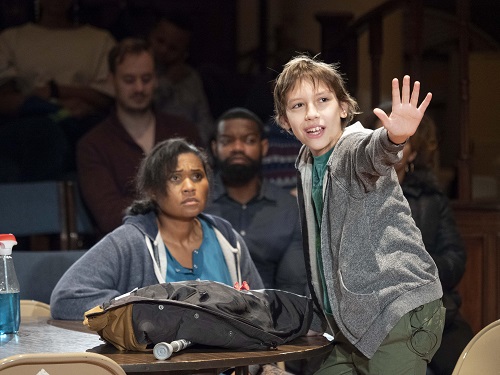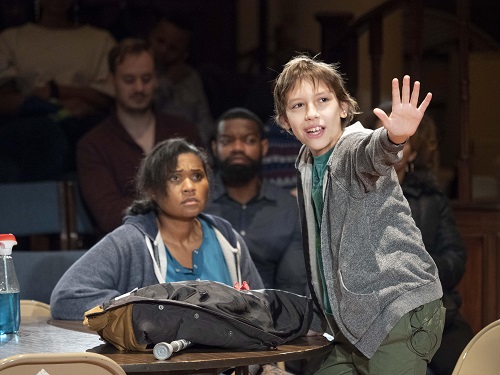 Production:
Director – Eric Einhorn
Choreographer – Winston A. Benons, Jr.
Costumes – Jessica Jahn
Lighting – Shawn K. Kaufman
Chorus master – Michael A. Ciavaglia
Cast:
Mother – Aundi Marie Moore
King Caspar – Joseph Gaines
King Melchior – Daniel Belcher
King Balthazar – Musa Ngqungwana
Amahl – Luciano Pantano
Page – Jonathan R. Green
Dancers – Frances Barker, Winston A. Benons, Jr., Rafael "Nacho" Hernandez, Dana Thomas,
Marlene Desiree Watts
There was one moment, so perfect and pure, that transformed the uncompromising realism of On Site Opera's Amahl and the Night Visitors into a glimpse of the supernal. It was when the raw sound of the shepherds' voices hailing the dawn faded into Amahl playing his pipes as he and the Three Kings commenced their journey to find the newborn King. This catharsis came after a night of anguish, wonder, healing and redemption, captured so poignantly by Menotti in text and music and given life by a superb cast and extraordinary chorus.
The chorus was made up of people who had experienced homelessness. On Site Opera (OSO) partnered with Breaking Ground, New York City's largest provider of permanent supportive housing for the homeless, to make this possible. Their stories mirrored that of the mother and child at the heart of the story, who had no food, no money, no hope until a miracle intervened. Under the guiding hand of Michael A. Ciavaglia, the men and woman, many of whom had never sung before, became an ensemble.
The venue was the Church of the Holy Apostles, destroyed by fire in 1990 and rebuilt so that the nave could serve multiple purposes, not just as a place of worship but also as the main dining area for the church's soup kitchen. Its mission is to feed the hungry, comfort the afflicted, seek justice for the homeless and provide a sense of hope and opportunity to those in need. The cost of admission was a donation of non-perishable food for its pantry.
Amahl was Luciano Pantano, a fine young actor with pluck and a wicked glint in his eye. His voice started off firm but light and quickly grew in strength and intensity. Aundi Marie Moore was his mother, a desperate woman with a dreamer for a son. He tugged at your heart strings when singing of the sheep that he had tended and his goat that died of old age, but your heart broke for this woman who recoiled at the thought of sending her lame son out into the streets to beg.
Moore was magnificent: the weariness and desperation of a mother's plight were etched on her face and captured in a voice of rare beauty and expressiveness. Relief washed over her, and warmth and lightness tinged her singing as the miracles unfolded.
The Three Kings lived rough with all of their worldly belongings stuffed into their conveyance of choice, whether shopping cart, baby carriage or grocery-store wagon. To a passerby their contents are detritus; to them they were the essentials of life and the sum total of their earthly treasures, including their gifts for a child they did not know. They were delusional, mystical, regal and determined; having seen a star in the East nothing would deter them from competing their journey. Wise men indeed, however, they realized that such a babe had no need for gold, but this woman and her child did.
Caspar (tenor Joseph Gaines), in a ratty fur hat and sporting a fantastic ear trumpet, toted about a paper parrot in a cage. With his mystical gaze, Melchior (Daniel Belcher) was regal and remote in a Burger King crown and an array of buttons on his tattered finery. ('I won at Harrah's!' was my favorite.) Imposing and grand, with a turban on his head and strings of beads around his neck, King Balthazar (Musa Ngqungwana) generated the most vocal and personal warmth of the three. Their voices were at one with their characters: multi-faceted, authoritative and resonant.
Baritone Jonathan R. Green, a large man with a voice to match, was a uniformed security guard who spotted Amahl's mother stealing the Kings' money. His character was so true to type that you could just picture him chasing a shoplifter through Macy's.
Geoffrey McDonald led a performance notable for its buoyancy and transparency; acoustics and balance were excellent. The March of the Kings was regal and grand and the Shepherd's Dance lively and light. Winston A. Benons, Jr.'s choreography was particularly fresh and original, and the dancers' movements were natural and joyful.
There were no sets. The audience sat in rows, but otherwise the nave of the church was set up to serve meals to its cliental. Atmosphere was created through lighting, but the impact was made by the remarkably realistic characterizations and the raw power and emotion provided by the chorus. Credit for the concept and its execution goes to OSO's General and Artist Director, Eric Einhorn. He is a master of detail with keen insights into the human condition that he is able to articulate and make real.
Amahl and the Night Visitors was commissioned by NBC and first performed in a live television broadcast, the debut production of the Hallmark Hall of Fame, from Rockefeller Center on Christmas Eve 1951. Menotti's inspiration for the opera was twofold, a chance viewing of Hieronymus Bosch's Adoration of the Magi and his childhood memories of Christmas in Italy where gifts are delivered by the Three Kings. On three cold, wintry days in New York City, OSO gave New York City, in the words of a well-known carol, its heart with this musical gift.
Rick Perdian