Teatro Colón's 2019 season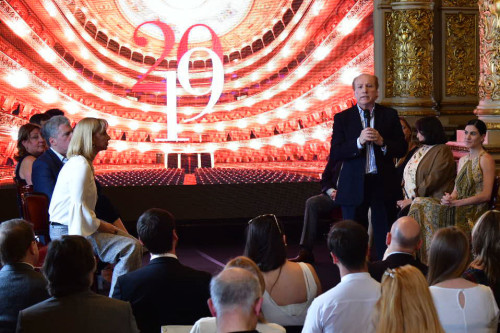 Announcing the Teatro Colón's 2019 season, artistic and production director-general Enrique Arturo Diemecke described it as 'traditional with innovation', which appears to be an accurate summation.
Opera
At least as far as the opera season is concerned, the slant is more towards the former, with the difficult economic times presumably also reflected in the few top name singers lined up. For those, we need to look to the 'Great international interpreter' series.
Numerically the season is the same as 2018, with eight operas (one in concert) and three chamber operas, as well as the now becoming regular choral symphony series.
The season kicks off on 12 March with a new local production of Rigoletto. Argentine Fabián Veloz will be in the title role, with Ekaterina Siurina as Gilda, Pavel Valuzhin as the Count of Mantua and Goderdzi Janelidze as Sparafucile and Maurizio Benini is the guest musical director.
Previn's Streetcar Named Desire will have its Colón premiere in May. David Brophy is the musical director with a cast including Daniela Tabernig, David Adam Moore, Sarah Jane McMahon, Eric Fennell and Victoria Livengood.
Roberto Oswald's 1993 production of Turandot follows in June/July. Christian Badea conducts with María Guleghina in the title role, Verónica Cangemi as Liu, Kristian Benedikt as Kalaf, James Morris as Timur and Raúl Giménez as Altoum.
July/August will see a highlight of the year with a return after over 25 years of Strauss's Ariadne auf Naxos. The mainly local cast includes Carla Filipcic Holm, Gustavo López Manzitti and Hernán Iturralde along with Jennifer Holloway as the Composer and Ekaterina Lekhina as Zerbinetta. Alejo Pérez conducts.
Monteverdi's L'incoronazione di Poppea will be given in a concert production in August/September by the Ensemble Matheus led by Jean-Christophe Spinosi. Principals include Josè Maria Lo Monaco, Fillipo Mineccia, Anna Sohn, Francesco Fernandes-Rueda, Rupert Charlesworth, Carlo Allemano and Emilie Rose-Brey.
Donizetti's buffa Don Pasquale follows in September/October with Srba Dinić as musical director. Nicola Ulivieri in the title role leads a largely local cast including Jaquelina Livieri, Santiago Ballerini and Darío Solari.
November sees a return in a new production of Orfeo ed Euridice. Counter tenor Daniel Taylor and Marisú Pavón are in the title roles, Ellen McAteer is Amore and Manuel Coves conducts.
The season closes marking the 200th anniversary of the birth of Jacques Offenbach with a new production of his arguably best-known opera The Tales of Hoffmann in November/December. Enrique Arturo Diemecke has designated himself musical director with principals including Ramón Vargas in the title role, Rubén Amoretti as the four villains, Rachel Gilmore as Olympia, Milijana Nikolic as Giulietta, Virginia Tola as Antonia and Sophie Koch as Niklausse.
Chamber and choral
The three chamber operas for the year are a reprise of the December 2018 production of Thomas Adès' Powder her face in March, Rachel Portman's The Little Prince in its Latin American premiere in September and the 14-year-old Mozart's Mitridate, rè di Ponto, also a Latin American premiere, in December.
The choral symphony series also comprises three works. These are Mozart's Requiem in April, Roberto Caamaño's Magnificat in May and Berlioz's La damnation de Faust in August.
Other highlights
As alluded to, look to the 'Great international interpreters' for the stars and programmed are recitals from Elina Garanča (19 June), Aida Garifullina (16 August) and a provocatively entitled 'No tenors allowed' of extracts from operas and musicals from Thomas Hampson and son-in-law Luca Pisaroni (4 October). John Elliot Gardiner and the English Baroque Soloists and Monteverdi Choir also appear in this series (13 November).
And courtesy of Mozarteum Argentino, Joyce DiDonato will be returning for the fourth of what has become a traditional biennial concert series, this time with Il Pomo d'Oro (28 & 30 October).
(At the time of writing, no 2019 season announcements had been made by the local independents.)
Jonathan Spencer Jones
For more details click here.