United States Various Composers: J'Nai Bridges (mezzo-soprano), Mark Markham (piano), Weill Recital Hall at Carnegie Hall, New York, 13.12.2018. (RP)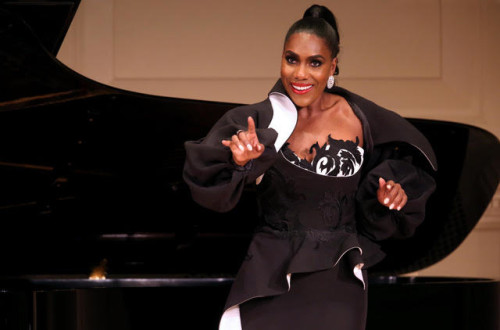 Fischer – 'I Love to Tell the Story' (arr. Bridges and Markham)
Ives – 'Berceuse'
Richard Danielpour – Margaret's Lullaby (Margaret Garner)
Mahler – Kindertotenlieder
Ravel – Shéhérazade
Shawn Okpebholo – 'Oh, Glory'
Bonds – 'Minstrel Man' (3 Dream Portraits, No.1)
John D. Carter – 'Ride on King Jesus' (Cantata)
Spirituals – 'Plenty Good Room' (arr. Bridges and Markham), 'To Be Baptized' (arr. Undine Smith Moore)
You're flying high: a young singer on everyone's watch list, winning critical praise for performances across a wide swath of repertoire in the US and Europe, and important debuts in prestigious venues await in the New Year. For your Carnegie Hall recital debut you put together a bold program, hire a world-class accompanist and commission a knock-out dress that is a black and white architectural wonder. Then, you catch a cold.
J'Nai Bridges announced her indisposition after she had finished singing, but it was evident from the start. The tell-tale signs were there: a tissue discretely tucked in the piano and those frequent swallows and surprise vocal glitches that can only mean one thing. She's got a voice, no doubt about that; at its core, a lyric mezzo-soprano with a regal, classic sound. Exuberance and artistry carried the day, but singing was real work for her at times, and the brilliance of her upper range (for the all world to hear on YouTube) was in short supply.
The fundamentals of family and church, which Bridges embraced in the sets of songs that opened and closed the recital, are important to her. She began with the hymn 'I love to tell the story' intertwined with 'Jesus loves me this I know' that she and her accompanist Mark Markham had arranged. It was tender, almost dreamy, and displayed her lovely lower range which she accessed effortlessly. Later in the recital, they performed their playful, upbeat setting of 'Plenty Good Room'.
Among the spirituals was one composed specifically for her by Shawn Okpebholo. The award-winning composer's talents were nurtured by The Salvation Army where he received free lessons. 'Oh, Glory' hearkens back to traditional spirituals, but Okpebholo reimagines it as an anthem of faith, not of freedom. Bridges beautifully sculpted the low-lying phrases that grew into a stirring climax over intriguing accompaniments sensitively played by Markham.
She infused Undine Smith Moore's arrangement of 'To Be Baptized' (also known as 'Take Me to the Water') with similar intensity and artistry. Moore was the grandchild of slaves and is often referred to as the Dean of Black Women Composers.
Interspersed between the spirituals were art songs, an aria and two major song cycles. Bridges sang Ives' charming 'Berceuse' with a disarming tenderness, as she did Margaret's Lullaby from Richard Danielpour's opera Margaret Garner. Ives' idyllic, sentimental view of childhood contrasted starkly with that of a slave whose child is mere property in the eyes of the law.
Bridges' straightforward approach to Margaret Bonds' setting of Langston Hughes' eloquent lament 'Minstrel Man' made it one of the most effective pieces that she performed. Bonds was the first African American pianist to appear as a soloist with the Chicago Symphony and had an especially fruitful collaboration with Hughes, a leader of the Harlem Renaissance.
Bridges has recently performed Mahler's Kindertotenlieder with the Amarillo (Texas) Symphony, while her first performances of Ravel's Shéhérazade were with the NDR Symphony Orchestra under the baton of Esa-Pekka Salonen in 2015. Unfortunately, Bridges was not up to the demands of the Mahler.
She faired best with the intimacy of 'Wenn dein Mutterlein' and the outpouring of bittersweet joy in 'Oft denk' ich, sie sind nur ausgegangen'. Given the circumstances, the musical shortcomings were understandable, but there was no real emotional connection with the texts or the music. Bridges only scratched the surface of the grief and despair that the poet and composer poured into these songs. Her voice seems well-suited to Mahler, but I wish that she had programmed Brahms instead. Her artistry and vocal gifts seem tailor-made for his melodies and sensibilities.
Ravel's Shéhérazade was much more congenial turf for her. In the first song, 'Asie', she captured the mystery and wonder of a fantastic voyage to far-off places. The other two songs, 'La flûte enchantée' and 'L'indifférent', are more intimate and shimmer with eroticism. Bridges conjured up their exotic atmospheres both dramatically and musically, with her voice at its most sensuous and sultry.
She closed with John D. Carter's 'Ride on King Jesus', the fifth movement of Cantata (each movement of which is based on a well-known spiritual). Carter's name is linked with a fascinating array of mid-twentieth century musicians, including pianist Dalton Baldwin (his college roommate), tenor George Shirley and sopranos Adele Addison and Leontyne Price, who premiered Cantata in 1959. It was a rousing end to the recital, powered by pure adrenaline. As an encore, she sang the 'Habanera' from Carmen, during which she tossed red roses to her family and friends in the front row.
Rick Perdian