United Kingdom Puccini, Suor Angelica: Soloists, Royal Northern College of Music Opera Chorus and Orchestra / Martin André (conductor). RNCM Opera Theatre. Manchester, 7.12.2018. (RJF)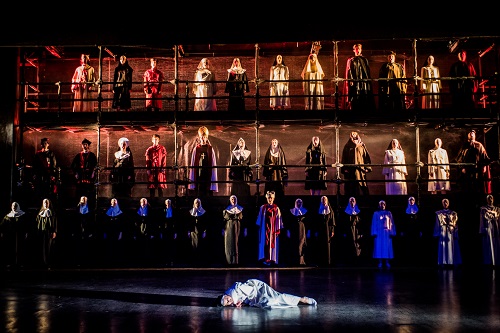 Production:
Director – Robert Chevara
Set and Costume designer – Nicolai Hart-Hansen
Chorus master – Kevin Thraves
Cast:
Suor Angelica – Linda Richardson
Principessa – Stephanie Maitland
Badesa – Rhiannon Doogan
Zelatrice – Georgie Ellis
Maestra delle Novizie – Lucy Vallis
Genovieffa – Mariya Sevdanska
Dolcina – Eleanor Hull
Osmina – Leonie Maxwell
Suora Infermiera – Lorna Day
Cercatrici 1 – Olivia Carrell
Cercatrici 2 – Kate Aitchison
Novizie 1 – Lauren Coulter
Novizie 2 – Isabel Curchin
Converse 1 – Bethany Moran
Converse 2 – Airi Yamada
New ventures are the name of the game for any progressive educational institution. Nowhere are they more important than in higher and postgraduate education as the cost to the student, and the demands made on them, go ever upwards as they prepare to enter the competitive world of work. This is at its highest in the artistic domain, such as via the creative endeavors demanded in the stage professions, where competition for work is at the highest. So as to make those sacrifices worthwhile, institutions such as the RNCM are constantly seeking ways and means to best prepare their students for the competitive world outside. One of the best ways occurs in this, and the other performances, where students perform alongside senior professionals who have succeeded in the outside world. This practice has long been part of RNCM policy in the instrumental activities of the college. With this duo of operatic performances of two of Puccini's one-act operas, Suor Angelica and Gianni Schicchi, it spreads to the School of Vocal Studies for the first time.
The operas involved in this new policy are of two of Puccini's later works, one-act operas from his so-called Il trittico, of three such works.. These were composed between 1913 and 1918, each of a different musical mood. They were premiered at New York's Metropolitan Opera on December 24, 1918.
The story of Suor Angelica is a harrowing one. Of high birth, Angelica has become a nun to expiate the sin of having given birth to an illegitimate child. Her aunt, a Princess, visits her. The aunt has come to demand that Angelica cedes her rites to any family inheritance to her sister, who is about to marry. Angelica pleads to hear of her own child who she has never seen, nor heard news of, since birth. She learns that her child had died two years before. In the aria 'Senza mama' Angelica berates the fact that the child died without knowing her kisses or caresses. In desperation she goes away and prepares suicide, and after taking poison realises that she has committed mortal sin. She desperately pleads with the Virgin for forgiveness and receives a sign that her sin is forgiven. In this performance the role of Suor Angelica is sung by Linda Richardson, a sometime student at the RNCM, who arrives after a season of singing Violetta in Verdi's La traviata with Welsh National Opera (review click here). Her acting and singing are ideal for the role in both the dramatic vocal weight and, above all, flexibility. She is an ideal partner for the students to take as an example. In her singing of this highlight scene and aria from the work her vast professional experience comes to the fore and seems to inspire all those around her. Although most of the other members of the cast have only small solo passages to contribute, they seem inspired by Linda Richardson's presence and example, particularly important in their unison singing. These so-called small stage roles are important steps in their professional development and being on stage with such a significant performer must point directions for them all. A winning policy all round.
Of the several minor roles referred to, that of the Princess, is sung by Stephanie Maitland. She is dressed and coiffured austerely and really looks a dragon. She acts the part well and uses her rich voice to create a forbidding character as intended. A most promising singer!
The scenic set is flexible and creates a god basis for the performance. The costumes of the nuns are appropriate to their status in the establishment. Musically, the vastly experienced Martin André on the rostrum conducts Puccini's complex score with felicitous attention to detail, albeit he allowed them off the leash from time to time to luxuriate in Puccini's melodic and rich orchestration .
Robert J Farr
For more about the RNCM click here.