United Kingdom Charles Dickens's A Christmas Carol with Simon Callow: Adaptation by Tom Cairns and Simon Callow; Production designed by Marie Lanna; Cinematography by David Raedeker. Screened at Cineworld Basildon, Essex, 11.12.2018. (JPr)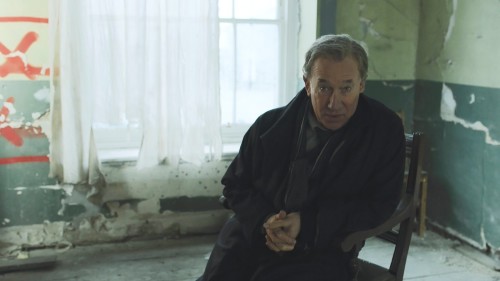 Well, if Christmas isn't Christmas without The Nutcracker then it certainly isn't without seeing Charles Dickens's A Christmas Carol that can be a straight play, musical, solo performance and has been filmed several times. Following sell-out West End seasons Simon Callow's take on this much-loved classic (based on Charles Dickens's own performance adaptation) came to the big screen in a stage-to-film adaptation, reimagined especially for cinema by director Tom Cairns.
Simon Callow said: 'When Tom Cairns and I started working on our one-man version of A Christmas Carol, we were very excited by the possibilities of putting the audience in direct contact with Dickens, who is even more vividly present in it as a narrator than in his other books, he climbs into your head, he is always by your side, the master conjuror and also the commentator. As we worked on the show, right from the beginning we saw that it might make a wonderful film, quite different from the stage show, drawing the viewer even more closely into contact with the story-teller, using the matchless poetic resources of the camera to summon up the many worlds through which Dickens takes us and the miser, Ebenezer Scrooge. Shot entirely in an abandoned warehouse, it takes the viewer indoors and outdoors, through the seasons and across the haunted city of London. The theatre version is pure theatre, the film, pure cinema, proving how phenomenally rich this favourite of all Christmas stories is.'
This is all you really need to know about this thought-provoking and ultimately uplifting monologue that, if you missed it in the cinema, you can see on BBC Four on 16 December (one of the producers was BBC Films) or can still be seen at the Arts Theatre (details click here). It began with Callow speaking informatively about the background to A Christmas Carol from Dickens's troubled childhood when he had to leave school to work in a factory because his father was in a debtors' prison, to how he had begun writing and his burgeoning fame. Callow reminded us that Dickens's success was mainly because his writing held a mirror to the social conditions of his time and he 'spoke for the people with their voice'. The 1843 novella allows the 'squeezing, wrenching, grasping, scraping, clutching, covetous old sinner' Scrooge his redemption and so A Christmas Carol should be viewed – according to Callow – as an emblem of the way Dickens wanted Society to work and celebrate Christmas.
The author's contemporary, William Makepeace Thackeray, described the book as 'a national benefit', and it is actually Dickens's humanity that is revealed as Scrooge has it drawn out of him – initially reluctantly and then with great joy – by the spirits that visit him on Christmas Eve. Callow shows us this splendidly and he make Scrooge's journey of self-discovery an uplifting one from the lonely cheapskate to someone who it was always said of him 'knew how to keep Christmas well, if any man alive possessed the knowledge.' The book ends with 'May that be truly said of us, and all of us! And so, as Tiny Tim observed, God bless us, every one!' Indeed! Along the way we encounter Scrooge's familiar memories of times past; the family celebrations whether in times of need or plenty; his recollections of lost love and friendships before the chilling premonition of what will become of him and others if he doesn't change his ways.
Dickens himself famously gave public readings of A Christmas Carol and it is often done like this. The only time I have seen it before was when Patrick Stewart performed it at the Old Vic in 1993. We saw Callow dressed in dishevelled modern-day casual clothes and – I hope he will forgive me – made up rather oddly to resemble the 'lovechild' of Frankie Howerd and Sir Ian McKellen (who he especially seemed to be paying homage to throughout this A Christmas Carol). Wandering through a derelict Woolwich Arsenal warehouse Callow sensibly relies – like all great actors – on the author's words and Tom Cairns and production designer Marie Lanna add little other than some chairs, a large clock, snow at one point, and atmospheric sound effects, music, and lighting. Nevertheless this creates eerie shadowy night-time illusions of London and allows Callow to move from one location in the story to the next on his upward trajectory to unwrap the otherworldly heart of the story and bring it to vivid life. We are reminded how prescient Dickens was with his description of some early phantoms wearing chains like Marley's ghost but with some linked together. I suspected the comment that these were like 'guilty governments perhaps?' had been added but no it is there in the original text! To underline how little has changed in the intervening 175 years Cairns shows us two figures sleeping rough on the rubbish-strewn floor at the start and at the end of his film. (At least I very much hope they were just sleeping!)
Callow's storytelling is measured and reflective and benefits from his simple changes in vocal inflection and eschewing overacting. During his encounters with all the ancillary characters in the story, but mainly of course with the ghosts and spirits, Scrooge's sour-faced contempt for Christmas and all it stands for is gradually replaced by wonderment. This leads to him sending the prized turkey to the impoverished Cratchit family because Mrs Cratchit's mourning over the loss of Tiny Tim (in the vision from Christmas Yet To Come) had moved him so much. There is much (initial) crankiness and misery, but there is also much laughter and good humour which, Dickens tells us, is 'so irresistibly contagious'. Callow shows he is a sprightly dancer when he entertainingly creates a room full of party-loving Fezziwigs, as well as, bringing us all the fun there is at the house of Scrooge's nephew Fred when he arrives to celebrate his first Christmas with him and his family.
There is a happy ending for Scrooge's clerk Bob Cratchit who gets a pay rise and his own coal-scuttle, yet we are left deep in contemplation about how there is still too much Want and Ignorance – the two figures sheltering in the robes of the Ghost of Christmas Present – in our 2018 world.
Jim Pritchard
For more about CinemaLive click here.