United Kingdom Christmas in Leipzig – Music by Schelle, Kuhnau and Bach: Solomon's Knot. Milton Court Concert Hall, London, 10.12.2018. (CC)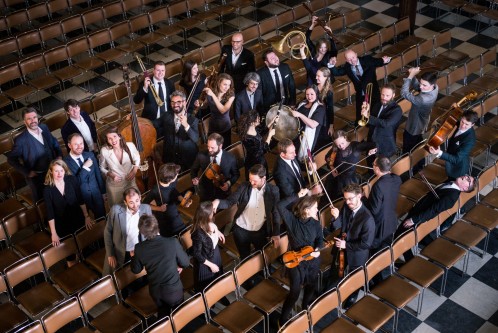 Schelle – Machet die Tore weit
Kuhnau – Magnificat in C
Bach – Magnificat in E flat, BWV243a
Phenomenal programming, phenomenal performances. The collective that calls itself Solomon's Knot clearly has a huge following if the enthusiasm of the packed-out Milton Court was anything to go by. And a devoted following at that: an entreaty at the outset to be as quiet as possible and to hold off applause for a few seconds after each piece because the concert will be released commercially as a recording was honoured beautifully.
This concert follows on from the ensemble's successful Barbican debut earlier this year. Solomon's Knot performs without conductor, and the vocal parts are performed from memory. Communication between singers is impeccable, and a vital part of the performance, down to the way they are attentive to each other's solos.
Johann Schelle (1648-1701) and Johann Kuhnau (1660-1722) were Bach's predecessors at Leipzig. Schelle began his musical life in Dresden, joining the ducal chapel at the suggestion of Johann Schütz, no less, who helped him to move, later, to Leipzig. In 1677 Schelle became Cantor at the Thomaskirche (his predecessor was Sebastian Knüpfer, his successor Kuhnau). Heinichen and Graupner number among his pupils.
Schelle's Advent cantata Machet die Tore weit is scored for four-part voices and five-part string section plus trumpets and drums. A virtuoso opening leads to an aria whose five strophes (separated by a ritornello) are shared between four soloists until in the fifth all five soloists join together; the full vocal group used for tuttis was seven voices. A simple enough formal scheme, beautifully realised. The jubilation of the outer sections ('Machet die Tore weit'; Messiah devotees will know the text as 'Lift up your heads, oh ye gates') is balanced by the dance-like, gallant bass verse 'Denn des Königs safter Mut' (a superb, bold Alex Ashworth), soprano Lucy Page ('Auf, mein Herze'; a lovely touch that when the soloist sang, the other soloists all turned to look at her, attentive and supportive) and a simply superb counter-tenor voice from Michal Czerniawski ('Drum so wurf die Riegel ein'). Thomas Herford was the excellent tenor soloist in 'Heil'ge dich mit Reu und Lied'.
Johannes Kuhnau (1660-1722) is perhaps best known these days for a set of keyboard 'Biblical Sonatas', based on passages from the Old Testament. Kuhnau studied Law at Leipzig University and was Thomaskantor at Leipzig for some 21 years, taking up the post in 1701. The Magnificat in C is his largest surviving work and it is possible it influenced Bach's setting of this text. The warmth of the oboes' tone was remarkable (Leo Duarte and Bethan White); the chorus was beautifully balanced. Clare Lloyd-Griffiths shone in 'Et exultavit', in tandem with a delicious oboe solo, while Czerniawski excelled in ultra-clean slurs in 'Quia respexit meus'; the glory here was the instrumental response, the care lavished on the phrasing incredibly touching. Interspersed chorales (in German, against the Latin of the Magnificat) worked beautifully, but it was the structural grasp of the performers and their attentive way with each colouring that truly impressed: the brightness of the celebrational chorale 'Freut euch' against the darkening for the ensuing 'Et misericordia mea' furnishing a superb example. Tenor Peter Davoren impressed in a tender "Suscepit Israel," leading to the gentle counterpoint of 'Sicut locutus est' (compare this with Bach's more robust setting). The musical highlight is, arguably, the bass 'Gloria Patri, Gloria Filio' with its flawless instrumental passing of phrases. Alex Ashworth coped with the florid lines with ease.
Post-interval, it was Bach's E flat Magnificat, the earlier version of the perhaps more famous D major setting, BWV243 and which uses slightly different instrumentation. It was performed including the four so-called 'Christmas Interpolations'. Composed for Christmas Day 1723, it is a masterpiece. It is worth stating the obvious at this point, perhaps, if only to also mention that it did not dwarf the music of the first half; the impression of music by three successive Kantors was of a musico-spiritual journeying, an exploration of territory rather than a graduated ascent to the summit of Bach.
Bach's Magnificat is one of his finest works, perfectly proportioned. His setting of the chorale 'Vom Himmel hoch' is masterly (heard completely a cappella); what really shone in this performance, too, was the glory of the celebration of Bach's celebration of counterpoint.
The combination of counter-tenor and tenor in 'Et misericordia' (Czerniawski and Davoren) was pure magic Solo instrumental contributions were superb throughout; perhaps it is worth singling out bassoonist Inga Maria Klaucke in 'Quia fecit mihi magna' for her sense of style and wonderfully, tastefully decorated lines. The trumpet contributions (Russell Gilmore) in 'Suscepit Israel' shone. But this was a case of the whole being greater than the sum of its parts: when all came together, as in the flawless moving of material from one musician to another in the 'Gloria Patri' or in the supremely even fugue of 'Sicut locutus est', or in the positively joyous 'Sicut erat in principio', there was the palpable impression that this was Baroque performance at its very highest standard.
One presumes the early start and resultant early finish was so as to leave some time for retakes for any audience noise (although, as requested, I think we were very well behaved) and the odd trumpet split. The disc will be, on the one hand, a worthy reminder of a significant concert; on the other, it will introduce many, surely, to the wonderful music by Schelle and Kuhnau.
Colin Clarke
For more about Solomon's Knot click here.