Switzerland Sondheim, Sweeney Todd: Soloists, Chorus of Zurich Opera, Philharmonia Zurich / David Charles Abell (conductor), Zurich Opera 9.12.2018. (JR)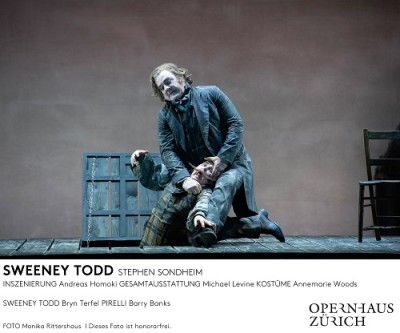 Production: 
Director – Andreas Homoki
Set – Michael Levine
Costumes – Annemarie Woods
Lighting – Franck Evin
Choreography – Arturo Gama
Chorus master – Janko Kastelic
Dramaturgy – Beate Breidenbach
Cast:
Sweeney Todd – Bryn Terfel
Mrs Lovett – Angelika Kirchschlager
Anthony Hope – Elliot Madore
Beggar Woman – Liliana Nikiteanu
Judge Turpin – Brindley Sherratt
The Beadle – Iain Milne
Johanna – Mélissa Petit
Tobias Ragg – Spencer Lang
Pirelli – Barry Banks
Jonas Fogg – Cheyne Davidson
The debate rages on: should a 'serious' opera house stage an out and out musical?  Gershwin's Porgy and Bess is the usual candidate for discussion. Zurich Opera has put on musicals before, long ago, and more recently started to present operetta, reasonably successfully. When Bryn Terfel was in Zurich over recent seasons for The Flying Dutchman, Intendant and producer Andreas Homoki asked him what would tempt him to return, to which the instantaneous reply was 'Sweeney Todd'. In London, the musical was put on successfully at English National Opera, and Bryn Terfel was the star.
If mounting a musical in an opera house, there are two major issues: does one use operatically trained voices and does one mike them?  Zurich Opera chose to match Bryn Terfel with Angelika Kirchschlager and fill the minor roles with opera singers at various stages of their careers. They chose to use mikes – some of the time.
Let's start with the singers. Bryn Terfel is the star of the show in all senses. He is always the centre of attention on stage, acts superbly, and we all know how he sings. The role fits his voice and his persona. Angelika Kirchschlager however, whilst singing what there is of a singing role perfectly adequately, and acting well, had – too much of a German accent for comfort ('sinking' instead of 'thinking'), some complete mispronunciations, and generally struggled to sound like a Cockney. I have to add mine is a view of an Englishman in Zurich, and not appreciated (and probably not even picked up) by the natives. Elliot Madore, as Anthony, certainly had the right sort of voice for the show and acted well: as did Spencer Lang who has possibly never sung better. Brindley Sherratt was a sonorous Judge and entered bravely into the spirit of the action. Barry Banks, as the Italian barber Pirelli, selling an elixir to cure baldness which turned out to be a smelly mixture of urine and ink, was the Dulcamara-look-alike and his expertise in Rossini and Donizetti operas aided him greatly; his Italian and Irish accents were a scream. Mélissa Petit was a mite bland as Johanna but sang her birdsong aria well, Cheyne Davidson made a sound Jonas Fogg. The Beadle, Iain Milne, clearly down to Fleet Street from Scotland, sang lustily.
The gutsy chorus, acting like a Greek Chorus, told us the story, sang loudly and well, even if their acting was occasionally stiff. When they brandished their razors, the effect was chilling.
I now turn to a few problems. The miking was haphazard, occasionally it sounded as though it was being switched on and off mid-song. Some voices appear to have been miked, others were not, it made for an aural mishmash. The orchestra sounded unrelaxed in the score, despite the valiant attempts by specialist conductor of musicals, David Charles Abell. The staging, on three levels, could not use the depth of the stage and consequently the singers had to move sideways, usually slowly – that gave the show a certain stiffness. Then there was the English language: although many (educated) Swiss speak excellent English, it is a mistake hereabouts to assume the intricacies of the language will be understood. The text is fast and furious and the surtitles could hardly keep up, even when deciding to miss out some of the 'difficult' words and phrases. Puns, wordplay and double entendres (especially used by the crude Beggar Woman) were lost on most in the audience, such as when Sweeney Todd says 'I'm entirely at your disposal' and 'This will be a very close shave' – as he neatly dispatches his customers (from a fancy tilting barber's chair down a chute) to be minced into a 'meat' pie in Mrs Lovett's bakehouse, below his barber's salon.
The wittiest lyrics in the show are in the duet between Todd and Mrs Lovett where they discuss the merits and demerits of certain trades and professions in their meat pies. Gilbert & Sullivan could do no better.
Andreas Homoki places the action on three levels: the lowest is the gutter out of which crawl the scum of society, the lower classes. 'the vermin of the world in a great black pit'; it also doubles as the virtually invisible bakehouse. In between, the middle classes scurry to work and Todd works in his salon; at the top is the Judge with other members of the Establishment enjoying lascivious masked balls, at home eyeing up his ward, or in his Court room. As Todd says, 'At the top of the hole sit the privileged few.' Costumes are uniformly grimy mud-bespattered grey (apart from some splashes colour for Mrs Lovett's dresses), all perfectly Dickensian. Homoki's sense of humour comes out with scuttling rats, one of which gets chopped up for a meat pie: pure Fawlty Towers. Johanna's song about the birds is accompanied by the fluttering of fluffy birds on fishing rods disguised as tree branches. Around the proscenium arch glinted more than a hundred light bulbs, flashing when a body was dispatched: a nice touch.
The show's message is clear: we are all alone in life. After Todd kills his wife, not knowing it was his wife (shades of Rigoletto or Trovatore), he kills his lover Mrs Lovett and is then himself killed by Tobias Ragg who realises that his former boss Pirelli (real name Danny O'Higgins) has been killed by Todd. The only glimmer of hope is that Todd's daughter Johanna, disguised as a sailor, elopes with her boyfriend Anthony for a hopefully happier life; but Todd missed the chance to ever meet his daughter.
The score is possibly one of Sondheim's best, but the show falls flat at times. The audience failed to applaud some of the numbers, failed to laugh at the puns and some, it has to be said, were simply not amused. For Zurich Opera it is certainly, as Monty Python would have said by way of introduction, Something Completely Different.
John Rhodes