United States Various: Anna Netrebko (soprano), Jennifer Johnson Cano (mezzo-soprano), David Chan (violin), Malcolm Martineau (piano), Carnegie Hall, New York, 9.12.2018. (RP)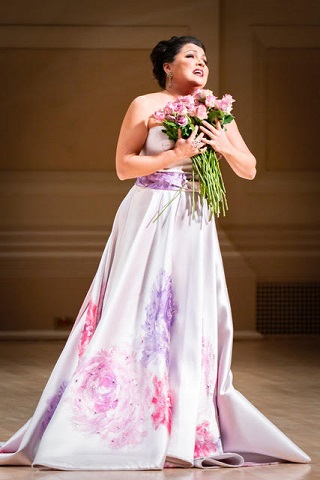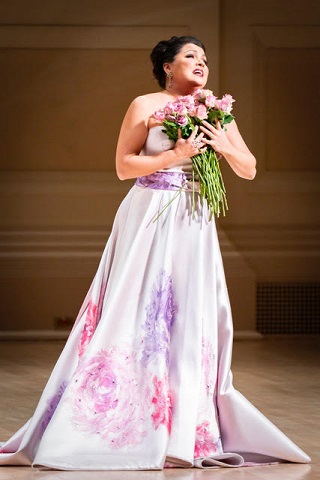 Rachmaninoff – 'Lilacs' Op.21 No.5, 'Before my window' Op.26 No.10, 'How fair this spot' Op.21 No.7, 'The Dream' Op.38 No.5
Rimsky-Korsakov – 'The lark sings louder' Op.43 No.1, 'The clouds begin to scatter' Op.42 No.3
R. Strauss – 'Morgen' Op.27 No.4, 'Die Nacht' Op.10 No.3, 'Wiegenlied Op.41 No.1, 'Ständchen' Op.17 No.2
Debussy – 'Il pleure dans mon coeur' (Ariettes oubliées, No.2)
Charpentier – 'Depuis le jour' (Louise)
Tchaikovsky – 'It was in the early spring' Op.38 No.2, 'Tell me, what in the shade of the
branches' Op.57 No.1, Lisa and Pauline's Duet (The Queen of Spades Op.68), 'Frenzied Nights'
Op.60 No.6, 'Whether day dawns' Op.47 No.6
Bridge – 'Go not, happy day'
Leoncavallo – 'Mattinata'
Fauré – 'Après un rêve' Op.7 No.1
Dvořák – 'When my old mother taught me to sing' Op.55 No.4
Moore – 'Gold is a fine thing' (The Ballad of Baby Doe)
Offenbach – Barcarolle (Les contes d'Hoffmann)
The Rockefeller Center Christmas Tree and the lights of Times Square must have twinkled extra brightly on Sunday afternoon, winking in approval at Anna Netrebko in recital in the gilt, cream and red splendor of Carnegie Hall. A star of this wattage does not appear in their midst every December, especially one so grand, if a bit outré, who sings divinely. As for glamour, there were two gowns — one white and imprinted with huge pink and lilac roses, the other sleek black velvet. And although she takes her singing very seriously, Netrebko has a devilish streak that was on full display.
The recital was divided into two broad themes of day and night. Netrebko walked on stage for the first half holding a bouquet of pale purple roses, cradling them as she sang Rachmaninoff's 'Lilacs'. At the end of Leoncavallo's 'Mattinata' she tossed a bunch of them into the house. Returning to the stage for the second half, she toted a silver star balloon on a weighted string. After throwing it to the rear of the stage, she tossed her head and exclaimed, 'Night!'
Netrebko could have sung nothing but Russian songs and arias and held the audience in the palm of her hand and had the critics cooing, but that's not her style. Nonetheless, there were plenty of Russian melodies to relish. The Rachmaninoff and Rimsky-Korsakov selections were beautiful and passionate, but Tchaikovsky's melodies seemed to bring out more color and warmth in her voice. Jennifer Johnson Cano's rich mezzo-soprano paired perfectly with Netrebko's voice in Lisa and Pauline's Duet from The Queen of Spades. 'It was in the early spring' was simple and lovely, while she dispatched quicksilver trills and runs effortlessly in 'Whether day dawns'.
Among the surprises was Strauss' 'Morgan' with David Chan, The MET Orchestra's concertmaster, playing the solo line in the prelude and postlude. Her final expression of muted rapture was sung in sumptuous, ethereal tones that gave way to Chan's elegant, throbbing sound and Martineau's simple accompaniment. In the second half of Strauss' 'Die Nacht', she built the tension word by word into a sustained cry of desperation. Frank Bridge's 'Go not, happy day' bubbled with full-voiced, robust joy. A phrase such as 'Splendeurs inconnues, lueurs divines entrevues' ('Unknown splendors, glimpses of divine fire') in Fauré's 'Après un rêve' made time stand still.
I couldn't help but think that she had read Beverly Sills' autobiography, Bubbles, and mused: 'I can do that'. And so there were luscious renditions of 'Depuis le jour' and 'Belle nuit, ô nuit d'amour', the latter again with Cano. Admittedly she has often sung both before, but combined with the Silver Aria from The Ballad of Baby Doe, a role which Sills made her own, the associations were unavoidable (at least to me). In the Moore aria, Netrebko didn't erase memories but created wonderful new ones. Her reading was full-voiced and ebullient, etching out Moore's filigree with high notes that were silvery and exquisitely light.
Netrebko was the epitome of an elegant hostess graciously ushering Cano and Chan on and off stage. She has a generosity of spirit that was on full display with all of her colleagues, but especially Martineau. In the usual turn of events, his star turn would have been 'Morgen'; here, it was the extended postlude to her final selection, 'Whether day dawns'. As she had a number of times, she turned and watched him play. Afterwards the audience rose to its feet, cheering for more.
Two encores followed. First, there was a melodious, playful 'Il bacio' by Luigi Arditi, a nineteenth-century Italian composer who wrote music for song birds of both sexes that was recorded by the likes of Adelina Patti and Nellie Melba. Puccini's 'O mio babbino caro' followed, and with that a final bow alongside Cano, Chan and Martineau.
Progress out of the hall was slow, and people were buzzing with opinions. Fashionistas were either dissing or raving about her dresses. Purists objected to the structure of the program and, of course, felt the flowers and the balloon, as well as a feather fan that she flashed in the Offenbach, were beyond the pale. To the chagrin of some, Netrebko is not one to stand demure and still in the crook of the piano. Her French, German and English diction had strong defenders and fierce critics. There was one thing that they all agreed on, however: the voice is magnificent.
Rick Perdian