United Kingdom Humperdinck, Hänsel und Gretel: Soloists, Actors, Dancers, ROH Youth Opera Company, Orchestra of the Royal Opera House / Sebastian Weigle (conductor). Royal Opera House, London, 13.12.2018. (MB)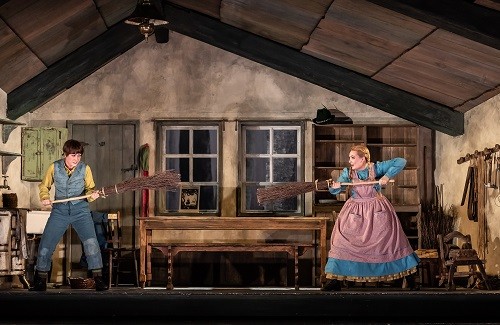 Production:
Director and Designs – Antony McDonald
Lighting – Lucy Carter
Movement – Lucy Burge
Cast:
Gretel – Jennifer Davis
Hänsel – Hanna Hipp
Gertrud – Michaela Schuster
Peter – Eddie Wade
Sandman – Haegee Lee
Dew Fairy – Christina Gansch
Witch – Gerhard Siegel
First the good news: the Royal Opera's new production of Hänsel und Gretel was certainly well sung, if ultimately lacking the sheer memorability of a great performance. Jennifer Davis and Hanna Hipp made for a highly likeable sister and brother. From the front of the stalls, where I was fortunate enough to be seated, their facial movements and other body language were just as telling as their musical performances, diction as excellent as vocal line. Lucy Burge's skilled movement direction proved a definite boon, here and elsewhere. Michaela Schuster's Gertrud offered luxury casting, finely assumed, even if it were wasted on a production which gave her little to do; Eddie Wade's last-minute substitution for an indisposed James Rutherford as her husband likewise did all that might reasonably have been asked of it. If Gerhard Siegel's Witch suffered most of all from the production's inadequacies, having a veteran Mime in the role offered plenty of food for independent thought, especially when sung with relish and precision. The smaller solo roles were both well taken and the singing children from the ROH Youth Opera Company did themselves – doubtless their friends and families too – proud.
The Orchestra of the Royal Opera House played well too, if again some distance short of memorably. If only these musicians had been conducted by someone with greater charisma than the decidedly Kapellmeister-ish Sebastian Weigle. He made a considerably better job of leading the performance than in Berlin last year: less incoherent, but ultimately still thin flat, and featureless, especially when compared to memories from just ten years ago of Colin Davis conducting this production's predecessor here at Covent Garden. There was little to move, little to thrill. Worst of all, whatever the time on the clock, the performance dragged. This well-nigh perfectly proportioned Märchenspiel seemed at times as if it might never end. Hardly the thing for 'children of all ages', as the tedious cliché has it.
The greatest disappointment, however, was Antony McDonald's vacuous production itself. Had this been a remnant from several decades ago, kept on rather than replaced, one might have smiled, or at least grimaced, indulgently. That it had been commissioned to replace the thoughtful staging from Moshe Leiser and Patrice Caurier first conducted by Davis beggared belief – especially when strongly rumoured that the mouth-watering prospect of a staging of Humperdinck's Königskinder had been shelved in its favour. A late nineteenth-century, kitschy Alpine setting was presented entirely without irony, Hänsel's resemblance to Janette Krankie seeming inadvertent rather than provocative. The story proceeded as it should, through the forest, without interest and more or less without incident. The Sandman merely looked peculiar. For some reason – presumably a bit of money left over – various characters from the Brothers Grimm wandered and danced around during the pantomime dream sequence. In case you had not noticed, a large book was brought on with the Grimms' name on it. Then it was on to a weirdly Americanised house of horror, with little sign of gingerbread at all. Subsequent action was messed about with for no discernible reason, to the extent that it made little sense. The Witch, who at one point seemed to have stepped out of a wisely undeveloped sketch for a Carry On film, was pushed into a vat of chocolate (?) whilst the oven went unused. The children's choir's appearance puzzled rather than fulfilled.
Kitsch to ineptitude: a Konzept of sorts, but only if it were knowing. The sole glimpse I caught of the semblance of an idea, albeit quite undeveloped, was the wolf following Red Riding Hood in the unsuccessful request for a kiss from Prince Charming prior to Cinderella's appearance. That was it. Doubtless the third act signified an attempt to do something 'different', even vaguely 'contemporary' – in practice, about forty years old. Being different for the sake of it, however, does not an idea make. Children, still more than adults, deserved much better, as did the cast. A young audience is no excuse, quite the contrary, for a third-rate staging.
If the evening dragged in the theatre, it did all the more in retrospect, when to test my response – and for the sheer joy of it – I played at home Karajan's legendary EMI recording. Needless to say, it flew by in no time at all. For audio alone, that fleet, unsentimental, yet nevertheless lovely account remains a clear first choice. On DVD, return to Covent Garden for Colin Davis and company in far more luxuriant mode (musically, at least). The Royal Opera might not, alas, be able to bring back Sir Colin. It should nevertheless seriously consider ditching this pointless, enervating production for its intelligent, far from iconoclastic predecessor, or indeed learning from the superlative production Liam Steel created in 2016 for the Royal College of Music. Then, please, that Königskinder…
Mark Berry