United Kingdom Haydn, Dvořák, and Schubert: Trio Wanderer (Jean-Marc Phillips-Varjabédian [violin], Raphaël Pidoux [cello], Vincent Coq [cello]). Wigmore Hall, London, 29.12.2018 (MB)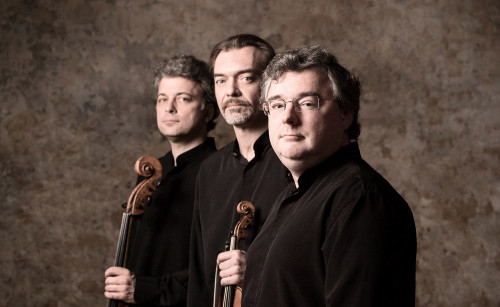 Haydn – Piano Trio in E-flat minor, Hob. XV:31
Dvořák – Piano Trio in E minor, Op.90, 'Dumky'
Schubert – Piano Trio No.2 in E-flat major, D 929
What a splendid way to round off the musical year: generous, immediate performances of three piano trios from the Trio Wanderer at the Wigmore Hall. And where better a place to start than with Haydn, who, if he did not quite invent the genre, soon brought it to a level of invention never previously hinted at and never to be surpassed? The 1795 E-flat minor Trio is a curious work, as experimental as any, belying claims of a relative classicism to the composer's (relative) old age. That was how it sounded here too, its twists, turns, and ultimate cohesion in or under hands that, whilst safe, were anything but dull or complacent.
The key itself – of the first movement, that is, the second and final movement moving to E-flat major – is unusual, even for Haydn. (It is difficult to imagine Mozart opting for it, save perhaps as a rare episode.) Its quiet dignity, at least as used here, was conveyed with a strange melancholy that put one in mind of the Sturm und Drang Haydn, albeit distilled. Whenever the rondo theme – yes, the first movement is a rondo – reached its Neapolitan moment, one felt the harmony's historical roots in earlier eighteenth-century Naples, yet also knew its kinship with Haydn's own double variations for piano in F minor/major and certain aspects of the musical future to come: to be, as it were, invented. The B major episode proved especially striking, moving enharmonically down a major third, offering both in work and in performance a striking pre-sentiment of Schubert. (Yes, I remain enough of an historian to damn such forward-looking teleology in abstracto, but here in context…) Brighter, yet still in the shadow: there was a rightness here that brooked no response. Nor did the formal freedoms and ingenuities of the second movement, played, liked its predecessor, with string tone and style speaking very much of what we may probably still yet call the Franco-Flemish school. There was no need to exaggerate in lamentable contemporary 'period' fashion; Haydn can speak perfectly well for himself, whatever the art that conceals such performative art. In tonal journey and detailed interest alike, the Wanderer players commanded and held our attention.
Dvořák's Dumky Trio immediately announced a different, if not unrelated, world, the players' tone and concept unashamedly full-blooded in a Romanticism that was yet far from generic, but specific to the particular language and flavour of composer and work. We found ourselves in the world of the public concert rather than the connoisseur's chamber. Moreover, each musician's performance possessed the character one might, however erroneously, associate with a group of 'star' soloists; ensemble playing and understanding reminded us that this was very much an established rather than an occasional ensemble. Rhetoric, character, and form played vividly before our ears, whether in the quasi-rustic – how 'quasi' remains a matter for debate – spirit of the 'dumka' dance or the comforts of the mitteleuropäisch coffee house. Indeed, quicksilver shifts of mood that registered just as strongly as any underlying unity. For instance, in the second of the six movements, we heard a melancholy that spoke in context of affinity with Haydn, whilst retaining its particularity; no sooner had we done so, though, than the music had wrenched our thoughts and emotions elsewhere. If gear changes were sometimes obvious, that was as much a reflection of the score 'itself' as its performance. There was no denying the charm, the dancing fury, or the Bohemian 'soul' – however much, in the cold light of day, we may wish to deconstruct such notions.
Schubert's E-flat major Trio made for a satisfying tonal reprise and development – among many other virtues. The Trio Wanderer brought to the first movement and much else a buoyant charm that assisted both integration and development: here most noticeable, aptly enough, in the development section, but also in the second development of the recapitulation. The Andante con moto offered a trudge that was brisk yet never brusque, in keeping both with Schubert's tempo marking and, more important, the ineffable character to his writing. Imbued with dignity and passion, the performance proved flexible too, without losing track of a fundamental pulse. These were fine guides indeed to a very particular tonal winter's journey. A well-sprung scherzando proved playful yet never insouciant. As expansive as its companions in its own way, it lacked – like them – any sense of the longueurs that can plague lesser accounts. The finale seemed, in a strange sense, to bring us back once again to the spirit of Haydn: what he might have done in an absurd, hypothetical sense – until, that is, it was very much what he would not have done. The music looked forward too, to Schumann, to Brahms, to Dvořák, yet never sounded untrue to itself. Technical excellence, emotional affinity, and a gift for formal and thematic integration proved complementary in a fine conclusion to a fine concert – save, that is, for an energetic encore of the finale to Haydn's so-called 'Gypsy' Trio.
Mark Berry