Spain Rossini, L'italiana in Algeri: Liceu Chorus and Orchestra / Riccardo Frizza (conductor), Gran Theatre del Liceu, Barcelona, 17 & 18.12.2018. (JMI)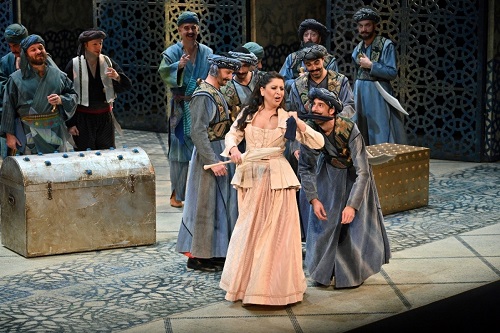 Production:
Direction – Vittorio Borrelli
Sets – Claudia Boasso
Costumes – Santuzza Calì
Lighting – Andrea Anfossi (original), Vladi Spigarolo (revival)
Cast:
Isabella – Varduhi Abrahamyan/Maite Beaumont
Lindoro – Maxim Mironov/Edgardo Rocha
Mustafà – Luca Pisaroni/Simón Orfila
Taddeo – Giorgio Caoduro/Manel Esteve
Haly – Toni Marsol
Elvira – Sara Blanch
Zulma – Lidia Vinyes-Curtis
It has been 36 years since L'italiana in Algeri was last performed at the Liceu, which is rather surprising given that it's an opera one would consider to be part of the main repertoire.
This Vittorio Borrelli production originated at the Teatro Regio in Turin, where it premiered in 2009; it was revived there four years later and will be staged again next spring. A very classic, traditional production with a Muslim palace, rich colors and no shortage of baths and eunuchs, it reminds one of the well-known staging by Jean-Pierre Ponnelle. The costumes are also traditional and richly colored, and the lighting works well. The stage direction follows the path of a buffo opera with some funny gags: it tries hard to get the audience to laugh and is sometimes more successful at it than others. In sum, it is an appealing production and well-suited to this Rossini opera.
Riccardo Frizza handled the musical direction, and I must say my expectations ran high. He was for years a frequent conductor of opera performances featuring Juan Diego Flórez and, therefore, is quite accustomed to leading Rossini operas. In fact, I saw him conduct this opera in 2003 and have a very positive memory of it. In addition, he was recently at the Donizetti Festival in Bergamo and was excellent. His reading here was what you can expect of a solid conductor, although I admit I hoped for something more from him.
Isabella was played by mezzo-soprano Varduhi Abrahamyan, who gave a superb performance. Until now, I had only seen her perform in Valencia, and she was always good. Her debut at the Liceu has been especially positive: she has an appealing voice, well suited to the demands of the role, and she moves well on stage. In the second cast Isabella was sung by Maite Beaumont, who has an engaging voice. Her problem lies in the fact that her volume is not sufficient for a big house, and she does on occasion fall short.
Tenor Maxim Mironov was Lindoro in the first cast. Among his virtues are a voice that is attractive in the middle and well-handled, including agilities, but it is too small for this house. Some of the same points can be made about tenor Edgardo Rocha in the second cast.
Both Mustafàs were excellent in terms both of singing and acting. Luca Pisaroni gave an outstanding interpretation of the character, as did Simón Orfila in the second cast. The former is more baritone, while the latter singer is more bass, but both were impressive.
Taddeo is a basso buffo or, if you prefer, a buffo bass-baritone. Giorgio Caoduro's voice was suited to the character, while baritone Manel Esteve fared less well. Toni Marsol was correct in the part of Haly, as was mezzo-soprano Lidia Vinyes-Curtis as Zulma. Soprano Sara Blanch in the character of Elvira made a strong impression; she shone in the concertante that closes the first part of the opera.
José M. Irurzun