Germany Strauss, Arabella: Bayerische Staatsoper Orchestra / Constantin Trinks (conductor), Nationaltheatre, Munich, 25.1.2019. (JMI)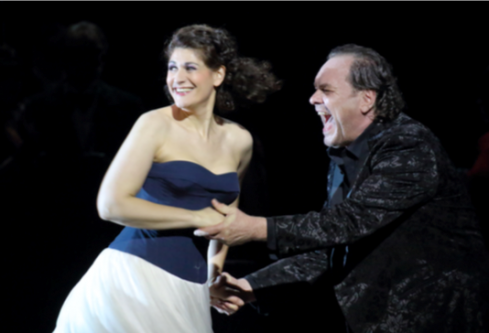 Production:
Director – Andreas Dresen (original), Frauke Meyer (revival)
Sets – Mathias Fischer-Dieskau
Costumes – Sabine Greunig
Lighting – Michael Bauer
Cast:
Arabella – Anja Harteros
Mandryka – Michael Volle
Zdenka – Hanna-Elisabeth Müller
Matteo – Daniel Behle
Count Waldner – Kurt Rydl
Countess Adelaide – Doris Soffel
Fiakermilli – Sofia Fomina
Count Elemer – Dean Power
Count Dominik – Sean Michael Plumb
Count Lamoral – Callum Thorpe
Fortune Teller – Heike Grötzinger
My short trip to Munich ended with Arabella, in one of those performances that leave you fully satisfied – three glorious protagonists, an attractive production and a convincing musical direction. Wunderbar!
I have seen this Andreas Dresen production a couple of times and reviewed it when it was premiered (review click here). On each of these occasions Arabella was sung by Anja Harteros, the great Strauss heroine of recent years.
The musical direction was once again entrusted to Constantin Trinks, who is frequently in Munich. He is a solid conductor, and his reading was quite good, though it didn't reach the exceptional level achieved by Christian Thielemann in Dresden in November 2014, or that of Philippe Jordan at the premiere of this production in Munich. In any case, Trinks was careful and convincing, and the Bayerisches Staatsorchester was excellent under his baton.
Anja Harteros is unquestionably the best interpreter of Arabella in recent years. It is simply impossible to sing the part better or more naturally than she does. Harteros is Arabella from the moment she enters the stage until she climbs up the stairs at the end of the opera. How difficult it will be in the future to see this opera with a different Arabella, and I recommend to everyone not to miss any opportunity to see her in the role (in fact, in any character she sings!). Her scene with Zdenka in the first act and those with Mandryka that culminate the opera are simply perfect.
Mandryka was once again sung by baritone Michael Volle who, I dare say, is the best possible performer of the part today. He was magnificent. His conception of the character is different from that of Thomas Hampson, who used to play a distinguished, elegant Mandryka. Volle portrays a rougher character, but one who is equally appealing.
The superb leading trio was completed by soprano Hanna-Elisabeth Muller, who was an outstanding Zdenka (or Zdenko) and a great complement to the other two. Her voice is very attractive, and the role holds no secrets for her – she has played it on many occasions.
The part of Matteo was covered by tenor Daniel Behle, who gave a strong performance. He is a good singer, though he can be somewhat tight in the upper part of the tessitura. Veterans Kurt Rydl (Count Waldner) and Doris Soffel (Adelaide) repeated their performances, and both did it perfectly. Sofía Fomina did well as Fiakermilli, with an easy voice that is well suited to this role.
Arabella's trio of suitors were nicely played by Dean Power (Elemer), Sean Michael Plumb (Dominik) and Callum Thorpe (Lamoral), as was the Fortune Teller of Heike Grötzinger.
José M. Irurzun