United States R. Strauss, Lutoslawski, Prokofiev: Johannes Moser (cello), San Francisco Symphony / Christian Reif (conductor), Davies Symphony Hall, San Francisco. 24.1.2019. (HS)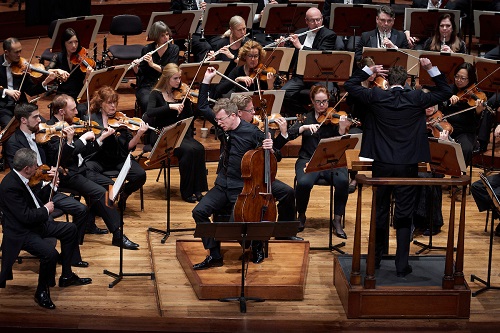 R. Strauss — Don Juan
Lutoslawski — Cello Concerto
Prokofiev — Symphony No.5 in B-flat major
San Francisco Symphony audiences had never heard cellist Johannes Moser or Witold Lutoslawski's Cello Concerto before both made their local debut Thursday evening at Davies Symphony Hall. It's safe to say they won't forget it.
The concerto is a prime example of the Polish composer's penchant for contrasting stinging dissonances with moments of sheer beauty, unconventional musical structures and, above all, a sense of humor that leavens everything. All of that was present in abundance in a rollicking, bold, totally captivating performance by Moser, aided and abetted by the orchestra's resident conductor, Christian Reif, whose main public function is to lead the symphony's youth orchestra.
All eyes were on Moser, a lanky artist with a range of facial and body expressions that would do a rock artist proud. His blissful look during the concerto's opening statement of blandly spaced repeated D's paid dividends, as did his later staredowns with the concertmaster in more highly charged moments. Emphatic gestures underlined the score's fierce combativeness.
Written in 1970 for Mstislav Rostropovich, the concerto takes the traditional push-pull between soloist and orchestra to an extreme. After the extended opening cadenza, a blatt from the trumpet section throws a raspberry at the soloist. From there, it's game-on. At times the soloist mocks a phrase from the orchestra, which responds with its own derision. There's a sense of stream-of-consciousness to it all, as phrases unexpectedly yield to new ideas. In a program note, the composer refers to the soloist and uses the term 'absent-mindedness'.
To keep ears off balance, the music indulges in skeins of fast-running complex filigrees by the soloist and pungent orchestral harmonies, adding extended crescendos and sudden swings to airy harmonies. It's a joyride of musical virtuosity and absurdity rolled into 24 minutes of sheer energy, masterfully delivered by Moser for a well-earned standing ovation.
As an encore, Moser eschewed vibrato for a chaste but sincere Sarabande from J.S. Bach's Cello Suite No.1.
The evening's bookends reflected two other composers using their own tropes to play with standard musical forms. The opener, Richard Strauss's tone poem Don Juan (1888), also strings together colorful and virtuosic episodes. If Reif's approach tended toward dense textures and unfortunate moments of rigidity, there were also passages of sweetness and thrilling climaxes.
In the second half, Prokofiev's Fifth Symphony (1945) could have used a little more flexibility and springier rhythms, but the orchestra's chops made the most of individual solos, especially principal clarinet Carey Bell in the finale. The jaunty dances in the second-movement Scherzo livened things up in spots, and the Adagio third-movement delivered on the required lyricism. The finale chugged through the rondo form and finished with a hearty wave goodbye.
Harvey Steiman