Switzerland Handel, Semele: Soloists, Chorus of the Zurich Opera, Orchestra La Scintilla / William Christie (conductor), Zurich Opera, Zurich. 8.1.2019. (JR)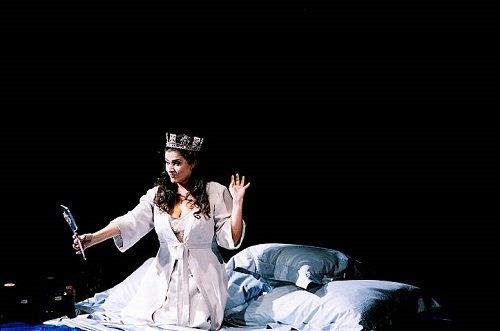 Cast:
Semele – Cecilia Bartoli
Jupiter/Apollo – Frédéric Antoun
Juno – Katarina Bradić
Ino- Deniz Uzun
Cadmus/Somnus – Nahuel Di Pierro
Athamas – Christophe Dumaux
Iris – Rebeca Olvera
Production:
Producer – William Christie
Assistant – Sylvie Döring
Set and costumes- Patrick Kinmonth
Lighting – Robert Carsen, Peter van Praet
Chorusmaster – Ernst Raffelsberger
La Bartoli, as she is affectionately known in these parts, is celebrating an astounding thirty years on the Zurich Opera stage. For those wondering and calculating, she has, only a year or two ago, turned 50, so she started very young. Bartoli made her début in the 1988/89 season and many of her role débuts were made in Zurich. As early as 1990 her Cherubino under Nikolaus Harnoncourt caused an international sensation.
Though diminutive in stature (Bradić and Uzun towered above her), Bartoli stood head and shoulders above the rest of the cast. This was her night. The notes were spot on, the high notes sparkled, the middle register warm, diction impeccable, acting impressive, but it was – as usual – the glittering coloratura that took the breath away, particularly in her Act 3 mirror aria 'Myself I shall adore, if I persist in gazing' and her aria 'No, no, I'll take no less, than all in full excess' with splendid hissing on the sibilant. Bartoli brought the house down twice.
Frédéric Antoun's elegant baritone graced the part of Jupiter; his coloratura was secure to boot. He sang the hit aria 'Where'er you walk' to perfection. Katarina Bradić, a Serbian mezzo, was a pleasant discovery; she acted and sang convincingly – she also looked the part (which cannot be said, despite all the above accolades, of Bartoli as the object of Jupiter's affections). Deniz Uzun was dolled up for her role as Semele's sister, Ino, and is a Zurich regular. She has a delightful voice and acts convincingly. Nahuel di Pierro's rich and deep bass was wondrous throughout. French countertenor Christophe Dumaux had trouble with his voice, to my ears. Perhaps this was due to the performance I heard being the last of a series of four, but his voice was strained from the outset and at one point he dropped down into the tenor register for quite a stretch. The acting prize goes to sweet soprano Rebeca Olvera, a real comedic talent.
The production was a revival from more than ten years ago by Canadian Robert Carsen. He brings the action more or less right up to date and substitutes the world of the Gods for Buckingham Palace. Juno is clearly Queen Elizabeth II, in her green wellies. Ino might be Princess Margaret, Jupiter a philandering Prince Philip. It all rather reminded one of the Netflix series The Crown, though conceived long before. Only the corgis were missing.
Costumes were suitably regal, lots of fur and red ermine, tiaras and crowns; stage-hands were dressed as Palace lackeys. In heaven, the production was less convincing with zephyrs (the Chorus) barefoot in cream suits; though the scene with the God of Sleep, Somnus, in grubby pyjamas was most touchingly portrayed.
It was a shame that Carsen could not portray on stage the eagle swooping down and lifting Semele to heaven, nor Jupiter's thunderbolts. One cannot have everything in a modern production without descending into pantomime. It was fully made up for by the royal courtiers holding newspapers with witty headlines such as 'By Jove!', 'Where Eagles Dare', 'Semele: I'm in Heaven' and 'It's Official: Semele and Jupiter'.
William Christie was at the very top of his game and clearly enjoying every minute of it. The overture was a particular glory and the orchestra's response to Christie's meticulous direction was astounding throughout. I don't think I have ever heard Orchestra La Scintilla play better. The crispness of the timpani sent shivers down the spine. The chorus also seemed to realise this was a special night and were most impressive; they have a lot to sing, especially when the final chorus 'Happy, happy, shall we be' was repeated after the final curtain calls, with William Christie on stage joining in the fun by conducting with the stem of one of the carnations thrown down to La Bartoli by an admirer.
It was, however, without the shadow of any doubt, Cecilia Bartoli's night. She was the jewel in the crown.
John Rhodes