United States Tchaikovsky, Bartók: Soloists, Metropolitan Opera Chorus and Orchestra / Henrik Nánási (conductor), Metropolitan Opera House, New York, 24.1.2019. (RP)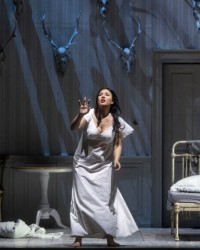 Co-production of the Metropolitan Opera and Teatr Wielki-Polish National Opera:
Production – Mariusz Treliński
Sets – Boris Kudlička
Costumes – Marek Adamski
Lighting – Marc Heinz
Video Projection – Bartek Macias
Sound – Mark Grey
Choreographer – Tomasz Jan Wygoda
Dramaturg – Piotr Gruszczyński
Casts:
Tchaikovsky – Iolanta
Iolanta – Sonya Yoncheva
Vaudémont – Alexey Dolgov
Robert – Alexey Markov
Ibn-Hakia – Elchin Azizov
René – Vitalij Kowaljow
Martha – Larissa Diadkova
Brigitta – Ashley Emerson
Laura – Megan Marino
Bertrand – Harold Wilson
Alméric – Mark Schowalter
Bartók – Bluebeard's Castle
Judith – Angela Denoke
Bluebeard – Gerald Finley
Mariusz Treliński's double bill of Tchaikovsky's Iolanta and Bartók's Bluebeard's Castle, first seen during the 2014-15 season, has returned to the Metropolitan Opera for five performances. It was the Met's first co-production with the Teatr Wielki-Polish National Opera, where Treliński serves as artistic director, followed by his Tristan und Isolde which opened the 2016-17 season. For this revival, the Met assembled near-perfect casts topped off with the much-anticipated debut of Hungarian conductor Henrik Nánási for a riveting, if disconcerting, evening of opera.
Tchaikovsky's soaring melodies, chromaticism and lush orchestrations sit easily beside Bartók's more stringent score with its exotic colorings and stunning sonorities. Treliński imposes unity on the pairing by setting them in the same eerie forest where uprooted trees are suspended in midair, and by emphasizing the darker elements of Iolanta. It did not take much effort as the two stories are in some ways mirror images of one another.
Iolanta, a beautiful, blind princess, seeks the light, instantly falling in love with the brave young knight who describes it to her. However, the king, her father, whose motivations are as murky as those of Bluebeard, shields his daughter from reality.
Judith, on the other hand, abandons family, love and comfort for a man around whom rumors swirl about the fate of his prior wives. She is obsessed by what lies behind the seven doors in his castle, and Bluebeard is helpless to quell her curiosity. He pleads for her kisses, yearning for the light that she brings to his dark abode where even the walls ooze blood, but to no avail. Her fate is to join his other wives locked behind the seventh door, imprisoned and isolated; the same existence imposed upon Iolanta by her unyielding father.
Plot and stage elements also fused the two tales into one. Flowers feature in both; in Treliński's settings, the bouquets on tables in Iolanta's house and Bluebeard's castle are all but identical. Iolanta wonders if eyes are only for crying, while behind the sixth door Judith finds a silent, silvery lake of tears.
Treliński interjects a further unifying theme: the hunt. Video projections of enormous deer grazing in the forest add a surreal touch to the opening measures of Iolanta. Later, a stag is gutted and hung when the king returns with his retinue. Large mounted antlers hang on the walls of both abodes – a subtle precursor, perhaps, to more blatant commentaries on the trophies which powerful men collect that would come in the #MeToo era.
The only directorial misstep was the attempt to supplant Tchaikovsky's joyful, fairy-tale ending with ambiguity. The fadeaway from a joyous grouping with everyone dressed in dazzling white to Iolanta's father in a long, bare passage looking panic-stricken was a dud. After ninety minutes, the audience had already started to stir, and the excitement just evaporated.
The stage action, updated to the 1920s or 1930s, hewed to the plot with only minor variances. Iolanta's house is a rustic hunting lodge, which Robert and Vaudémont happen upon while skiing. Not quite the fifteenth-century Burgundian knights in the libretto by Tchaikovsky's brother Modest, but with the same code of honor and swagger.
Soprano Sonya Yoncheva's evolution from a sheltered, bewildered girl into a woman emboldened by love was vocally and visually magical. The scene in which she tries to fulfill Vaudémont's request to give him a red rose, but with ever increasing frustration only hands him white ones, was touching. Tenor Alexey Dolgov (filling in for the indisposed Matthew Polenzani) was equally exciting as Vaudémont – young, dashing and handsome – his vibrant voice a perfect fit with Yoncheva's in the stirring melody that serves as a leitmotiv throughout the opera.
The aria that Tchaikovsky composed for the conflicted King René is exceptionally fine, perhaps because the composer too was a bundle of incomprehensible emotions and impulses. With his resonate bass, Vitalij Kowaljow gave voice to the king's self-imposed dilemma that prevents his daughter from either knowing of her condition or being cured. As the Moorish doctor who believes he can cure Iolanta, baritone Elchin Azizov displayed a fine, firm baritone and was suitably serious and understated in demeanor.
There was an Art Deco sensibility in the protagonists' elegant attire and the spare furnishings of the castle to which Bluebeard brings his new bride. They pull up in a car whose headlights pierce the dark. His home is a bleak, industrial fortress where even the walls ooze blood. A gloomy, endless shaft served as an elevator to transport Judith and Bluebeard throughout the vast space. Abstract, pulsating, black-and-white videos added to the sense of dislocation.
One of the most evocative scenes was the steaming bath in which a naked Judith luxuriates with the pearls found among the treasures behind the third door. Another lay behind the seventh door where Bluebeard's other wives cavort as forest nymphs (not attired in magnificent robes and wearing crowns as in the libretto) – the fate that awaits his new wife.
As Judith, the clarion-voiced soprano Angela Denoke stalked the stage in a mesmerizing performance that was reminiscent of the intense exoticism and sensuality of silent-screen sirens such as Theda Bara and Gloria Swanson. Denoke's gleaming soprano cut effortlessly through Bartók's dense orchestral textures, responsive to Judith's mercurial reactions to the sights revealed to her behind every door.
Baritone Gerald Finley brought his potent dramatic skills to bear in creating a complex Bluebeard. It was impossible to discern who exactly was the victim, as Finley's Bluebeard seemed ensnared by circumstances and fate as much as Iolanta was in Tchaikovsky's opera. Vocally it was a fit, the dark brilliance of his voice at one with the character that he had crafted. There were, however, puzzling moments when he was simply inaudible; all the more noticeable because of the amplification what was used for the narration that precedes the opera and the sighs that emanate from deep within the castle as the doors are opened.
Few debuts in an opera house require a conductor to make such stylistic leaps as did this one. Henrik Nánási, who served as the general musical director of the Komische Oper Berlin from 2012 to 2017, surmounted the challenge: his Tchaikovsky was sweeping and passionate, while the Bartok was perfectly paced, with the tension never abating. The brass were resplendent in both, and the orchestral arabesques that dot the score of Bluebeard's Castle were delicate and shimmering.
The Met orchestra responded with sounds that would pack a concert hall in a comparable orchestral double bill of music by these two composers. Opera lovers should do the same, for such glories are seldom encountered.
Rick Perdian