Spain Puccini, Madama Butterfly: Liceu Chorus and Orchestra / Giampaolo Bisanti (conductor), Gran Theatre del Liceu, Barcelona, 15 & 16.1.2019. (JMI)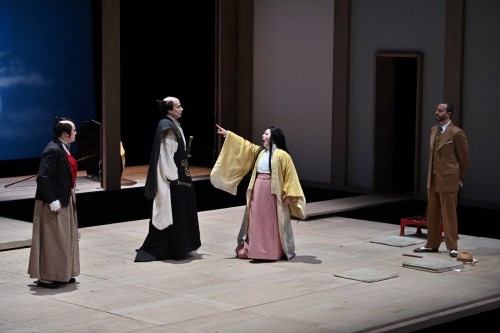 Production:
Direction (Original) – Moshe Leiser and Patrice Caurier
Direction (Revival) – Gilles Rico
Sets – Christian Fenouillat
Costumes – Agostino Cavalca
Lighting – Christophe Forey
Cast:
Cio-Cio-San – Lianna Haroutounian/Maria Teresa Leva
Pinkerton – Jorge de León/Rame Lahaj
Sharpless – Damián del Castillo/Gabriel BermúdezSuzuki – Ana Ibarra/Justina Gringyté
Goro – Christophe Mortagne/Moisés Marín
Bonze – Felipe Bou
Yamadori – Isaac Galán
Kate Pinkerton – Mercedes Gancedo
Imperial Commissioner – Eduard Moreno
Official Registrar – Alejandro Llamas
This co-production was first done at the Liceu in the 2005/2006 season, and was staged again during the 2012-2013 season. It premiered in London in 2003 and has been revived there several times, most recently in 2017 when Ermonela Jaho enjoyed a huge success. The production has been covered several times in the pages of Seen and Heard, including by Jim Pritchard in 2011 (review click here).
It is a simple, elegant and attractive staging that narrates the plot perfectly. The chief problem is that it is very open, which makes voice projection difficult (a fact that has been previously noted).
The musical direction was in the hands of Giampaolo Bisanti, who gave a careful and nuanced reading and drew a fine performance from the orchestra. He is one of the most active Italian conductors today, and was last seen at the Liceu conducting Macbeth in October 2016. The only problem was the occasional excessive volume – oddly, considering the difficulty with the production mentioned above.
I am not sure that this opera sinks or swims depending upon who plays the protagonist. Here the geisha Cio-Cio-San was sung in the first cast by soprano Lianna Haroutounian, who was making her Liceu debut. Her performance was convincing although not exceptional in vocal terms; her voice did not always reach the audience in the first act, but that improved as the opera continued. She is best in the middle and upper ranges, but her low notes are rather weak, as they have always been. I would also mention that she avoided Butterfly's high C – an optional note, but there is no doubt that whoever has it, delivers it.
It had been announced that Ainhoa ​​Arteta would make her debut as Cio-Cio-San in the second cast, but she had to cancel a few days ago due to laryngitis. To replace a well-known singer at the last minute is always a problem, but the Liceu solved the situation perfectly with Maria Teresa Leva. She made a positive impression overall, although there are lights and shadows in her voice too: her low notes are weak, and her middle range is somewhat reduced, except in forte where things improve. She has no trouble with the high notes and knows how to sing piano. Her voice is attractive and homogeneous throughout the tessitura, and she was a convincing interpreter. However, she too avoided that high C.
Jorge de León was Pinkerton, a character he has played on numerous occasions. He was vocally much stronger this time, with better control of his incipient vibrato. Pinkerton in the second cast was sung by tenor Rame Lahaj, and he also made a positive impression with his attractive, very homogenous voice.
Sharpless was played in the first cast by Damián del Castillo, who did it correctly. Gabriel Bermudez in the second cast was difficult to hear.
Ana Ibarra was a delicate Suzuki and gave a good performance. I have always found her to be what is known as a 'short soprano' rather than a mezzo-soprano, but this time things worked satisfactorily. A strong impression was left by mezzo-soprano Justina Gringyté, whose voice is well suited to the demands of the score.
In the secondary characters, Christophe Mortagne did well in the part of the matchmaker, Goro, as did Moisés Marín in the second cast. Isaac Galán and Mercedes Gancedo were appropriate in their parts, but Felipe Bou as Uncle Bonzo was a bit weak.
The Liceu was fully sold out on both nights. The audience gave their most spirited applause to Lianna Haroutounian and Maria Teresa Leva.
José M. Irurzun