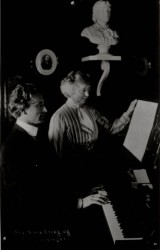 At the 1988 Last Night of the Proms, Andrew Davies conducted the BBC Symphony Orchestra in Edvard Grieg's Piano Concerto with Percy Grainger as soloist. Grainger's part was played from a couple of piano rolls he made in 1921. (The hugely popular performance is captured on YouTube [click here].) Grieg was overwhelmed when he heard Grainger's performance during a visit by the Australian pianist to Norway, naming it the finest he had ever heard of his concerto. Grainger was quirky in all things, and made every piece of music his own: both qualities Grieg applauded.
Grainger liked nothing better than a challenge. When the challenge was insufficient he would invent something to heighten the performance. In this case he was in the habit of leaping from the platform, sprinting to the back of the hall and leaping back onto the stage just in time for the first cadenza. His athletic prowess was not confined to the keyboard. He was slender and handsome with the good looks of a matinée idol.
There are plenty of features of this performance which were not written by Grieg – accelerandi and rallentandi, anticipated as well as late entries, exaggerated tempi  – especially the faster ones, odd notes missed and not a few added. But as you can hear, all these embellishments are profoundly musical.
Grieg was modest by nature. He didn't have much respect for his own music. I had indirect experience of this. I was playing one of the salon pieces in a piano lesson with Henry Geehl – himself a pianistic legend and then in his eighties. He stopped me and asked me to repeat the last eight bars exactly as I had played them. I did, unaware I had made a mistake. How interesting, mused Mr Geehl, I remember talking to the old boy about this piece (he meant Grieg), I rather think he would have approved of that mistake you made. I had played a German sixth where Grieg had written a French sixth – only one note difference, but in another harmonic world. Debussy would have knocked me off the piano stool.
You can see from this episode that Grieg's modesty came with geniality. And Grainger's playing is bursting with just that. No wonder Grieg approved.
Both composers had a fondness for folk music – spruced up to electrifying in Grainger's case, stripped to its most direct simplicity for Grieg.
Listen to Grainger's Shepherd's Hey or his own elaborate showpiece of Country Gardens. Both on YouTube. Then listen to 'Solveig's Song' from Grieg's Peer Gynt incidental music.
There are milliard ways in which the two composers are poles apart. What unites them is geniality. Did we ever know that geniality spoke so many languages?
It was a stroke of imagination that made the BBC offer the piano rolls at the 1988 Last Night of the Proms, spoiled only a little by the condescending voice of the snooty announcer (the late Richard Baker), in fashion at that time of BBC presentations. Maybe better if Andrew Davies had pre-recorded any brief introduction felt necessary.
With the political gloom in the UK, and predictions even gloomier for the year to come, this genial music invites us to dare say it: Happy New Year!
Jack Buckley