United States Hubbard Street Dance Chicago and Third Coast Percussion: Wallis Annenberg Center for the Performing Arts, Beverly Hills, 10.1.2019. (JRo)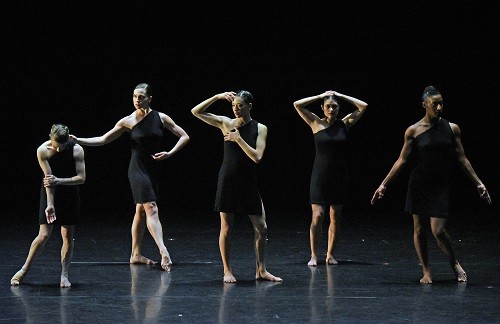 Dancers – Craig D. Black Jr., Jacqueline Burnett, Rena Butler, Alicia Delgadillo, Kellie Epperheimer, Michael Gross, Elliot Hammans, Alysia Johnson, Myles Lavallee, Adrienne Lipson, Florian Lochner, Ana Lopez, Andrew Murdock, David Schultz, Kevin J. Shannon, Connie Shiau
Perfectly Voiceless
Music – Devonté Hynes (Arrangement and performance – Third Coast Percussion)
Lighting – Jim French
For All Its Fury
 Choreography – Emma Portner
Music – Devonté Hynes (Arrangement and performance – Third Coast Percussion)
Sets – David Kim
Lighting – Jim French
Costumes – Hogan McLaughlin
Everything Must Go
Choreography – Teddy Forance
Music – Devonté Hynes (Arrangement and performance – Third Coast Percussion)
Sets – David Kim
Lighting – Jim French
Costumes – Hogan McLaughlin
Ignore
Choreography – Ohad Naharin
Staging – Ian Robinson and Rachel Osborne
Music – Arvo Pärt
Lyrics – Charles Bukowski
Lighting – Avi Yona Bueno
Costumes – Rakefet
Pacopepepluto
Choreography – Alejandro Cerrudo
Music – Dean Martin, Joe Scalissi
Lighting – Matt Miller
Costumes – Rebecca M. Shouse
Solo Echo
Choreography – Crystal Pite
Music – Johannes Brahms
Lighting – Tom Visser
Stage Design – Jay Gower Taylor
Costumes – Joke Visser and Crystal Pite
Though a dark, brooding atmosphere largely prevailed in Hubbard Street's program at the Wallis, it opened with a giddily complex and pure musical offering, Perfectly Voiceless, by British composer and vocalist Devonté Hynes. Sean Connors, Robert Dillon, Peter Martin and David Skidmore of Third Coast Percussion, their instruments arranged in three groupings on stage, created a ballet of their own, opening on idiophones then dexterously moving to embrace all manner of percussion. The music itself felt like a rush of footsteps punctuated by syncopated ripplings of sound.
For the first half of the program, the quartet and their instruments remained onstage, accompanying the Hubbard Street dancers to more music by Hynes. In Emma Portner's For All Its Fury, three hanging banners painted with abstractions of fungi formed the set. Dancers in brown tunics and skirts poked out from behind or danced in front of the panels. In a choreographic universe that settled somewhere at the junction of tribal primitivism, sign language and martial arts, Portner's vocabulary seemed confused and unformed. One dancer wrestled with a plastic bag, one wielded a cane, another investigated a beer bottle – all to no discernable purpose. The one bright spot was Rena Butler who, with choreography unlike any danced by the rest of the ensemble, undulated her torso as if moving through a viscous substance.
Like Portner, Teddy Forance has had performance and choreographic experience in popular forms. And like Portner, the highlight of his piece was the onstage music of Third Coast. The unfortunate side of having the musicians present was that the dancers in both cases seemed crowded onto a small strip at the front of the stage.
Forance's Everything Must Go reflected a familiar theme – a lost group trying to comprehend its existence. Whether dealing with the frantic pace of modern life or the old existential questions, so much contemporary dance becomes bogged down in the familiar tropes of unrelenting anxiety and sorrow. Choreographically, this is represented by bodies succumbing to gravity – knees bent, torsos caved, arms flailing. Fortunately, Forance's piece moved into a more uplifting range at its conclusion, with hip-hop infused movement.
The second half of the program by more seasoned choreographers proved more satisfying. Ignore by Ohad Naharin, danced by five women, was familiar to Los Angeles audiences of BodyTraffic, who saw it performed as a solo by the formidable Tina Berkett. Formed as a series of movements corresponding to phrases in Bukowski's poetry with music by Arvo Pärt and vocalization by Bobby Smith, this is a fierce and visceral work that builds in power with its repetitive verses. Here Naharin uses his movement language to its most coherent effect, pairing the tragic with the ironic, the contemporary with the timeless.
Just when I was afraid that the evening would be an unrelenting series of despairing dances, Alejandro Cerrudo, the resident Hubbard Street choreographer, offered Pacopepepluto to the melodious tones of Dean Martin. Injecting humor into an otherwise bleak program, Craig D. Black, Florian Lochner and Michael Gross danced three solos – Paco, Pepe and Pluto. Wearing nothing but designer jockstraps, they cheekily (pun intended) romped through their paces – leaping proudly, spinning courageously or cowering shamefacedly. Coupled with the nostalgic music of the 1950s, the near nudity of these excellent performers served as an inspired contrast to the mood created by Martin.
Of concern throughout was the lack of variety in the lighting design. The overall experience was one of a dark stage and dancers in shadows. This was particularly evident in Crystal Pite's Solo Echo. Black vests, black pants and black feet adorned the dancers who were all but swallowed up by the darkness. Feet merged with the black floor and were barely visible – not what one looks for in a dance performance. However, the beauty of the backdrop, with falling points of light representing snow, added a poetic touch to a dance inspired by Mark Strand's 'Lines for Winter'. To the music of Brahms, couples in a push and pull of movement, whether lifting, holding or catching one another, remained in exquisite tension. Then a line of seven dancers formed a caterpillar of sorts. As one collapsed or one revolted, the group rescued the defector and reassembled itself. At the conclusion, the back of the stage was covered in a dusting of snow with a lone dancer lying on the floor left to his fate – a poetic end, indeed.
Jane Rosenberg