United States Thorvaldsdottir, R. Strauss, Sibelius: San Francisco Symphony / Esa-Pekka Salonen (conductor), Davies Symphony Hall, San Francisco. 18.1.2019. (HS)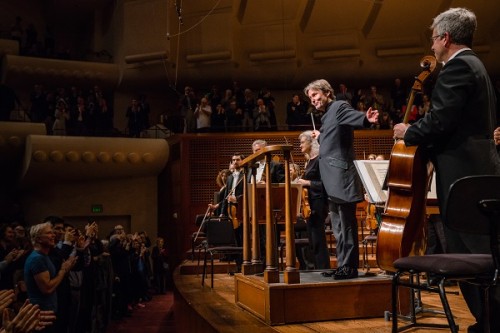 Anna Thorvaldsdottir — METACOSMOS
R. Strauss —Also sprach Zarathustra
Sibelius — Four Legends from the Kalevala
Esa-Pekka Salonen got a standing ovation Friday night in Davies Symphony Hall. Actually, not one, but three. Of course he did. But in this case, he deserved it, after his work with the San Francisco Symphony in music that lies squarely within his wheelhouse.
In anticipation of this concert — Salonen's first as the orchestra's music director-designate — the hype machine has been working overtime. Already scheduled long ago, the mid-January, circle-the-calendar-date-with-an-illustrious-guest-conductor took on added significance when Salonen signed a five-year contract to begin in the 2020-2021 season, when he will lead the orchestra shepherded by Michael Tilson Thomas since 1995.
Hence the first standing ovation, when about half the audience rose to greet him as he strode onstage to lead the opening contemporary piece. He got a bigger ovation after an intensely gratifying Also sprach Zarathustra, a tone poem that finishes with delicate pizzicatos, a world away from its big opening fanfare. The audience response for the Sibelius's Four Legends from the Kalevala was even more ecstatic.
Salonen's appointment was a well-kept secret until it was announced just last month. So this concert was not conceived originally as an introduction to the orchestra's next conductor. The works reflected Salonen's canny programming savvy, a trait that has also been a hallmark of Tilson Thomas's tenure. The Finland-born musician bookended the proceedings with Finnish works, one contemporary and one from the turn of the previous century, both of which brim with Nordic flavor. And like Zarathustra, they create moods that require a conductor's unifying leadership.
It was also striking how each piece started from a single note and expanded into familiar chords expressed in arpeggios before settling into its musical narrative. All three works owe a certain level of allegiance to the opening pages of Wagner's Das Rheingold.
Anna Thorvaldsdottir's METACOSMOS starts and ends quietly, an abstract meditation on how beauty can descend into chaos, and how chaos can become beautiful. Through sustained notes, the music morphs imperceptibly from one extreme to the other, gaining momentum until it ends with a sigh, 14 minutes later. Thorvaldsdottir's language is never overtly harsh, but she doesn't often take it in the direction you might expect. It's a piece full of quiet and satisfying surprises, and rumbling subterranean clusters thinning into shifting chords of real beauty – before ending with wisps of ever-rising strings and winds.
Salonen clearly believes in the score: he conducted its debut last year with the New York Philharmonic. This gently pulsing performance showed the commitment of the entire ensemble.
Salonen got Zarathustra off to a rousing start, building the opening power of the with assurance. He was in no hurry, but nothing ever lagged. Once past the fanfare, the elements came together under a subtly shifting pace, and it all felt exactly right. The sound was burnished and warm, but with clarity. Without overdoing the clash between the keys of C and B (which run throughout the piece), they kept insinuating themselves, right up to the end, when the pizzicato final notes conclude a half-tone off from what an unwary listener might expect.
Sibelius's piece starts quietly and ends with a bang. In between, the four scenes create a sense of spaciousness from the very first, 'Lemminkäinen and the Maidens of the Island'. Salonen painted a canvas with atmospheric horn calls and shimmering dances and eased into the rhythmic finish seamlessly. In the second legend, 'Lemminkäinen in Tuonela', Salonen caught the subtle shifts in mood leading up to an anguished climax. 'The Swan of Tuonela' captured the feeling of a calm lake in foreboding surroundings, its surges submerged under the majestic swan.
The finale, 'Lemminkäinen's Homeward Journey', demonstrated how Salonen's approach to rhythm can be deceptive. At first the faint pulsing might have seemed fairly standard-issue, but imperceptibly a listener could feel a push and pull of gathering intensity. It led, of course, to a triumphant finish.
Harvey Steiman