United Kingdom Verdi, La traviata: Soloists, Chorus and Orchestra of the Royal Opera House / Antonello Manacorda (conductor). Directed for the screen by Ross MacGibbon and broadcast live from the Royal Opera House, Covent Garden to Cineworld Basildon, Essex, 30.1.2019. (JPr)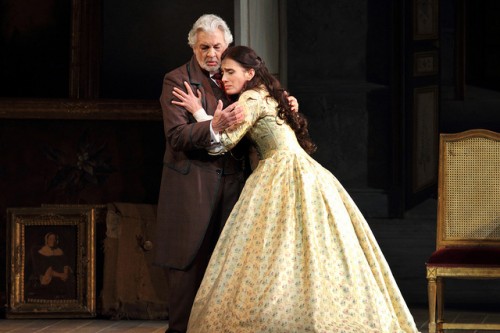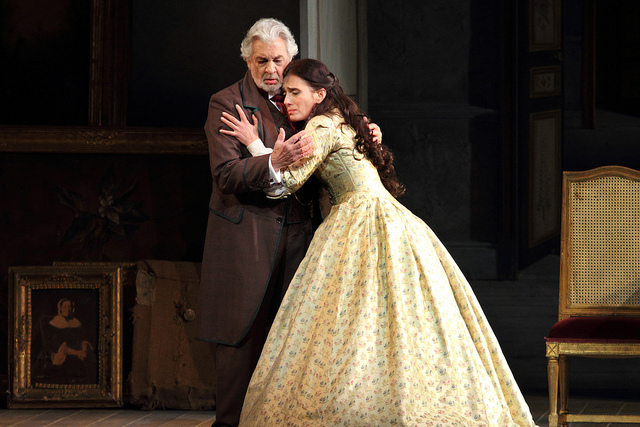 Production:
Director – Sir Richard Eyre
Revival director – Andrew Sinclair
Designer – Bob Crowley
Lighting designer – Jean Kalman
Director of movement – Jane Gibson
Cast:
Violetta Valéry – Ermonela Jaho
Alfredo Germont – Charles Castronovo
Giorgio Germont – Plácido Domingo
Annina – Catherine Carby
Flora Bervoix – Aigul Akhmetshina
Baron Douphol – Germán E Alcántara
Doctor Grenvil – Simon Shibambu
Gastone de Letorières – Thomas Atkins
Marquis D'Obigny – Jeremy White
Giuseppe – Neil Gillespie
Messenger – Dominic Barrand
What a revelation this performance was after the sanitised La traviata recently at the Met (review click here). There the soprano seemed never to have heard the word Tuberculosis whilst here Ermonela Jaho did everything but genuinely die on stage! My history with this production goes back to when it was first put on in 1994 and Sir Georg Solti conducted Angela Gheorghiu, Frank Lopardo and Leo Nucci in the leading roles, and I last saw an undercast revival in 2010. I was also there in 2008 when Jaho became a name to watch when she replaced – at very short notice – an ailing Anna Netrebko as Violetta Valéry alongside Jonas Kaufmann and the much-missed Dimitri Hvorostovsky. She did well then but in the intervening years has become an exceptional performer, and nobody currently appears to 'do' emotional angst as good as Jaho. In none of these performances – nor any other I have heard in between since Solti – has it sounded better than here with Covent Garden debutant Antonello Manacorda's melodramatic account of the score. Ever-conscious of his principal singers' needs (with one in particular!) it appeared to be – through cinema loudspeakers – faultlessly played by the Royal Opera House Orchestra, as well as, expertly paced and perfectly attuned to all Traviata's psychological twists and turns. Never did I experience the 'oom-pah-pah' quality Verdi's music can accrete in lesser hands.
La traviata was composed in one of the two periods in Verdi's life when he wrote his best operas – his middle years produced Rigoletto, Il trovatore and La traviata, and the last ones gave us Aida, Otello and Falstaff. I enjoy revisiting Traviata to remind me just how economical a composer Verdi was, regularly recycling earlier (even fairly recent) musical ideas. The work owes much to Il trovatore which was being rehearsed as he composed Traviata and premièred just a couple of months in advance of it. The beautiful duet at the end of Traviata Act I brings to mind the Miserere from Act IV Trovatore, and when Alfredo Germont sings 'De' miei bollenti spiriti' in the second act there is something of 'Di quella pira' about it …or there should be. Charles Castronovo – in an otherwise exemplary rhapsodic performance – eschewed the unwritten interpolated top note at the end and so Alfredo's racing off to Paris lacked a crowd-pleasing climax. In the following scene between Violetta and Alfredo's father, Giorgio Germont, we hear some of the 'haunting' music from Trovatore's Scene 1.
That Verdi was at the height of his powers is evident in the realisation of how – given a performance like this –  La traviata can fly by. The dramatic structure of the opera is almost ideal and has none of the longueurs of some subsequent works. Act I introduces the consumptive Parisian courtesan, Violetta, and shows her burgeoning attraction for the penniless aristocrat Alfredo; Act II has the confrontation between Violetta and Alfredo's father who demands she give up the scandalous liaison with his son; followed by Alfredo's denunciation of Violetta at her friend Flora's party; with the last act bringing their reconciliation before she dies.
The staging by Sir Richard Eyre is straightforward but atmospheric, undoubtedly helped along by Bob Crowley's sumptuous costumes and larger-than-life sets. In a pre-recorded film sequence Eyre and Crowley spoke about their vision. Eyre recalled how Solti said 'I want big frocks!', and Eyre revealed they had 'approached it as we would a play' (it was his first opera) and how the first act shows 'a crucible of drink, sex and money'. Revealingly Crowley added – when musing on the production's 25 years – how nothing in his life 'has lasted this long'. (Click here to see this in full.)
Everything is solid and three-dimensional and truthfully Violetta's opulent Act I salon – with its ice sculpture centre-piece and all the gold glitter – seems a bit overpopulated when all her party guests are on stage. On the other hand, Violetta's country house with her paintings propped against the wall and ready to be sold clearly displays her financial plight. Later, the sparsely furnished Act III bedroom with its huge dilapidated mirror (in which Violetta has a vision of Alfredo but cannot bear to see herself) perfectly 'mirrors' her decline. Only Act II Scene 2, with the semi-circular representation of a 'bullring' for the gypsy entertainers and guests partying around a huge green baize gambling table complete with huge overhead light, seems a bit odd. Yes it is a spectacular setting for the mock matadors, mock bulls and mock gypsies, but it somewhat diminishes the dramatically tense Violetta/Alfredo encounter. The enduring miracle of this staging is that in 2019 it did not look a quarter of a century old.
The umpteen revivals of Eyre's Traviata has seen many Violettas come and go after Angela Gheorghiu first appeared in it just two years after a Covent Garden debut. She was the undoubted star of the evening then and the opera sent her on the path to 'Divadom'. There was often a hint of erotomania to her performances of Violetta, while in 2009 Renée Fleming was more like Scarlett O'Hara in Gone with the Wind. Jaho however seems to have researched how someone in her character's stricken condition would 'act'. She was racked with coughing fits in Act I and if there has been a bloodier Act III I do not remember it as her Violetta realistically succumbs to her disease. It helps that Jaho has a slight frame and so portraying someone not in the best of health is quite easy for her and, as a result, very believable for the audience. From Violetta's first entry to her agonising and deeply affecting death, Jaho is totally – and often tearfully – absorbed; acting and singing with the most eloquent feeling and revealing a women of complex emotions. She craves leaving her old life behind and finding true love for as long as she has left. Alfredo seems to be her salvation but, as we know, there is no happy ending. All of this is delivered through Jaho's nuanced and expressive singing that is capable, as appropriate, of brilliant coloratura technique, spine-tingling power, passion and pathos, amongst much else.
Of course a major talking point of this revival was the involvement of 'living legend' Plácido Domingo as Germont père. Moving stiffly on stage he now looks every one of the 78 years he admits to and there are often several glances to the prompt box when he sings. However, Act II certainly was the emotional centre of the work it should be, with Jaho and Domingo acting and reacting to each other with rewarding rapport. There were a few signs of wear and croakiness but Domingo sang – with a proper sounding baritonal timbre – with all the experience of his years, and gave a masterly account of 'Di Provenza il mar'. In the second scene the combination of soloists, chorus and dancers at the party excelled themselves and the heroine was profoundly moving in 'Alfredo, Alfredo'.
Setting aside my issue about his second act aria, Castronovo's youthful Alfredo gave Jaho sympathetic and stylish support that was almost perfect. There was great chemistry between the pair throughout and the culmination was a heart-breaking 'Parigi, o cara' between the clearly distraught Alfredo and Violetta before she dies a desperately pitiable figure ('Gran Dio! morir sì giovane morir').
This revival had evidently been rehearsed with great attention to detail by Andrew Sinclair and William Spaulding's chorus were totally engaged and in good voice during their two major scenes. The smaller roles are not given much to work with but there were outstanding vignettes from two current Jette Parker Young Artists Aigul Akhmetshina (Flora) and Germán E Alcántara (Baron Douphol), and not forgetting the always impressive Simon Shibambu (Doctor Grenvil).
Jim Pritchard
For more about what is on at the Royal Opera House click here.