United Kingdom Beethoven and Schoenberg: James Ehnes (violin), BBC Symphony Orchestra / Ryan Wigglesworth (conductor), Barbican Hall, Barbican Centre, London, 18.1.2019. (AS)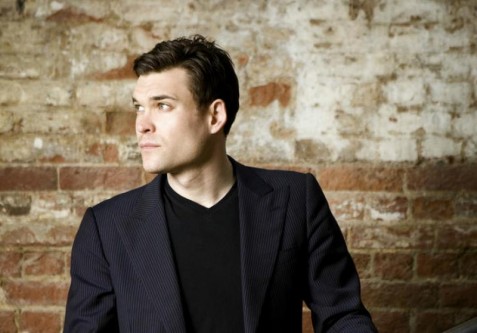 Beethoven – Violin Concerto in D, Op.61
Schoenberg – Pelleas und Melisande, Op.5
The original conductor of the concert, Lothar Koenigs, had had to 'withdraw', and at short notice his place was taken by Ryan Wigglesworth. How fortunate we were. Wigglesworth clearly knew the difficult and rarely performed Schoenberg tone poem well, and not only was his direction of it completely secure and confident, but he painted the work's sharply contrasted episodes with a deep understanding of its power and passion. It was a most remarkable performance and demonstrated why this gifted and versatile musician (he is of course a composer and an accomplished pianist) has been steadily making his way up the conductors' tree in recent times. Not surprisingly, both orchestra and audience showed their appreciation of his achievement with a good deal of warmth.
Poor Maurice Maeterlinck. He thought so modestly of his symbolist play Pelléas et Mélisande that he readily gave Claude Debussy permission to turn it into an opera, believing that this would much enhance its stature. In later life, when he saw that the play had inspired not only Debussy, but Fauré and Sibelius, who both wrote incidental music for it, and also Schoenberg, he must have had second thoughts about its worth.
Schoenberg's three-quarters-of-an hour essay, which plays continuously, has a problem in that the composer doesn't in the end stick to the original text. For most of his work he depicts the main parts of the action faithfully. But he doesn't end with Mélisande's death: he concocts what the note-writer aptly described as a 'lengthy recapitulation' which takes us back to the beginning of the play and ends with a spurious episode, portrayed by a kind of funeral march, in which the eponymous lovers, now deceased, are united with each other. How odd.
The music itself is gorgeously late-romantic, teetering sometimes on the brink of tonality. To hear a live performance of it is not only a rare experience, but a revelatory one, since the astonishingly varied, boldly innovative and characteristically unique early Schoenbergian textures forged by the huge orchestra cannot be conveyed by even the finest of recordings.
What a pity it was that some members of the audience departed at the interval. They had presumably only come to hear James Ehnes play the Beethoven concerto. This was in itself quite remarkable, to be sure. By coincidence I had been off-duty the previous evening in The Anvil, Basingstoke to hear the same concerto played by Augustin Hadelich with the Bournemouth Symphony Orchestra under Kirill Karabits. This was a beautifully played performance in the classical manner, impeccably stylish, elegant and communicative (review click here). But Ehnes took the work onto a more elevated plane through strongly bringing out its quality of restrained passion and spirituality. At once it was clear through Wigglesworth's sensitive conducting of the opening tutti that his and the soloist's approach to the concerto would be one of searching deeply into its inner soul, and throughout the work conductor and soloist were united in this quest. Ehnes showed a beautiful tone quality and impeccable technique which, in the first movement particularly, he put to the service of exquisite expressivity and high artistry of phrase (he played Kreisler's cadenzas in this and the third movement). Some listeners might have found his intensely ruminative approach to the central Larghetto, involving as it did a good deal of introverted lingering, a little too much of a good thing, but it was all of a piece with the performance as a whole, and there were certainly no misplaced agogic accents in a dance-like account of the finale.
The concert was not broadcast live, and the programme informed us that it was being recorded for future transmission at some point in Radio 3's weekday 'Afternoon Concert' series. What a shame that such an outstanding concert should be pigeon-holed in such a fashion.
Alan Sanders