Germany Beethoven, Fidelio: Bayerische Staatsoper Chorus and Orchestra / Kirill Petrenko (conductor), National Theater, Munich, 24.1.2019. (JMI)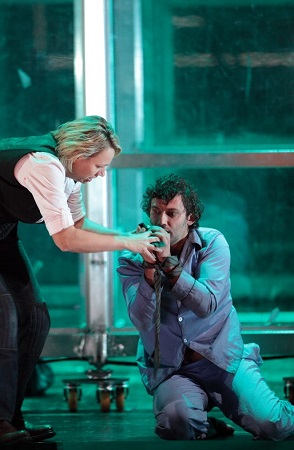 Production:
Director – Calixto Bieito
Sets – Rebecca Ringst
Costumes – Ingo Krügler
Lighting – Reinhard Traub
Cast:
Fidelio/Leonore – Anja Kampe
Florestan – Jonas Kaufmann
Rocco – Günther Groissböck
Don Pizarro – Wolfgang Koch
Marzelline – Hanna-Elisabeth Müller
Don Fernando – Tareq Nazmi
Jaquino – Dean Power
I have come back to Munich, where programs of the utmost interest to an opera lover continue to be mounted. Over two days, I will be able to see Fidelio, conducted by Kirill Petrenko and with Jonas Kaufmann in the cast; and Arabella, with Anja Harteros and Michael Volle in the leading roles. To me, at least, it seems clear that Munich is at the top of the world for opera.
This Calixto Bieito production of Fidelio premiered in Munich nine years ago, when it replaced the classic and attractive staging by Peter Mussbach which had been done here for years. I first saw this Bieito production three years ago; nothing has changed since then, and my opinion hasn't improved either. Here is what I wrote about it on the earlier occasion: (review click here)
When I was here three years ago, the musical direction was in the hands of Zubin Mehta, whose conducting fell below my expectations. I said at the time that it must be almost impossible to conduct Fidelio with what the maestro has in front of his eyes. This time the conductor was Kirill Petrenko, one of the great ones today in an opera pit, if not the greatest of them all. It was not Petrenko's brightest reading, although one has to say that he salvaged the performance. The great Petrenko came to light in the second half of the opera, which was much more convincing than the first part. The Bayerisches Staatsorchester was magnificent, and the chorus was outstanding.
Once again, Fidelio/Leonore was sung by soprano Anja Kampe, who gave an intense interpretation of the character, singing and acting with great dedication. She exhibited her usual drawback of too much tension in the top notes, where she sometimes borders on a scream, but this is less of an issue in Fidelio than it can be in other operas.
Jonas Kaufmann as Florestan was totally convincing. He started with 'Gott' emitted in pianissimo and then opened up the sound – it was spectacular, worthy of an exceptional singer. This isn't a character that he sings often, and it is understandable that houses do not invite him for a role which is not really the main protagonist of the opera. I found Mr. Kaufmann in excellent condition, better than on recent occasions, but the audience wasn't particularly warm towards him.
Günther Groissböck as Rocco offered an impressive performance in both vocal and stage terms. It must be said that Bieito has turned the character into a kind of drunkard, who always has a bottle in his hand. While Groissböck is an excellent singer, I prefer the voice of René Pape, whom I saw in this role a month ago.
The role of Don Pizarro was sung by Wolfgang Koch, one of the most important baritones in the German repertoire. He has an appealing, powerful voice, but doesn't have the same strength as he once did.
Hanna-Elisabeth Müller as Marzelline was excellent too. Her voice is attractive, and she appears to be very comfortable in the part (which she played three years ago as well). Tenor Dean Power did nicely in the role of Jaquino, and baritone Tareq Nazmi offered a well-suited voice as Don Fernando.
The Nationaltheater was sold out. The audience was warm with the artists in the final bows, with the biggest applause for Günther Groissböck and Anja Kampe. Kirill Petrenko and the orchestra were also applauded enthusiastically.
José M. Irurzun