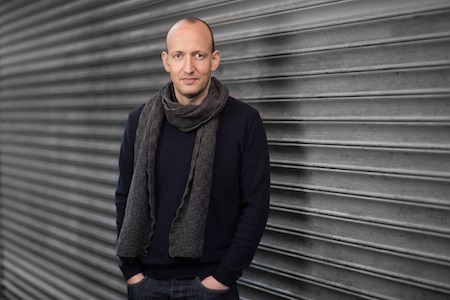 What do you understand by the word 'history'? This simple question, but one which will inevitably prompt multifarious and complex responses, was the origin of the title of Richard Causton's new orchestral work, Ik zeg: NU (which translates from Dutch as 'I say: NOW'), which was commissioned by the BBC Symphony Orchestra and will be premiered by the orchestra and their chief conductor Sakari Oramo at the Barbican Hall later this month.
When Richard's relative, 98-year-old Sal van Son, posed the question to his 10-year-old great-nephew, the latter's response, "I say now now, and a moment later it is already history", inspired the title of van Son's book which recounts over four hundred years of his family's history, including his own experiences during the Second World War when he went into hiding in a rural farm house in Holland to evade the Nazis' persecution of the Jews.
The child's response was, as so often the child's view of the world is, simultaneously simple and sophisticated, encapsulating a seemingly irreconcilable paradox with clarity and directness. Richard explains to me that this notion of how we experience time past and present seemed to him to be comparable to the way we experience music – which exists only in time, as it is performed, lingering as only an aural ghost – and to our experience of life itself, as we look back to past times, people and places which are irrecoverable but sustained by recollection and remembrance. And, it is this concept which Ik zeg: NU seeks to embody.
I ask the composer how he has sought to musically 'represent' our experience of time in Ik zeg: NU, and he explains that the work has no 'narrative', nor is the listener taken on a 'journey'; rather, the composition is static and juxtaposes and superimposes two contrasting types of music. There is "slow music" which changes almost imperceptibly, forcing the listener to engage intently with its scarcely discernible progress, and "incredibly fast music which is whimsical and quite light". Richard describes the latter as a "menagerie" and invites me to imagine the sounds that one might hear as one passes a busy, noisy child's playground: numerous and diverse overlapping shouts, songs and snatches which one can't quite grasp, and which exist only in the moment, evading memory. The slow music persists as the fast music interrupts and overwhelms, only for the latter to dissolve revealing the ongoing presence of the former. And, so, the listener's ear is pulled back and forth between the background and the foreground, confronted with the elusiveness of the present.
The 'strata' are distinguished instrumentally, too. Richard clarifies that, unusually, each instrument has only one role. The fast music, which is entirely comprised of root position major triads, is performed by various trio groups – piccolo, clarinet, oboe; trios of solo first and second violins; piano and harps – with the remaining instruments presenting the inexorable background. The latter is often dominated by clanging microtonal bells. Richard has redesigned the instrument that he first deployed in another work which deliberated on time – The Persistence of Memory, which drew its title from Salvador Dali's painting of melting clocks, and which was premiered by Oliver Knussen and the London Sinfonietta at the Southbank Centre in 1995 – incorporating bells at different pitches so as to facilitate new harmonic possibilities. The bells are very resonant and, in contrast to the fast music which feels "weightless", as the slow music unfolds there is a "tremendous sense of gravity". Patterns are interrupted and disrupted, and the interference creates a sense of dislocation. I wonder about the associations that we inevitably make with the tolling reverberation of bells and though I hesitate to use the word 'spiritual', Richard concurs that such associations are deep-rooted and unavoidable.
Which brings me back to Sal van Son's book: Richard has explained that his work has no 'narrative', but I wonder if there are any episodes in the historical account which made a particular impact on him and which he has responded to in Ik zeg: NU? The composer describes van Son's account of hiding in a hayloft as the Nazis banged on a thin partition wall, behind which he was hiding, as being "chilling to read": "It's impossible to imagine such experiences; or, in my opinion, to deal with them in music", he observes. But, Ik zeg: NU is a homage to van Son, whose brother was killed in a concentration camp: an acknowledgement of his survival to such an incredible age, and a celebration of his irrepressible youthfulness of spirit. The work is also dedicated to the composer's four-year-old son. Richard explains that van Son still enjoys travelling and meeting people, and he suggests that is some ways the nonagenarian seems to embody the fusion of past and present, age and youth, that Ik zeg: NU seeks to explore through music.
Ik zeg: NU will be performed by the BBC Symphony Orchestra conducted by Sakari Oramo at the Barbican Hall on 23rd January.
Claire Seymour