United States J.S. Bach, Prokofiev, Marsalis, R. Strauss: Nicola Benedetti (violin), Alexei Grynyuk (piano), presented by Cal Performances, Zellerbach Hall, University of California at Berkeley. 27.1.2019. (HS)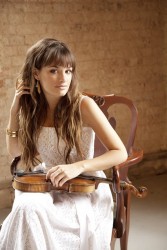 J.S. Bach — Chaconne from Partita No.2 for Unaccompanied Violin in D minor
Prokofiev — Sonata No.2 for Violin and Piano in D major
Wynton Marsalis — Fiddle Dance Suite for Solo Violin
R. Strauss — Sonata for Violin and Piano in E-flat major
In a recital notable for its warmth amid torrents of virtuosic flair, violinist Nicola Benedetti maintained a sense of simplicity and refinement to works from Bach to Marsalis. Though her recital, presented by Cal Performances at Zellerbach Hall in Berkeley, ran 20 minutes past the usual two-hour mark, no one was complaining.
The 31-year-old Scot's distinctive rich tone and thoughtful musicianship paid the most dividends in the two unaccompanied works on a program that spanned pretty much the full 300 years since her 1717 Stradivarius instrument was made. A resonant lower range lent depth and power to the opener, the towering Chaconne from J.S. Bach's Partita No.2.
An essentially vibrato-free approach on the Bach compensated with pristine intonation for the straight tone, and well-considered articulation that introduced refreshing variations in phrasing in repeated figures. This pinnacle of the violin repertoire also was remarkable for a vivid rhythmic sense. Its dancelike phrases bounced along with verve, in contrast to the majestic, full-throated arpeggios and suddenly soft-hued lyrical phrases.
Those same elements of rhythm and precision were evident, and necessary, in the five-movement work by the jazz great Wynton Marsalis. Though best known for his trumpet playing (in both jazz and classical music) and for founding Jazz at Lincoln Center, Marsalis is also a Pulitzer prize-winning composer. It was a nice touch to mirror the Bach by opening the second half with his Fiddle Dance Suite for Solo Violin, written for Benedetti in 2018 and debuted just last March at the Harrogate International Festival.
Although he has written little for violin, the composer cavalierly employed a grab bag of the instrument's tricks and sonic whistles in a style that referenced Scottish reels, bluegrass fiddling, African drumming rhythms and the scent of jazz. It gave Benedetti a workout. When she picked up a microphone for a few minutes before moving on to the next piece, she mentioned how it had stressed her right hand, and smiled, 'I needed the rest'.
The opening movement, 'Sidestep Reel', reflected what Marsalis calls (in the program note) the 'Afro-Celtic' fiddle-style. Benedetti's clear, bouncy rhythms fit the fast-moving phrases perfectly. Whiffs of jazz harmonies added a colorful touch. Benedetti brought a refreshing sweetness to 'As the Wind Goes', a wistful ballad, before ramping up the rhythmic bite again for 'Jones' Jig', which plays with the commonality of 6/8 rhythms in both Irish and African dance music.
The blues percolated gently through 'Nicola's Strathspey', an introspective moment of gentleness before the finale, 'Bye Bye Breakdown', a nonstop mashup of familiar-sounding folk tunes and fiddle virtuosity that brought the proceedings to a climax.
With her longtime piano partner, Alexei Grynyuk, Benedetti worked her way methodically through Prokofiev's Piano Sonata No.2 (originally written as a flute sonata) to conclude the first half and Richard Strauss's Sonata in E-flat major to top off the program. In the neoclassical Prokofiev, she favored lyricism over punch, and in the heart-on-sleeve Strauss, kept the syrup under control.
Best of all, however, was the encore, a superb traversal of the Méditation from Massenet's opera Thaïs, notable for its tonal beauty, simplicity and complete lack of artifice. Come to think of it, gracefully sidestepping any artifice is a perfect way to describe the whole evening.
Harvey Steiman
For more about Nicola Benedetti click here.