United Kingdom Strauss and Wagner: Rachel Nicholls (soprano), London Schools Symphony Orchestra / Ryan Wigglesworth (conductor) Barbican Hall, London 7.1.2019. (JPr)
Strauss – Death and Transfiguration; 'Zueignung' Op.10 No.1; 'Befreit' Op.39 No.4; 'Cäcilie' Op.27 No.2
Wagner (arr. Wigglesworth) – Twilight of the Gods – A Symphonic Journey
I have been too long away from this 'potent symbol of the talent's and achievements of London's finest young musicians' as the London Schools Symphony Orchestra describes itself. It is managed by the Centre for Young Musicians (a division of the Guildhall School of Music and Drama) and together supported by the Foundation for Young Musicians. The latter took the opportunity of this demanding – and ultimately very satisfying – concert to launch a major fundraising campaign called 'Young at Heart' to celebrate two significant anniversaries: CYM's 50th in 2020 and LSSO's 70th in 2021. The target is to raise £1 million over three years to provide financial support for 1,000 talented 'non-wealthy' students to study at CYM over the next ten years and benefit from the opportunities LSSO can offer them.(For more information about this click here.)
I had not been to one of LSSO's concerts for 11 years (where has that time gone?) and it was encouraging once again to see and hear a youth orchestra reveal what talent and commitment there still is for classical music among some young people. Although the Barbican Hall was not full there was a wonderful gathering of friends, siblings, proud parents (grand, and possibly great-grand ones too) of those 101 listed in the programme as being in the orchestra.
I don't know if the music we heard was typical of all the LSSO's recent concerts, but the young musicians rose to the tremendous challenge of the Strauss and Wagner they had to play. The connection between the composers was that – according to Donald Sturrock's programme note – their works were inspired by 'a notion of aesthetic transfiguration and fulfilment in death.' In the first half of the concert they played Strauss's tone poem Tod und Verklärung (Death and Transfiguration). Written when the composer was only 24 – and with his long life ahead of him – it depicts the death of an artist. A sick man is near death, there is a battle between life and death that offers no respite to the man whose life passes before him, though in the end, he receives longed-for transfiguration. Indeed, on his deathbed Strauss was reported to have said: 'Dying is just the way I composed it in Tod und Verklärung'.
Death of course is not as much of a preoccupation for the 12- to 18-year-olds in the orchestra – or many in their audience – as it often is for those at a regular classical music concert! The description of the music in the programme would have done much better to tell them how film composer John Williams 'borrowed' Strauss's 'transfiguration theme' for the 'Love' one in his 1978 Superman score. The LSSO proved themselves to be an accomplished ensemble during this tone poem and responded sensitively to the music's many differing moods. The shifts between the different episodes were clean and precise and the tension never slackened from the suitably dark beginning through to a shattering climax with its blazing brass peroration. Ryan Wigglesworth is an experienced composer-conductor and encouraged some beautiful detail, long lines and a splendid cohesiveness from the young players surrounding him. Leader Leon Human had some particularly impressive solo moments.
LSSO's artistic director Peter Ash announced that soprano Rachel Nicholls was recovering from laryngitis and, in these circumstances, what she then went on to achieve was astonishing. I thought her only contribution was to be the three Strauss songs before the interval. Despite her voice clearly not being as free as she would hope it to be, Nicholls is undoubtedly a fine interpreter of this repertory. She brought passionate eloquence to 'Zueignung' ('Devotion'), and whilst 'Befreit' ('Released') was perhaps more introspective than ecstatic, 'Cäcilie' ('Cecilia') was suitably rapturous. Nicholls was given all the support she needed from Wigglesworth and the LSSO's eloquent understated accompaniment.
What followed in the second half of the concert was a surprise, and a very pleasant one! You will find thoughts on my varied experience of two recent performances (click here and here for reviews) of over-familiar excerpts from Götterdämmerung (Twilight of the Gods) played – as begun here – with no interruption. There is the traditional quick glimpse of 'Dawn' before Siegfried sets off, seemingly – as I often write – on his speedboat down the Rhine; then there are usually just a few moments from his death scene before we hear in full the 'Funeral Music'. The latter had built to a powerful climax as Wigglesworth and his increasingly impressive musicians melded the myriad motifs – including those associated with Siegfried, the sword Nothung, and his task in the overall scheme of things – into a resplendent musical eulogy for the slain hero. I must praise Lucas Boardman's horn call as he looked – from a distance – rather downcast after his exposed solo moments. I can assure him he did well and was no worse than what I have heard from horn players in Vienna, Berlin, or in many professional orchestras elsewhere.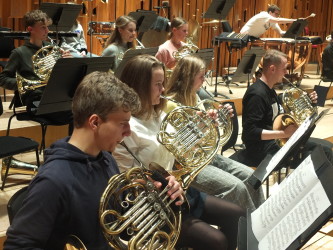 However the surprise in Ryan Wigglesworth's Twilight of the Gods: A Symphonic Journey arrangement was that – for the first time wherever I have heard these excerpts in the concert hall – Rachel Nicholls was back on the platform to singing the entire 'Immolation Scene' and it was not just non-vocal snippets we heard. Nicholls must be admired for tackling this given her recent illness and – all things considered – hers was a remarkable performance. It was warmly sung with Nicholls communicating the words clearly to those who could understand them (sadly there was an explanation but no translation in the programme). Notable was the Lieder-like intimacy she brought to the section 'Alles, alles … Ruhe, ruhe, du Gott!' ('All things, all things … Rest now, rest now, O God!'). In this Nicholls showed her deep understanding of the text and – though clearly challenged by the more heroic final moments – Nicholls''s resolute Brünnhilde was very convincing as a transfigured woman who is willing to immolate herself on her husband's funeral pyre. The LSSO's conflagration of the gods was incandescent and the gripping final moments, depicting the world being cleansed and striving for peaceful renewal, packed the punch it always should. Ryan Wigglesworth had done more than enough to make me eager to hear any Wagner he may conduct in the future.
This concert was an achievement that all involved with the London Schools Symphony Orchestra should be proud and is already a contender for my 'Best of 2019' and the year has only just begun!
Jim Pritchard
For more about the LSSO click here.