THE GREAT CANADIAN ARTISTS: AN INTERVIEW WITH MARC-ANDRÉ HAMELIN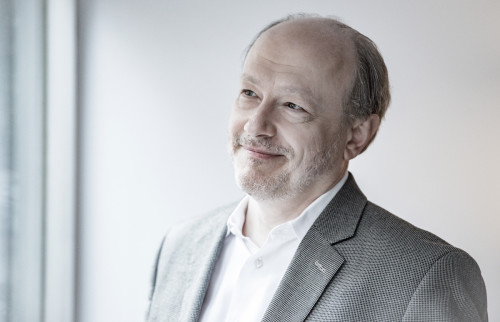 Pianist Marc-André Hamelin has emerged as one of the marvels of the twenty-first century. Few living pianists can match his transparency of articulation, rhythmic and tonal control and cunning virtuoso strength, and these characteristics are resoundingly illustrated in his recordings and concert performances of a vast range of nineteenth- and twentieth-century repertoire. His early – and indeed enduring – contribution lay in bringing technically-challenging works of lesser known and often forgotten composers to public attention, placing them on the world stage in the best light for others to absorb and study. In recent years, he has applied his interpretative and technical acumen to more mainstream literature with great success.
Hamelin was born in Montreal and studied at the École de Musique Vincent-d'Indy and Temple University. The first turning point in his career was winning the Carnegie Hall International Competition for American Music in 1985 at the age of 24. The second, in 1995, was the start of his association with Hyperion Records which has resulted in well over 50 recordings that have established him within the world's élite pianists. Eleven of his recordings have been nominated for Grammy awards and, starting with his Godowsky Studies on Chopin's Etudes, Hamelin has now received six Gramophone awards. He was inducted into the Gramophone Hall of Fame in 2016. His most recent releases include widely-praised discs of Medtner and Rachmaninoff concertos (with Vladimir Jurowski), the two-piano version of Stravinsky's Le Sacre du Printemps (with Leif Ove Andsnes) and the Schubert B-flat major Sonata.
In 2003, Hamelin became an Officer of the Order of Canada and, in 2004, a Chevalier de l'Ordre du Québec. This interview took place in conjunction with his November 2018 appearance with the Vancouver Symphony Orchestra where he performed Mozart's Piano Concerto No.17.
Geoffrey Newman: Many identify your career with your pioneering efforts to bring challenging and less familiar piano repertoire to light. I understand that this focus dates back to your youth.
Marc-André Hamelin: My father was always playing the piano in the house from my earliest days: he was a very good amateur pianist and also played a lot of records. While I became familiar with a good part of the standard repertoire as a result, he was very curious about finding 'important' piano compositions that were less known and often forgotten. We essentially explored these together: he was always ordering new scores of unfamiliar composers, and from a very young age I would impatiently await their arrival too. I started playing the piano at age five.
He was really fond of the Romantic literature – Chopin, Liszt and Schumann – and it was outgrowths of this tradition that were of the greatest interest. He wasn't inspired by the Classical repertoire, and he was actually irritated by the huge Baroque revival at that time. It was Liszt that dominated his focus in his teenage years (in the early 1950s), and he bought all the Liszt recordings he could find, including the symphonic poems, 'Dante Symphony', 'Faust Symphony' and even some of the Masses. Many of these were recorded on the Urania label that flourished at the beginning of the LP-era; I still have them.
GN: You have long championed Leopold Godowsky. Did you know of him when you were very young?
MAH: Yes, my father had read about Godowsky in Harold Schoenberg's The Great Pianists, and he eagerly wanted to get the score of the Chopin-Godowsky Etudes. Unfortunately, this had been out of print for a long time, so he had to wait. Finally, around 1968, the pieces were reprinted, and he immediately ordered them. I still remember when the package arrived: we sat together and opened it with anticipation. I was seven or eight at the time, and even though I couldn't possibly play the Chopin Etudes, I was still familiar with them by hearing and by score. I was amazed by what I saw in the Godowsky score: they looked like the Chopin absolutely exploding! Ultimately, I turned out to be much more interested in these compositions than my father. Not much later I would find out about the piano works of Alkan, Sorabji and others – as further scores arrived.
GN: Did you go further on your own?
MAH: As soon as I was old enough to have a little pocket money, I wanted to explore, and I started buying bargain records, whatever I could find. At first, it was really avant-garde music, or at least what we considered avant-garde at the time: you know, Stockhausen, Boulez and Cage. I was open to anything because it was all wonderful and strange to me. Later on, my mind turned a little more to the past, and for a long time, and still a bit today, I favoured the turn of the twentieth century, where tonal harmony really started to break up. I thought that was possibly the most fascinating and radically innovative period in music history.  Now I realize there have been groundbreakers throughout all musical history.
GN: Just out of interest, who might be today's new groundbreaker for you?
MAH: Well, a composer who I never thought I would have any interest in at all, and most people would never believe – C. P. E. Bach. In Mozart, everything is beautifully proportioned, and while there are 'surprises', the forms are still predictable in the best sense of the word. Haydn has cunning angularity and many unique twists and turns – an absolutely powerhouse inspiration. Yet C. P. E. Bach tried to break every single rule in the book, and sometimes I'm just in awe of his audacity. It's simply amazing for the time he wrote.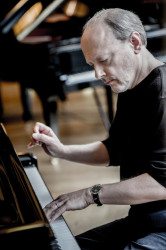 GN: You have climbed into the world's pianist élite with your extensive performing and numerous recordings for Hyperion since the mid-1990s. But you were not a young pianist when you started with the label. What happened before that?
MAH: The initial turning point occurred when I won the Carnegie Hall International Music Competition in 1985. As part of the prize, I was offered a debut recording with New World Records, but it had to be American music, preferably contemporary. A recording of the piano music of William Bolcom and Stefan Wolpe ultimately came forth. My second CD was an offer from CBC Records, but they stipulated that it had to be obscure repertoire. I suggested the Ives 'Concord' Sonata but they didn't want to go with that, so I suggested Godowsky and they accepted. So that was my second one. For my third CD, I was asked specifically by New World Records for the 'Concord' Sonata. So right then and there were my first three CDs and, even if I wanted to record Chopin or other mainline repertoire, I couldn't have done so. There were two more on Altarus, including one of Sorabji, and one more each on CBC and Analekta. I also recorded two minor things for Chandos in the early 1990s: Schoenberg's Ode to Napoleon with I Musici de Montreal, and the very incidental piano part in Rimsky's Mozart and Salieri. But these were really minor: if you use a magnifying glass, you can find my name somewhere in the booklet, that kind of thing!
GN: I cannot help but wonder: did anybody teach you how to play all this repertoire? Your early piano teachers wouldn't have known the works.
MAH: They didn't and, in many ways, they tried to discourage me from going on this path. I got interested in the 'Concord' Sonata at 13, but I pretty well had to learn it myself. I didn't perform it till later. There were a few recordings available by the 1970s: one by Gilbert Kalish, I recall. There were also a couple of recordings of the complete Chopin-Godowsky Etudes by the time I became interested in setting them down. The first one was by a pianist who sounds like he sight-read through them. It created a huge disappointment among Godowsky enthusiasts around the world. And then came another recording which was at least very respectable. I didn't listen to it too much: I preferred to go to the score. I always go to the score as the prime arbiter. You must understand that when I embarked on many of these recording projects, I was often given carte blanche, so I could do whatever I wanted. It's a little bit like I was playing in the sandbox before actually doing my homework. Nonetheless, I always felt impelled to take on the opportunities to record exploratory repertoire when offered – especially with Hyperion, which is a niche label. Of course, I wanted to do standard repertoire too, and moved to this later.
GN: So how did the Hyperion association begin?
MAH: Among my first concerts in the UK were a series of recitals in 1992 with my Montreal contemporary, cellist Sophie Rolland. We gave a semi-private concert in London and it happened that Mike Spring, the sales manager for Hyperion, attended. He may have been their sales manager in title, but he was really their resident piano freak, if you will. He was curious about me, and had never heard me live. He was also a big Godowsky fan, and he knew of my first CBC record. Right then and there, he asked me if I would like to do a recording for Hyperion. So, we started talking. As it turned out, this was to be a CD in their 'Romantic Piano Concerto' series: a series that turned out to be so successful that many buyers got every single release, no matter what it was. What emerged was a debut concerto disc of Henselt and Alkan. I officially got the contract in 1996, and one of the first big things that they agreed to was doing all the Scriabin sonatas. That was an incredible vote of confidence as far as I was concerned.
GN: Did you do recordings one by one – or was there a more general plan?
MAH: No, it was totally random. There was no planning whatsoever. Mike Spring has an encyclopedic knowledge of the literature, and he definitely had a wish list. But so did I. As their confidence in me became greater, I began to take more risks. Like the day I suggested recording the music of the Russian Nicolai Roslavets. That was really the first time any of it had been done – and it took an extraordinary amount of work.
GN: Was this one of your most forbidding challenges ever?
MAH: Absolutely. It was so much work, first off because of Roslavets' notation: he used his own synthetic harmonic system that was full of double flats and double sharps. Because I have perfect pitch, the way the music was printed really didn't correspond to what I was hearing and trying to read. Especially for the three etudes, I had to re-notate the entire thing. Part of the first sonata was written with so much obfuscation that I couldn't learn the music, so I re-copied everything, simplifying accidentals but not changing notes. I also had to reduce the number of staves because sometimes as many as four were involved. I would say this CD gave me the most work ever. There were things in my 2007 CD 'In a State of Jazz' that were pretty forbidding too: Alexis Weissenberg's Sonata must rank as perhaps the most complex thing I've ever had to learn. But I was so fascinated by it that I had to do it.
GN: What about your own Études, released on CD in 2010?
MAH: The Études weren't an easy task because I composed the pieces away from the piano. And, truthfully, I didn't always realize the extent of the difficulties that I was creating for the pianist. But, you know, I went through it. I haven't played them recently so I don't know how they would feel now.
GN: So, are you continuing to compose?
MAH: Actually, I'm in the process of fulfilling three different commissions over the course of this year. One is for solo piano, another is a four-hand piano duet and the final one is for a piano and two violins. That's all I can say right now. The solo piano will take the form of a Baroque suite in six movements, but it won't sound Baroque. The only thing I really retain is the dance and some of the aura. The first movement starts sort of like the Chromatic Fantasy, for example, that kind of thing.
GN: One thing that I have consistently noted is how finely honed and beautiful sounding your Hyperion CDs are. Do you edit a lot?
MAH: I think probably, yes, but I don't have any part in picking takes, other than the suggestions I may make at the moment of recording and after listening to playbacks. That's it. I try to run out rough edges as much as I can before recording. Andrew Keener has been the producer for all the CDs with the exception of two. I've trusted him for many years: once you have Andrew, you don't go back! I'm not the only one who says that: Stephen Hough would say exactly the same thing.
GN: I am slightly in awe of Hyperion's ability to produce such a variety of recordings with consistently good artists, sound producers and documentation – and for over more than three decades. Do you have insights?
MAH: One factor was their mega-success early on: the CD 'Feather on the Breath of God' which received a Gramophone award in 1982. It's plainchant of Hildegard von Bingen performed by the Gothic Voices. Ted Perry, the label's founder, said that Hildegard ended up paying for all their subsequent mistakes. That's why he was able to take a lot of risks originally. But there's still a definite economy in what Hyperion pursues – especially when it comes to larger scale orchestral projects. One reason they were able to successfully record in Dallas and Minnesota is that there are a certain number of recordings these orchestras have to do for free. I've always wanted to record some concertos with the Montreal Symphony, but it's deemed a losing proposition, as it is with any A-list North American orchestra.
GN: Many artists note a vast difference between recording and concert performances.  What's your perspective?
MAH: I don't really perceive it myself, I have to say. The level of commitment is exactly the same, but there's naturally a subconscious difference when there is audience present because I'm definitely playing for someone. In the studio, that someone has to be imaginary. Nonetheless, I can keep in my own world pretty well in either case. When you perform for the music and not for yourself, it's easier to keep the same degree of commitment. In either case, I see my fundamental and only task as convincing the listener of the worth and inspiration of the music. Of course, there are many pieces that I've recorded which I've never performed in concert; it's also undeniable that a public performance helps in preparing a recording.
GN: You must have some feelings on how young artists pursue their career and use the stage these days.
MAH: I know that people are attracted to spectacle these days, and I can't change that. Frankly, I wish the word 'showpiece' would be stricken out of the vocabulary because that's one of the words that I dislike most. Ideally, when people come to see me – I know it's unrealistic – I wish they would just concentrate on the music itself and my efforts to bring it to life. Maybe some people are too influenced by the way I look on stage, which is boring by today's standards, I recognize it. They should just listen!
GN: But your career path has been totally different than today's young, with a much greater freedom to explore diverse repertoire. I doubt that any of these current rising stars would ever turn to Roslavets as they mature.
MAH: That's true. A record company says to a young pianist, 'Okay, you're going to do Tchaikovsky 1, and then you're doing Rach 2 – because we want you to, and that's what the label needs and that's what can further your career'. Never mind what the pianist actually wants to do. You're pushed glamorously into the spotlight (sometimes before you're even 20) without the resources to explore repertoire.
GN: I recall an interview with Barry Douglas where he cited Van Cliburn's advice after winning the 1985 Tchaikovsky Competition: 'Don't be swayed with what people want you to do; just go on and do what you want to do'. And then one hears commentators on current competitions suggesting that many contestants are doing little more than mimicking interpretations on YouTube.
MAH: Which I think is the completely wrong thing to do because it negates the toil and trouble composers went through to notate their intentions as well as possible for everyone to understand. I had a great illustration of this problem when I served on the jury of the 2017 Van Cliburn Competition. I was commissioned to write a new piece, L'homme armé, that all contestants were required to perform. I heard it played 30 times – what a learning experience! I fully understand why competitions need to do this: it forces the contestants to rely on their own intelligence and score-reading abilities, without recordings or any previous reference to rely on.
GN: Would you ever advocate that young pianists start their career like you did?
MAH: Truthfully, I wouldn't recommend my career path to anybody. A pianist starting out should not do what I did with the obscure works. Because it was really very tough for me. I consider myself a late starter as a consequence. My first manager in New York wasn't able to do anything for me, but I doubt he was really active in his search. Whenever I despaired, my manager would tell me, 'The good thing about you is that your career has legs'. Which in some ways turned out to be true.
GN: Let's move to your technique.  For more than a decade, I have been trying to get a handle on exactly how you use the piano. In my review of your Vancouver concert last May, I got bold enough to remark that 'both [Hamelin's] hands are so balanced and uniform in address and weight that it is almost as if any given note would register identically no matter which hand was playing it'. Is that true?
MAH: That's what I definitely aspire to. I do fingerings for the Henle Verlag publishing house, and there I have to adhere to a certain set of standards. If I put in the fingerings that I actually use, it would be very complicated to notate: I help myself with the other hand all the time as I've cultivated independence of the fingers. I can sometimes come up with some very creative solutions.
GN: You are very transparent, with dynamics scaled note by note. Is there a specific pedalling technique you use as well?
MAH: That I'm not conscious of at all. My subconscious musicality and ear dictate it. You can't ask me how I pedal because I'd have to play a piece over and over and just observe what I'm doing. It happens despite myself.
GN: Everyone regards you as a commanding virtuoso but, ultimately, how much of a virtuoso do you think you are?
MAH: My precision and tonal control are doubtlessly critical to my performances, but I doubt that my technique is as quite as special as the Trifonovs or Yuja Wangs of today.
GN: The last fifteen years have given you the chance to put your stamp on the mainline repertoire and alter your earlier image to a degree. You have now recorded Haydn and Schumann very successfully, as well as some Liszt, Debussy and the complete Mozart sonatas.
MAH: My concert programmes and recording interests are definitely more conventional now and have been for quite a while. Yet there are still some obscure composers that I'm interested in bringing to the forefront – most recently, the Russian Samuil Feinberg. I performed his first two sonatas at Wigmore Hall in 2016, did No.4 in Vancouver earlier this year, and I am doing the bigger No.3 at Carnegie Hall.
GN: And you have finally recorded the Schubert B-flat Sonata? I actually saw you play that in Toronto in the late 1990s.
MAH: That was a very long time ago and one of my first attempts: I started playing the sonata in '97. You probably found the third and fourth movements much too fast! I am more fascinated with Schubert now: he's able to do so much with so little, he can do something with just one note and you wonder how. I'll continue to do more.
GN: Some of your slower tempos tangentially invite comparison with Sviatoslav Richter. What's your perspective on his Schubert?
MAH: I don't really like it: it's too extreme. Somehow, I feel he should be expressing ideas, sentences, punctuation, paragraphs – and not every single letter instead. And some tempos are just too slow: he stretches the first movement of the G major Sonata to 27 minutes, and you don't feel the four-pulse anymore.
GN: And Brahms and Beethoven?
MAH: I've done Brahms Op.117 and 119 already, and I will certainly progress through more than the First Piano Concerto. Hyperion's Stephen Hough is about to do (or has just completed) all the late piano pieces but, fortunately, Simon Perry has said that he doesn't mind duplicating repertoire anymore. I wouldn't do all the Beethoven sonatas though – for the simple reason that I don't like them all equally well. The only time I've made complete recordings is when I was convinced of every single part of every single work. I would especially like to record both Ravel concertos too.
GN: One thing which is notable in the last decade is your collaboration with other pianists: Leif Ove Andsnes (an award-winning two-piano version of Stravinsky's Le Sacre du Printemps in 2017) and, before that, Emanuel Ax. And your very fine chamber music collaborations with the Takács Quartet since 2010 – recording the Schumann, Shostakovich and Franck Piano Quintets.
MAH: Oh, yes, the Takács are wonderful to work with. It's funny, there's never a lot of rehearsals, but we just understand each other. We've now done a recording of both Dohnányi Piano Quintets after playing them at the Edinburgh Festival last August. That's going to be out sometime in 2019.
GN: To close, it seems to me that you have achieved much more than any pianist could reasonably expect by their mid-50s – a massive contribution to revitalizing lesser known composers, plus the opportunity to perform and record the very greatest works in the prime of your maturity.
MAH: It's been a strange route perhaps, but I suppose that the quest for discovery and my overriding desire to share music in a way that fully convinces have always been the guiding principle. This is true whether I am playing Schubert or something more obscure. I can't see how there can be progress in musical life without this inspiration.
Geoffrey Newman
For more about Marc-André Hamelin click here.
I thank Kelly Bao for transcription assistance.
Previously published in a slightly different form on http://www.vanclassicalmusic.com.