United Kingdom Ligeti, Bach, and Schubert: Roman Rabinovich (piano), Wigmore Hall, London, 25.1.2019. (CC)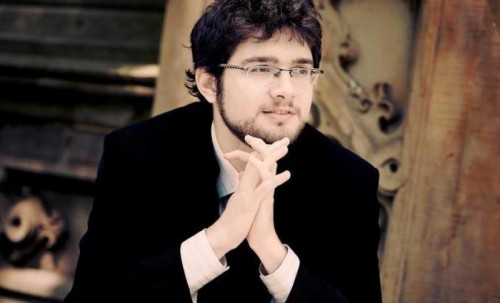 Ligeti – Musica ricercata (1951-3)
Bach – Partita No.4 in D, BWV828
Schubert – Piano Sonata No.19 in C minor, D958
The impetus for attending this recital was Uzbekistan-born pianist Roman Rabinovich's recording on First Hand Records of Haydn Sonatas, the first of a cycle. I found much to enjoy in those performances, just as there was on this occasion at the Wigmore. There was no Haydn here, though, but instead a stimulating mix of the modern (Ligeti) with masterpieces by Bach and Schubert.
The most impressive playing of the evening came in the form of the performance of the eleven short pieces that comprise Ligeti's Musica ricercata, an investigation of the power of intervals. The first piece focuses on just one note, an A, with register and rhythm providing the interest and momentum; the expansion of pitch-class range happens gradually (the second piece uses only two notes); the only exceptions are the introduction of the next piece's new note in the preceding piece (so there is actually a D natural in the first piece, a pre-echo of the second piece which works with only A and D; and so on). Using an iPad to keep him on the straight and narrow, and favouring an off-centre stage placing of his piano, Rabinovich gave a fine performance. Ligeti's piano music is usually yoked with the name of Pierre-Laurent Aimard; here is a pretender to the throne who plays with great sympathetic resonance to Ligeti's individual soundworld. From declamatory, parlando lines to a mirror-distorted Waltz, from post-Bartók to huge virtuosity (the ultra-rapid left-hand ostinato of the seventh piece, so evenly rendered here) and on even further to Ligeti's In Memoriam for Bartók in the ninth piece, this was a remarkable performance. And maybe not so far from Haydn; one should remember that both composers are linked via an impish sense of humour. Incidentally, it would appear Rabinovich has a particular resonance with iPads: his website (click here) claims that since 2010 he has used his iPad as his main mechanism to create art while on his travels.
Bach's Fourth Partita received a good performance, if not of the revelatory stature of Rabinovich's Ligeti. The Fourth Partita includes an extended Sarabande that is as interior as it is exploratory. Here, as elsewhere in this Bach performance, Rabinovich rather over-pedalled. (The Courante also suffered; perhaps both pieces were casualties of the infamous Wigmore acoustic). It was the ornate, fast and accurate Gigue that was the jewel here; and yet even there one did not feel that absolute grasp that Rabinovich's Ligeti  – and his Haydn, at its best – exudes.
The first, and shortest, of the last great triumvirate of Schubert piano sonatas formed the second half: the C minor, D958. Rabinovich's rather self-conscious diminuendos in the early phrases were a new idea to me, and simultaneously felt rather precious. That said, this was a refreshing reading of a work that has been traversed in the hallowed Wigmore venue by many of the greats (Leonskaja and Imogen Cooper spring to mind immediately). Rabinovich found moments of great beauty throughout, ensuring contrasts were marked with the more explosive moments. The Adagio was the highlight of this reading, with Rabinovich finding an excellent tempo which moved and yet retained the inner journeying aspect of late Schubert. The rightly rapid Menuetto married an impetuous streak with an equal restless one, while the finale found the best of Rabinovich in its marrying of the faux-innocence of the main theme with a detectable undercurrent of disquiet. The odd technical slip mattered little; this was a compelling reading of a great Sonata, if not one to dislodge memories of the greats.
There were two encores, well delivered. Both were from Rachmaninov's Moments musicaux, Op.16: first the slow, expressive No.5 (D major), unfolding with a bold yet mournful melody full of Russian soul, and finally No.4, a fleet-fingered yet intense Presto in E minor.
Rabinovich is a massively talented performer who can clearly traverse a wide repertoire. It will be worth tracking his career closely; the next volume of Haydn is eagerly awaited.
For a short film by Rabinovich about his first Haydn Vol.1 click here.
Colin Clarke