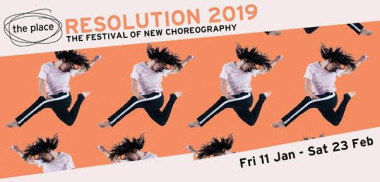 United Kingdom Resolution 2019 – Void, Blacklist, No Sudden Moves: The Place, London, 11.1.2019. (J.O'D)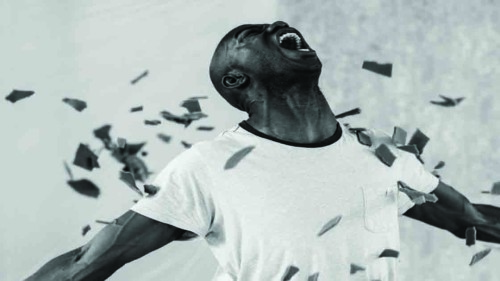 Void
Choreography, concept and performance – Jane Chan
Music – Frankie Chan
Costume – Izzie Byers
Lighting – Karen Kwong and Jane Chan
Blacklist
Performers – Jordan Douglas and Joshua Nash
Choreography – Joshua Nash
Music – Torben Lars Sylvest
Costume – Izzie Byers
Lighting – Antony Hately
No Sudden Moves
Performers – TRIBE// (Lewis Cooke, Finetta Mikolajska, Folu Odimayo, Rose Sall Sao, Victoria Fox and Jeph Vanger)
Choreographer – Victoria Fox
Sound Design – Jeph Vanger
Costume – Ryan Dawson Laight
Set – Wojtek Markiewicz and Victoria Fox
The six-week-long 'festival of new choreography' opened at The Place with a triple bill of work on the themes of Alzheimer's disease, 'brotherhood, friendship and isolation' and a 'groundhog day' series of events in a 'world of tension'.
In Void, Jane Chan turned on the spot in a prison-like square of light to represent a disease from which her own grandmother suffered. Centred, grounded and expressive, dressed in grey trousers and white overdress that had its own part to play in the performance, the dancer looked anxiously out into a middle distance and felt the air repeatedly with her hands. Briefly, her upright posture and smile suggested, she recaptured a sense of herself. The music may have been a little too easy on the ear, the piece may have been a little too long; but it was a moving piece.
Krump, according to Wikipedia, is kind of street dance that involves mentorship and a non-violent release of aggression. In Joshua Nash's Blacklist, which uses 'the deeper layers' of Krump vocabulary and culture, it takes the form of a taller and shorter dancer (Nash and Jordan Douglas), identically dressed in fawn-coloured work trousers and black socks, identically coiffured, who begin by pacing the stage with bowed shoulders and downward looking faces. Striking for their sheer physical presence and 'undancerly' muscular development of upper body, both are surprisingly light on their feet when it comes to moving around each other or sparring. The 'deeper layers' of Krump are arcana to this reviewer, but from their cheers the mostly young audience at The Place found the piece convincing.
The final work, Victoria Fox's No Sudden Moves (for the company TRIBE//), was the most elaborate: five dancers in distressed garments, onstage DJ, moveable screen (with door and window cut into it) to represent some kind of makeshift shelter. Beginning with a series of tableaux vivants, in chiaroscuro, that brought to mind the aftermaths of terrorist attacks or natural disasters, it seemed to toy with the idea of becoming a small-scale The Rite of Spring, then The Rite of Spring without a Chosen One. Then it seemed to reject both those possibilities to become something else.
Hofesh Schecter might have been a reference for the ensemble sections, but that choreographer would not, I think, make men and women dance towards the audience undulating their hips in unison, or have them hold up both hands joined in the form of a flower. In a festival of new choreography, that did seem choreographically new. There was something of Jasmin Vardimon, too, in whose company Victoria Fox has performed, in the use of the screen and the way two women danced the same dance on one side of it, while the third woman (lifted by the men) looked on from the other side.
If a little generic in its 'dancier' parts, a question of squats and spins, No Sudden Moves contained sufficient moments of originality in its choreography and its mise-en-scène to make one interested to see the longer work of which it is an excerpt.
John O'Dwyer
For more about Resolution 2019 click here.