United Kingdom Tchaikovsky, The Queen of Spades: Soloists, Members of the Tiffin Children's Chorus and Tiffin Boys' Choir, Royal Opera Chorus (chorus director: William Spaulding) and Extra Chorus, Orchestra of the Royal Opera House / Antonio Pappano (conductor). Royal Opera House, London, 13.1.2019. (MB)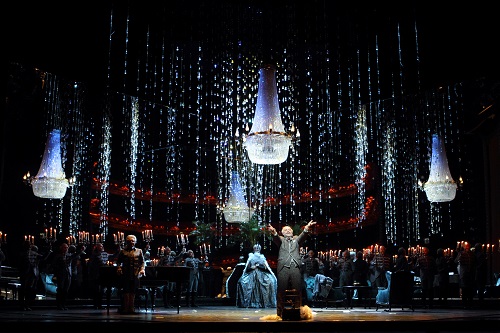 Production:
Director – Stefan Herheim
Designs – Philipp Fürhofer
Lighting – Bernd Purkrabek
Dramaturgy – Alexander Meier-Dörzenbach
Cast:
Herman – Aleksandrs Antonenko
Count Tomsky/Zlatogor – John Lundgren
Prince Yeletsky/Tchaikovsky – Vladimir Stoyanov
The Countess – Felicity Palmer
Lisa – Eva-Maria Westbroek
Pauline, Milovzor – Anna Goryachova
Chekalinsky – Alexander Kravets
Surin – Tigran Martirossian
Chaplitsky – Konu Kim
Narumov – Michael Mofidian
Governess – Louise Winter
Master of Ceremonies – Harry Nicoll
Masha – Renata Skarelyte
Prilepa – Jacquelyn Stucker
London has not done badly in recent years by The Queen of Spades, both ENO and Opera Holland Park having offered productions, the latter considerably more successful than the former. (A less recent yet hardly distant visit from Opera North is also better forgotten.) In addition – fresher in and more germane to my own thoughts – Salzburg presented a fine new staging, typically misunderstood by most, from Hans Neuenfels last summer. Covent Garden, however, has not seen the opera since 2002, so it was about time. Stefan Herheim's much lauded production, first seen in Amsterdam in 2016, may now be seen courtesy of the Dutch National Opera's co-producer, the Royal Opera.
I go back a good few years with Herheim's work. My first encounter quite bowled me over: his Entführung aus dem Serail for Salzburg in 2006, preserved on DVD in the Festival's box of the complete Mozart operas. If I were bowled over then, growing acquaintance with his Bayreuth Parsifal over three different years of that festival (click here for my final encounter, in 2012) proved something beyond bowling over; indeed, it is no exaggeration to say that it marked a turning-point in my understanding of opera as a critical, recreative genre. Not for nothing did a picture from the production feature on the cover of my book, After Wagner, which devoted a chapter to that production and another half-chapter to discussion of Herheim's Berlin Lohengrin. Since then, the director's work has continued to occupy my thoughts both in my formal academic and less academic writing; Herheim's Meistersinger is, for instance, discussed in a chapter on modernist operatic culture I wrote for a recent book, edited by Björn Heile and Charles Wilson, on modernism in music. Why mention that? Partly to situate myself – we all do that, nowadays, do we not, both when staging and watching opera? – but also to situate the doubts I began to have, not entirely dissimilar to those I initially entertained concerning Herheim's Glyndebourne Pelléas this summer.
Whilst neither of these productions struck me at the time as representing Herheim at his very best, certainly not at his most groundbreaking – perhaps my problem and mine alone – I have nevertheless continued to think, to deconstruct, and perhaps more important, to piece together, but also how one needed to see and, crucially as ever with Herheim, to hear the entirety of the production, not simply to rely upon what one thought before the interval. Much came together by the close, whether onstage or in one's mind; indeed, one was prompted to ask whether the two were, if not one and the same, at least inseparable even from the analytical standpoint. Just as with more overtly confrontational theatre work, for instance from such different directors as Peter Konwitschny and Calixto Bieito, this is not theatre for the mere spectator. Herheim's theatricality in a more conventional sense sometimes leads others to think his theatre conventional, even crowd-pleasing. Perhaps in some senses it is, or can be. That, however, is not its point. Like Wagner, or indeed Tchaikovsky, his work continues to have much to tell those angry and unreceptive from what we might tentatively term the musicodramatic 'left' and 'right' – without collapsing into centrist quicksand. There is something synthetic, in interesting and not always expected senses, to this art – as indeed there surely is to much opera 'itself', whatever that might mean.
Identity is a complex thing. How do we identify with the voice or voices on stage, back stage, in the pit, even in the audience (beyond yesterday's highly aggravating coughing, chattering, air conducting and the rest, and perhaps even including those irritant voices)? A staple, not without reason, of Tchaikovsky criticism has been discussion of the relationship, even identity, between the composer and his operatic characters. Gerald Abraham, for instance, claimed that 'some opera composers, notably Tchaikovsky, have been able to identify themselves only with characters that are essentially or partially self-projections'. Herheim's concept takes this as its starting-point. Titles inform us initially of the composer's death and the story behind it, namely Tchaikovsky's homosexuality and nineteenth-century society's retribution for that 'deviance'. The curtain opens and we see a desperate, pathetic Tchaikovsky seeking love from an officer he had paid only to gratify. The contempt with which he is treated sparks a flurry of writing and self-poisoning by cholera. Delirium ensues, the writing – or is it the performance? – continues, drawing upon the woman in the painting above and Tchaikovsky's own ill-fated marriage: are the two women, indeed the three once Liza appears on stage, to be identified? It draws also upon the composer and that guardsman. The former seems to become – although are we ever entirely sure? – Prince Yeletsky, but also a host of tormenting chorus members. Who after all, torments a repressed gay man more than his interior daemons? The latter seems to become Herman, a thrill-seeker with a death wish of his own. Whose wish fulfilment is whose? And what to make of the surrealist vision immediately before the interval, when, following a (largely unsuccessful) attempt to have the audience rise to sing the Tsarist national anthem, Herman or the soldier appears in mocking travesty as Catherine herself, the ultimate, albeit surrealist queen scorning our sordid, all-too-real queen. Who, then, we might ask, is the Queen of Spades herself?
Yeletsky, who does not appear in Pushkin, is perhaps the most appropriate candidate for identity with the composer; more important, he is perhaps the most intriguing. Who is he? What is he for? Or what might we make him be, and be for? When Herman curses the prince's luck, can we believe in this as anything more than Tchaikovsky's fantasy? Probably, but it requires theatre – a production team and performers who communicate as well as think – to do so. Tchaikovsky-Yeletsky plays with our expectations. Who is he now? Who was he then? Frantically, he not so much writes as plays at writing, at conducting, at 'tickling the ivories'. For the hammy gestures are those unmistakeably – at least as the drama continues – of a biopic composer. It might be Ken Russell; it might be someone else; it might be us air-conducting at home or, as yesterday, all around me in the theatre. As dramaturge Alexander Meier-Dörzenbach notes in the programme, Tchaikovsky's autograph is 'sketched out in a nervous, volatile, rushed script with innumerable changes and cuts. It offers compelling testimony of the feverish élan that seized Tchaikovsky in his execution of this story.' Is this helpless, hapless caricature not precisely what one's delirious state – who is 'one'? – might viciously summon up in performing, in watching, in listening to Tchaikovsky's romanticisation of the Pushkin story Dostoevsky proclaimed 'the pinnacle of the art of the fantastic'?
Time plays tricks with us, or does it? Are we in the eighteenth or the nineteenth century, or is the setting as well as the drama – whatever this might mean – more a dream, a fantasy, than anything else? (Is there anything else?) The same set, more or less, manages through brilliant tricks of lighting (Bernd Purkrabek) to furnish both a dark, oppressive late-nineteenth-century library and a fantastical recreation of a Mozartian world that never was: like the score, like the action. And like the music box which, before a note of the score has been heard, mocks the composer at the guardsman's behest with an endlessly repeating opening line, later to be subsumed into score and plot, of 'Ein Mädchen oder Weibchen'. Birds achieve their freedom, their invention, the composer's humiliation, in the pastoral divertissement. But has not the man who would so insistently conduct (direct?) proceedings, who scatters those very nineteenth-century album leaves across the stage to anyone who would read from them, created this torment, this gilded cage, this wedding in which he participates and which he haunts?
Contrast between public and private is of course key to the work. Here, if not heard with the knowing confidence with which it had been communicated by Mariss Jansons and the Vienna Philharmonic in Salzburg, we still heard enough of that from Antonio Pappano and the Orchestra of the Royal Opera House to relate score and action, libretto and staging, those and many other relationships in ways both suggested by the onstage delirium and our own. In what might well be understood as Tchaikovsky's closest journey towards surrealism – itself a form of hyper-realism? – our critical faculties needed to be sharp, to permit themselves to be sharpened, not least since they needed to turn upon themselves, to lacerate what we might most unthinkingly or even thoughtfully treasure. Who killed whom ultimately, when the chorus continued to play at taking the fateful drink? What did it mean to play roles, and how much did we as 'spectators' engage? For it was those attending the theatre, the 'entertainment', who surely condemned Tchaikovsky, Herman, Lisa, even opera itself once again to death.
Pappano, as is his wont, tended to stop and start, to rush certain passages, if not so distractingly as in Wagner. The sound he summoned from the orchestra was, at its best, very much a 'Tchaikovsky sound' such as we fancy we know and love, to match the image of the 'tormented composer' we know and murderously love. Choral singing was excellent, often outstanding, testament to the results William Spaulding is achieving in his (relatively) new role as chorus director. Aleksandrs Antonenko and Eva-Maria Westbroek left much to be desired vocally in the first act, tuning awry beyond the limits of the merely feverish. They improved, however, the palpable honesty of the latter's portrayal of Lisa working its own magic. Antonenko surely needs to work on his acting – especially in a production such as this: no match for the extraordinary Brandon Jovanovich in Salzburg last year. Vladimir Stoyanov, tireless in the acting role as Tchaikovsky, showed that he could sing beautifully too as Yeletsky. Felicity Palmer predictably – yet no less creditably for that – offered a spellbinding star turn as the Countess. Smaller roles tended to be very well sung, even if at times, the ensemble lacked an ideal sense of company and coherence. Perhaps that will come as the run progresses. Theatre, after all, is often about theatre; it certainly is here. Let it, let us, do with identity what we will – and vice versa.
Mark Berry