United States Various composers – SongStudio: Singers and pianists, Resnick Education Wing, Carnegie Hall, New York, 25-26.1.2019. (RP)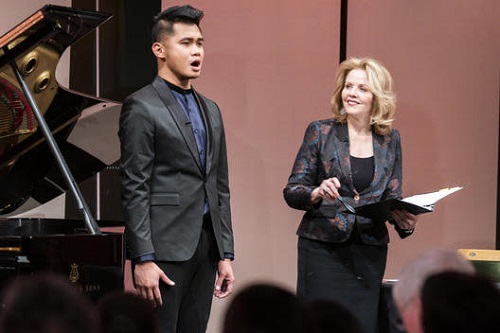 Schubert – 'Die junge Nonne' D.828, 'Ständchen' D.889, 'Nacht und Träume' D.827
Mendelssohn – 'Hexenlied' Op.8 No.8
Crumb – 'The Night in Silence under Many a Star' (Apparitions)
Joseph N. Rubenstein – 'There came whisperings in the wind' (Casting Off)
Barcelona & Palaruan – 'Sino ang Baliw'
Schumann – 'Die Soldatenbraut' Op.64 No.1
Dargomyzhsky – 'The Night Zephyr'
Debussy – 'Colloque sentimental' (Fêtes galantes II)
Lecuona – 'Siempre en mi corazón'
Obradors – 'Del cabello más sutil'
Poulenc – 'La dame de Monte-Carlo'; 'Il vole' (Fiançailles pour rire)
Sibelius – 'Var det en dröm?' Op.37 No.4
Muhly – 'I am!' (Strange Productions)
Strauss – 'Einerlei' Op.69 No.3
Heggie – 'At last, to be identified!' (The Faces of Love)
Weill – 'O captain, my captain'
Barber – 'I hear an army' (Three Songs Op.10 No.3)
Cipullo – 'Why I Wear My Hair Long', 'Saying Goodbye', 'The Pocketbook' (How to Get Heat Without Fire)
Performers:
Axelle Fanyo (soprano) / Adriano Spampanato (piano)
Álfheiður Erla Guðmundsdóttir (soprano) / Kunal Lahiry (piano)
Magdalena Kuźma (soprano) / William Woodward (piano)
Coraine Tate (soprano) / Peyson L. Moss (piano)
Ekaterina Chayka-Rubinstein (mezzo-soprano) / Ana Mazaeva (piano)
Kayleigh Decker (mezzo-soprano) / Madeline Slettedahl (piano)
James Ley (tenor) / Seoyon MacDonald (piano)
Jose Simerilla Romero (tenor) / Andrew King (piano)
Enrico Lagasca (bass-baritone) / Michael Hey (piano)
William Guanbo Su (bass) / Richard Yu Fu (piano)
It took a gentle nudge from Carnegie Hall's press team to get me to SongStudio. Don't ask me why I didn't jump on it from the start: it is the musical genre that I love best. Although I was only able to attend one masterclass and the final recital, the experience was inspiring. I have often written that the solo song recital is an endangered ecosystem, but now must change my tune. The 10 singers and 10 pianists I saw in action have erased that thought from my mind.
SongStudio was a weeklong dive into the art of the song with American soprano Renée Fleming serving as guide, mentor and champion. There were public masterclasses with Polish tenor Piotr Beczała, German pianist Hartmut Höll and Fleming herself, in addition to workshops, lectures and other sessions. (No mention of nationality going forward denotes that the performer self-identifies as American.) The participants also had the opportunity to work with Nico Muhly, SongStudio's composer in residence, on his vocal works. Fleming deserves high praise for tailoring SongStudio to the here and now rather than the past.
In some ways, the concluding recital was much like any other, a mix of art songs from Schubert to Barber, folk songs and contemporary works. (Just where do you put George Crumb on that spectrum?) You can find some of the pairs performing their songs on YouTube, while others seemed to be testing the waters with new repertoire. None of that mattered: it was the Millennials putting their stamp on this most personal of musical genres through their passion and authenticity that was remarkable. To distill the experience into a review, I chose one number that to me encapsulated each singer's individuality and artistry, or simply surprised me.
Icelandic soprano Álfheiður Erla Guðmundsdóttir opened the recital with Schubert's 'Die junge Nonne', but by her third song, Crumb's 'The Night in Silence under Many a Star', she was channeling her dramatic flair in an entirely new direction. Circling the piano, she stroked its strings and began to sing a mournful dirge to the words that Walt Whitman penned in memory of slain US President Abraham Lincoln.
Filipino bass-baritone Enrico Lagasca ventured into folk song, intending to sing 'Sino ang Baliw' accompanied by a video showing scenes from 1972 to 1981 when his country was a under the despotic rule of Ferdinand Marcos. There was a technical glitch, and his frustration was obvious as the last notes faded away, which prompted Fleming to say softly, 'It was gorgeous'. Who cold begrudge a second hearing of singing so beautiful and heartfelt, this time with the images that completed the story.
The moment of truth for Russian mezzo-soprano Ekaterina Chayka-Rubinstein was Dargomyzhsky's 'The Night Zephyr'. Hearing the late Dmitri Hvorostovsky sing it inspired her to become a singer. With her rich, alluring voice she deftly captured the mercurial moods and passions in Pushkin's poem inspired by the night wind that blows along the Guadalquivir, one of the great rivers in Spain.
Argentinian tenor Jose Simerilla Romero sang Obradors' 'Del cabello más sutil', a serenade that I associate with the late Arlene Auger, who was one of Fleming's teachers. Romero caressed its phrases tenderly and floated high notes that shimmered beautifully, but it was a touch of machismo that made it uniquely his.
French soprano Axelle Fanyo has style and flare. Her lipstick was amazing, focusing all attention on her mouth as she sang the delightful, witty text by Cocteau that Poulenc set in 'La dame de Monte- Carlo'. Her voice is just as spectacular, expressing the grandeur and outrage of a woman whose allures have run their course.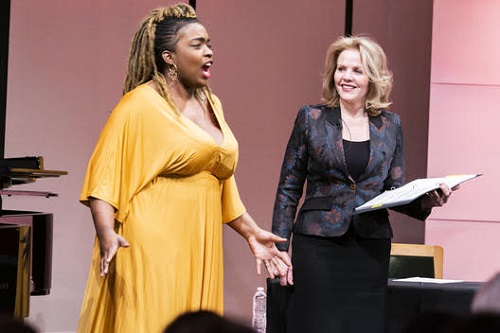 Mezzo-soprano Kayleigh Decker has a style of a different sort, but her dramatic instincts are just as sure. I was totally unprepared for the torrent of emotions she unleashed in Sibelius' 'Var det en dröm?' The voice was stunning.
Schubert's 'Nacht und Träume' makes totally different demands on a singer. Instead of passionate outbursts, there are long lines to spin, but the emotions are as intense as those in the loudest, most dramatic songs. James Ley was a model of stillness, his silvery tenor steady and secure, as he sang of the escape that only night can bring to this tormented soul.
Coraine Tate brims with warmth and joy and has a voice that is spacious and clear. She effortlessly captured the elation and breathlessness in Jake Heggie's setting of Emily Dickinson's 'At last, to be identified!', her sumptuous soprano swooping and soaring with abandon.
Each singer was requested to introduce the songs they were to perform as there were no texts or translations for the audience. Bass William Guanbo Su, who arrived in Boston at the age of 14 and speaking no English to attend high school and study voice, provided insights into the James Joyce poem 'I hear an army' which made me ponder it anew. He then unleashed his powerful and resplendent voice in an unflinching, searing account of this urgent cry of desperation.
Polish-American soprano Magdalena Kuźma, who was the last to sing, performed three songs from Tom Cipullo's song cycle How to Get Heat Without Fire. She too has a voice that instantly engages the listener: shining, free and lustrous. With Bergdorf Goodman shopping bags by her side, Kuźma poured equal parts bathos and despair into 'The Pocketbook'; each repetition of the words 'fluid Italian suede' was sung with more longing than the prior one.
After the 23 songs had been performed, Fanyo, Decker and Kuźma returned for an encore, 'Sing for Your Supper' from Rodgers & Hart's The Boys from Syracuse. The men deserved an equal turn, but didn't get one. 'Standing on the Corner' from Loesser's The Most Happy Fella would have been just the thing.
There were also 10 pianists, or collaborative artists as they were deemed in the printed materials. The focus had been on four of them a day earlier in Höll's masterclass where he devoted equal attention to singers and pianists: Kunal Lahiry, Madeline Slettedahl, Adriano Spampanato (a French-Italian multi-instrumentalist living in NYC) and Shanghai-born Richard Yu Fu (currently studying at Juilliard, who switched to music when he was studying law in Vienna).
In his introductory remarks, Höll had described the art song as a living contradiction, an art form that is never private but always personal. The accompanist is an indispensable partner to a singer, almost always called upon to set the mood and create a seamless musical backdrop. Höll's insights into the physiology of playing the piano and its impact on phrasing were revelatory. The pianists, as well as the singers, absorbed his suggestions instantly and the results were immediate.
Two of the pianists stood out in my mind's eye, Kunal Lahiry and Richard Yu Fu. Lahiry makes an immediate impact. Mendelssohn's 'Hexenlied', heard in both the masterclass and the recital, perfectly displayed his personal dramatic flair and first-class technique. Much more subdued in nature but no less fascinating was Fu. In the masterclass, he conquered the profound emotions of 'O Tod' from Brahms' Vier ernste Gesänge (Höll's comments on Brahms' state of mind and personal circumstances at the time of composition were excellent.); in the recital the piano thundered and raged in the violent emotions of 'I hear an army'.
SongStudio is a continuation of Marilyn Horne's The Song Continues, which had a home at Carnegie Hall for more than 20 years. Carnegie Hall's website acknowledged that SongStudio's Young Artists Recital is part of the legendary mezzo-soprano's legacy there. I was in the audience for Horne's last Carnegie Hall recital in 1999. Can anyone who was there ever forget her singing Bernstein's 'Dream with me' as she stood behind her longtime accompanist, Martin Katz. With SongStudio, Renee Fleming has guaranteed that not only the song continues but also that Marilyn Horne's dreams and those of many others just may come true.
Rick Perdian