United Kingdom Notre Dame de Paris (Richard Cocciante [music] and Luc Plamondon [lyrics]): Singers, Dancers, Musicians, Acrobats and Break Dancers of the Notre Dame de Paris Company, English National Opera Orchestra / Matthew Brind (conductor). London Coliseum, 23.1.2019. (JPr)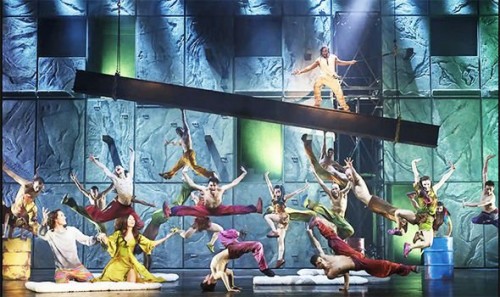 Production:
Director – Gilles Maheu
Set Design – Christian Rätz
New Costume design – Caroline Van Assche
Lighting design – Alain Lortie
Choreographer – Martino Müller
Cast included:
Quasimodo – Angelo Del Vecchio
Esmeralda – Hiba Tawaji
Frollo – Daniel Lavoie
Gringoire – Richard Charest
Fleur-de-Lys – Alyzée Lalande
Phoebus – Martin Giroux
Clopin – Jay
Surprisingly this is the first musical based on a Victor Hugo novel I have seen in its entirety. What no Les Misérables? Sorry no, neither in the theatre or as a film. Nevertheless the French poet and novelist hasn't done too badly for himself with those two! Notre Dame de Paris is a global musical phenomenon that will soon reach its 5000th performance worldwide – having toured to than 23 countries, been translated into nine languages, recorded several times and won numerous awards – but it wasn't the greatest success (to put it mildly!) when first seen in the West End in 2000. It returned now for just seven performances at the London Coliseum as part of its 20th anniversary celebrations. We in this country embraced Les Misérables while over on the other side of the English Channel – because of their lack of musical theatre tradition – that has never been very popular; on the other hand, the sung-through Notre Dame de Paris has had several successful revivals.
I feel the need to apologise again, this time for never having seen the Disney animated film based – like the musical – on Hugo's 1831 The Hunchback of Notre Dame. My only connection to this is through the 1939 black-and-white film starring Charles Laughton as Quasimodo. Like the musical it has all the significant characters, but Hollywood gives the gypsy Esmeralda (Maureen O'Hara) a happy ending whilst (spoiler alert!) we see her hanged as in the original novel. What the film did do was to link Paris's persecution of the gypsies with Germany's treatment of the Jews prior to World War II. In 2019 Richard Cocciante and Luc Plamondon's musical can make us reflect in some small way on the plight of the dispossessed seeking asylum or migrants after a better life who – Brexit notwithstanding – dominate the headlines.
It is 1482 and we are in Paris – obviously! – and the story revolves around the Carmen-like Esmeralda and the obsessive love three other characters have for her: the Archdeacon of Notre Dame Cathedral, Frollo; a hunchback bell-ringer the priest looks after, Quasimodo; the captain of the Royal Archers who guard Notre Dame, Phoebus. (The latter is the one Esmeralda actually falls in love with though he eventually spurns her.) As the story unfolds each character appears to ruminate – occasionally endlessly – on important questions regarding God, religion and love. It is a love story with some parallels to that of Romeo and Juliet particularly because of its tragic ending, though 15th-century Paris is a long way from Verona. It is delivered with great energy and supreme commitment by seven powerfully emoting lead singers and those eking out a living in the streets surrounding the Cathedral – or anyone else required – is left to the more than 20 dancers, acrobats or break dancers in the supporting cast. The ENO Orchestra's strings playing live were augmented by additional Notre Dame de Paris Company musicians and singers (who may possibly have been pre-recorded, I wasn't sure). Regardless under Matthew Brind's baton the orchestra played as if their lives depended on it.
Caroline Van Assche's costumes are very vibrant and Martino Müller's contemporary dance routines are spectacular and utilise Christian Rätz's clever single-set design. There is a huge wall to the rear that allows actors and acrobats some Cirque du Soleil-type moves that can distract from the woes of Quasimodo as he desperately pursues Esmeralda. If they are not scurrying up and down the rock face or balancing on a huge girder, they can be seen somersaulting across the stage or break dancing or dodging crowd control barriers traversing the stage or hanging upside down from three giant bells!
The show consists of two acts and it needs to be understood right from the start that this is clearly not musical theatre: a theatrical experience, however, it most definitely was! Director Gilles Maheu presents the show in rock concert style, with the principal singers standing centre stage, with non-singing dancers and acrobats behind them providing visual excitement. The only drama we get is through the singing as there is no spoken dialogue nor a narration. Truthfully if you imagine the Eurovision Song Contest's greatest hits all translated into French and sung one after the other, it will give you some idea of what Notre Dame de Paris is like if you have not seen or heard it. Also we get key change after key change in almost each and every song.
The first act had a variety of very upbeat anthemic songs (sung in the original French with Jeremy Sams's surtitles) starting with 'Le Temps des cathédrales' (the almost endless opener), 'Les Sans-papiers', 'Déchiré' and 'Belle' (apparently very well-known, if not by me!); the second act was slower, and with more dramatic and emotional songs such as 'Etre pretre et aimer une femme', 'La Monture', 'Lune', 'Vivre' and 'Danse mon Esmeralda' (Quasimodo's overwrought and angst-ridden farewell to the object of his affection).
Overall the multinational cast give the musical full-value and it was as if it was their very first performance rather than their umpteenth: Hiba Tawaji was Esmeralda, Danie Lavoie was Frollo, Martin Giroux was Phoebus, Richard Charest was Gringoire, Alyzée Lalande was Fleur-de-Lys, Jay was Clopin and Angelo Del Vecchio was Quasimodo. From the standing ovation Notre Dame de Paris received on its the return to London it was clear that – language barrier or no language barrier – the dynamic energy and talent the cast displayed had captivated the entire audience.
It had all the subtlety of a musical battering ram but as a one-off experience it was something I would not have wanted to miss. Choosing favourite songs is difficult with my limited French but I especially enjoyed 'Déchiré' sung Martin Giroux (when Phoebus is conflicted by his love by for Fleur-de-Lys and Esmeralda) and Hiba Tawaji's plaintive 'Vivre' as Esmeralda realises she will live or die for love. Another favourite moment of mine was 'Les Cloches' and this really needs to be seen to be believed! Oh 'The bells, the bells' as Charles Laughton so memorably exclaimed!
Jim Pritchard
For more about Notre Dame de Paris click here.