United Kingdom Origins: Elmhurst Ballet Company, Sadler's Wells, London, 15.2.2019. (J.OD)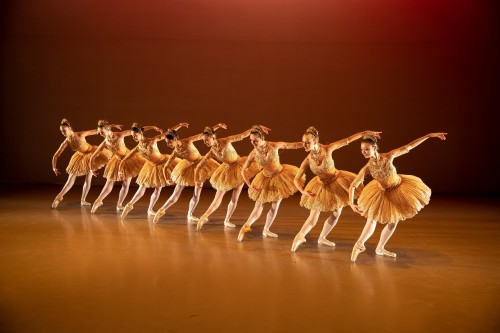 Choreography – Sir Kenneth MacMillan, David Bintley, Lev Ivanov and Sir Peter Wright, Wayne McGregor, Marius Petipa
Dancers – Ellie Hennequin, Ryan Felix, Theresa Tan, Andrea Canalicchio, Olivia Duran, Isla Ghali, Samuel Parham, Nina Avrillon-Rivault, Samantha Clay, Amy Turner-Daly, Amelia Hancock, Kirsty Walker, Joseph Tidswell
Sir Kenneth MacMillan, David Bintley, Lev Ivanov and Sir Peter Wright, Wayne McGregor, Marius Petipa: for its 'inaugural tour' Elmhurst Ballet Company makes varied and ambitious choices to demonstrate the versatility of its dancers. Set up by Elmhurst Ballet School in association with Birmingham Royal Ballet, the company aims to 'bridge the gap' for final-year students between school and professional life.
At this stage of their careers the students are still developing stagecraft and technique (excerpts from Petipa's Paquita, after the interval, were visibly taxing), but many of the performances impressed. Not simply because these dancers are young, or strong, or able to go on smiling, professionally, after the occasional mishap. Several of them seemed to know, already, how to dance with their eyes.
The company as a whole made a brief, bold statement of intent in the opening work, Adrenaline, choreographed by one of its members, Amy Turner-Daly, to the sound of urgent drums and violins (Karl Jenkins). The women are in pointe shoes but the focus, for men and women, is on fast-moving, synchronised arms. In MacMillan's Romeo and Juliet Balcony pas de deux (Act I), Ellie Hennequin and Ryan Felix convincingly charted the growth of mutual physical attraction. Theresa Tan was a prim foil to the exuberant character dance of Andrea Canalicchio in an excerpt from David Bintley's Hobson's Choice. Canalicchio's musicality and ballon were in evidence again during the Paquita excerpts.
A solo from Bintley's The Nutcracker Sweeties, to music by Duke Ellington and Billy Strayhorn, saw Olivia Duran, as Rita Hayworth, do the best she could with unflattering choreography. The best was at the end, when she put a finger to her lips and whispered: 'Shush!' A solo from the same choreographer's The Shakespeare Suite, to music by the same composers, gave a crowd-pleasing Ryan Felix, in Jasper Conran, tight-fitting black, the opportunity to circle the stage as an athletic, agonised, self-mocking Hamlet.
In Swan Lake Suite (Act II), with choreography by Lev Ivanov and Peter Wright, Isla Ghali was a delicate Odette, of mournful expression, while Samuel Parham seemed to capture, even in an excerpt, the introspection of Prince Siegfried. As a dancer, however, the selfless concentration bestowed on his partner was noticeable. Amelia Hancock, in a later Odette variation, made one think of photographs of the young Beryl Grey.
Excerpts from Entity was choreography by Wayne McGregor that did not involve technology. This was so much gained; it gave the barefoot dancers freedom of movement. Starting as a duet, with the choreographer's familiar six-o'clock extensions for the woman, familiar undulation of back and neck for the man, it built effectively to a work performed by the whole company.
Paquita, on the other hand, was a question of diminishing returns. It started out alright, with female dancers in pale orange and gold tracing Petipa's diagonal lines. But the recording of Minkus's music soon became relentless, and mistakes began to be made, and it seemed that no one (apart from Andrea Canalicchio) was being done any favours. Dance, for these young dancers at this stage of their careers and of the evening, too far.
John O'Dwyer
For more about Elmhurst Ballet Company click here.